This week, I have one of my favorite photos from Barcelona! I took this in the Barri Gòtic, or the Gothic Quarter. It's one of the first photos I took that turned out how I envisioned it, so I'm really proud of it. That's a very satisfying feeling for beginning photographers.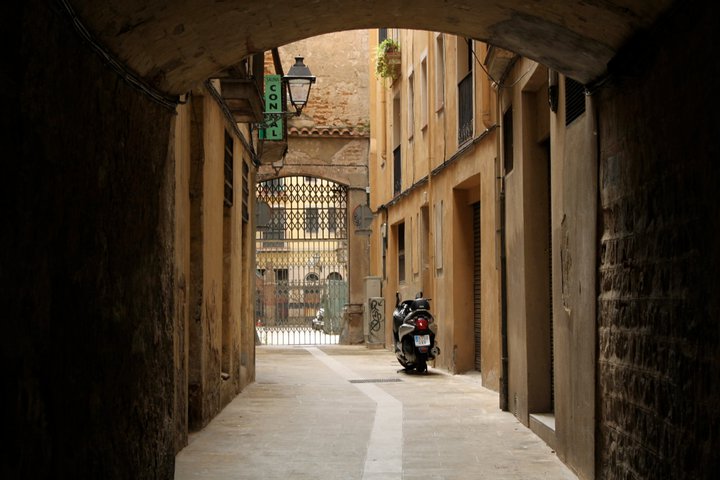 The Barri Gòtic is one of the two neighborhoods bordering Las Ramblas in the city center. It's one of the best places in the city to get lost and enjoy an afternoon of wandering. A stroll through here instantly gives you a feeling for the Barcelona magic.
The Gothic Quarter, as we call it in English, is a little neighborhood is full of small, windy streets full of interesting little shops and restaurants. Of course, because it's right in the city center, it's also full of tourists some of the time, but that doesn't mean that it's all jam-packed. Try walking just one or two streets overs, and you might just find that you've lost the tourist crowds.
You may also find that you've become lost yourself. I've spent a year in Barcelona and I still get lost when I'm in the Gòtic! Luckily, it's not a huge area, so eventually, you'll come across something that helps you get your sense of direction back.
Even though it's called the Gothic Quarter, you can also find traces of Roman ruins there. Most of them are underneath the medieval buildings, and every so often foot-level windows give you a glimpse of the remains. Occasionally, there are larger pieces that are still intact today.
Sometimes, you can literally see the layers of the different eras of history that have happened in Barcelona – there will be a Roman ruin topped with a medieval city wall, then a huge splash of very modern advertising or something. Coming from California, it's quite a difference to be able to see just how many years and people have passed through here!
If you're visiting Barcelona, this neighborhood is definitely a must-see.
Besos!
-Jess