When I happily announced to my friends I was planning a trip to Oslo, their response was not as upbeat as I'd anticipated.
"You're going WHERE?? Do you know expensive that place is? And how COLD??"
My excitement suddenly dimmed, and I started asking anxiously, "I mean, I know it's expensive. But is it really that bad?"
"Oh yeah. I spent $60 on two burgers, fries, and a Coke."
"WHAT?? Ohgodohgodohgod…I am going to starve if I don't die of cold first!"

Similar stories started floating in from everyone who had ever had any slight amount of contact with Norway. Some people almost gleefully told me the lurid details of what happened to their bank accounts after a few days in the capital.
Instead of the usual anticipation I felt before a trip to a new country, my anxiety just increased over the weeks leading up to my departure for Norway. How on earth was I going to survive on my very, very limited budget?
The bad news for other people planning their trips to Oslo? Yes, it is very expensive. 
The good news? There are some sneaky ways that you can scrimp and save to make it a less painful place to visit.
While I'd never term Oslo a budget destination, it was fortunately NOT as expensive as I'd been panicking about. So here's how you can do it for less.

Pick your accommodation wisely 
Take into account costs like public transportation (go for places near the stuff you want to see so you can walk there), kitchen availability, and extras like paying for bedding or towels. My friend and I ended up staying in a great centrally located hostel that had a full kitchen AND breakfast included. By eating a ginormous, protein-packed breakfast, I managed to stay full most of the day and limited other costs on food. 
The hostel we stayed at was the Oslo Hostel Central, and no, they haven't sponsored this post in any way. I highly recommend them! It was one of the nicest, cleanest hostels I've stayed in and the location was great. It was fairly inexpensive for Oslo (about €30 a night), and it helped us scrimp in other areas.
Pack some snacks with you
OK, this might seem a little ridiculous to some people, but I packed my suitcase half full of food I could take on a plane. I used Numbeo to compare prices between Barcelona and Oslo, which told me that supermarket prices in Oslo could easily be double what they are here, and quickly realized it made way more sense to take food with me rather than buy it in Oslo. My luggage may have looked funny going through the scanner with a giant bag of pasta and a bunch of packets of almonds, but as the food is super pricey in Oslo it was definitely worth it. 
Another way to eat cheaply in Oslo is to go to the indoor markets and snack on samples. I mean, that's probably officially frowned upon, but come on, I'm living in a country with a terrible economic crisis! (Er, that was my justification for the endless cubes of goat cheese I kept sneaking).

Take advantage of the Oslo Pass
Go to a tourism office and ask about the Oslo Pass. You pay a flat fee depending on how many days you want it for, and it lets you into tons of attractions for free (or rather, at no additional cost). You can see the current prices here, as well as a list of what you can see with it. The girl who helped us was super friendly and even helped us calculate the cost of whether it would be worth it to buy based on what we wanted to see.
For us, it was definitely worth it because it included the cost of entry into the museums we wanted to go to as well as public transportation for 24 hours.
Check out which things are free on Sundays
If you're planning on hitting the museums (and Oslo has some great ones), keep in mind that lots are free on Sundays! Save money by figuring out which attractions you're interested in are free entry on Sunday and plan around them (there's more information on that in the next section).

Enjoy lots of always-free activities
Don't worry if you don't have a whole Sunday to devote to sightseeing, because there are quite a few activities that are always free in Oslo. You can check out things like the Akershus Fortress, the beautiful buildings in the city center, the famous Vigelandsparken Sculpture Park, and the Opera House for free.
If you combine activities like this with the free Sunday deals, you really can see a lot of stuff for literally nothing. You can see a more complete list of free activities in Oslo HERE and HERE.
Skip public transportation altogether
Honestly, Oslo is quite a small city and you can absolutely get around on foot and still see a lot. Instead of spending the money on public transportation, follow a walking route to see the city. I was quite surprised at how small the central part of Oslo was, as it looked much bigger on Google Maps!
However, if you want to go to Museum Island to see stuff like the Kon-Tiki Museum and the Viking Museum, public transportation will come in handy. If you've done the Oslo Pass deal, you could use your pass to see a bunch of the museums and get there for the flat rate to save a bit.
Be a teetotaler for a weekend
Alcohol is VERY expensive here. Oslo is already pricey, but booze prices are sky-high due to government attempts to limit alcohol consumption because of a history of alcohol abuse in the country (or so I was told). Seeing beer prices in the supermarket  scared me off the idea of a big night out. 
I indulged in two beers all weekend. I obviously wasn't missing out on anything (beer effects are pretty much the same anywhere you go), though I would have had a small beer with dinner or mid-afternoon had I been doing a similar trip in Spain.
On another drink-related note, you can only buy alcohol until 8 p.m. on weekdays and 6 p.m. on Saturdays. Spirits, wine, and strong beers are only sold at state-owned stores. In other words, if you want a drunken weekend of endless parties and rivers of vodka flowing into your mouth at all times, Oslo is NOT the place to go unless you are a millionaire.
So how much do things cost in Oslo? 
We stayed a hostel for around €30 a night. 
Food was the most expensive thing. Dinner out at a "normal nice" restaurant with a beer included cost about €30 a person. (I nearly cried when I had to pay! OK, I wasn't that dramatic, but I still wasn't happy).
A beer cost about €8 – €10. My friend ordered a well drink that cost her around €20. (I am under the impression we did not go anywhere excessively pricey).
A coffee was €4 – €5. 
The Oslo pass was a good deal – it cost me about €27 for a student ticket, and it definitely saved me money on museum entrances and public transportation.
And an additional note: Be conscious of the exchange rate. I looked it up before I went, but when I confirmed the current rate at a tourist information center it was MUCH worse than what I'd seen on Google. That was a nasty shock to my wallet!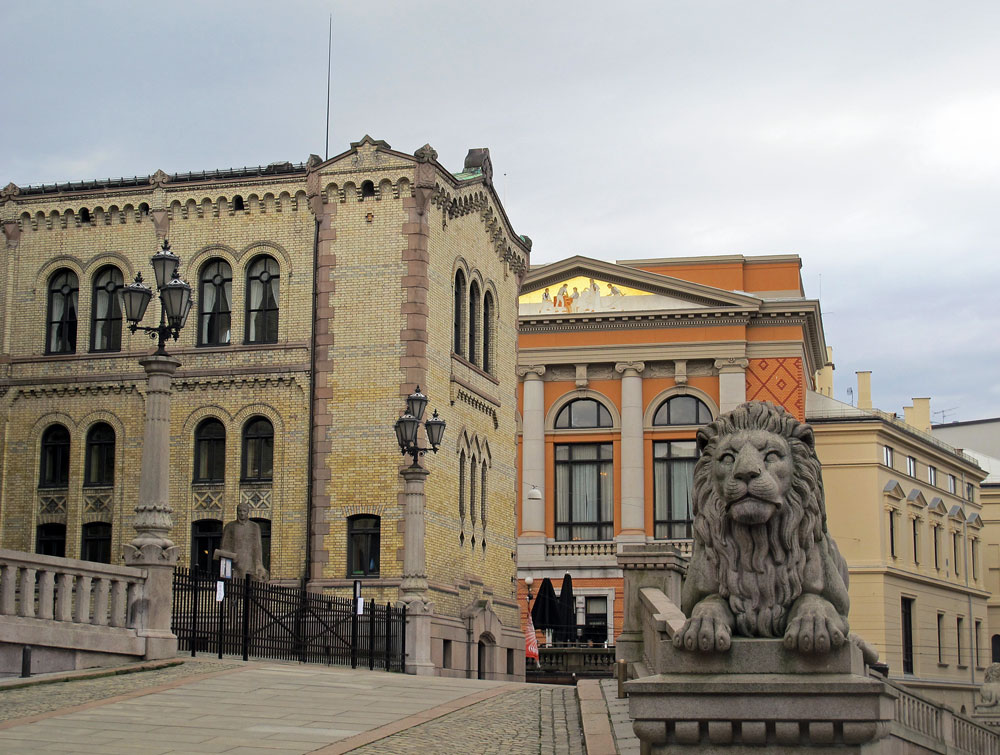 Even though Oslo did end up being one of the pricier places I'd traveled, especially in comparison to my trip to Prague a few weeks earlier, there were quite a few ways you could make it a reasonably priced trip. The Norwegian capital is never going to be a super cheap destination, but if you're careful when it comes to planning your trip, you can absolutely see Oslo on a tight budget. 
What's the most expensive place you've ever traveled? How do you save money when you're traveling? 
Besos!
-Jess