Tucked away in a protected part of the southern California coastline is pretty La Jolla, a small city near San Diego that's got all the glam but not as many of the crowds. This spot is hands-down one of my favorite places to spend a relaxing day enjoying the beach.
Some people think the name comes from a misspelling of the Spanish word for jewel, joya. Whether that's true or not is up for some serious debate, but either way, La Jolla really is a little jewel on the coast.
Here's my quick guide to chilling out, in La Jolla, California – Golden State-style.
Pro tip: don't call it Cali-style – nobody from the Golden State actually refers to it as Cali.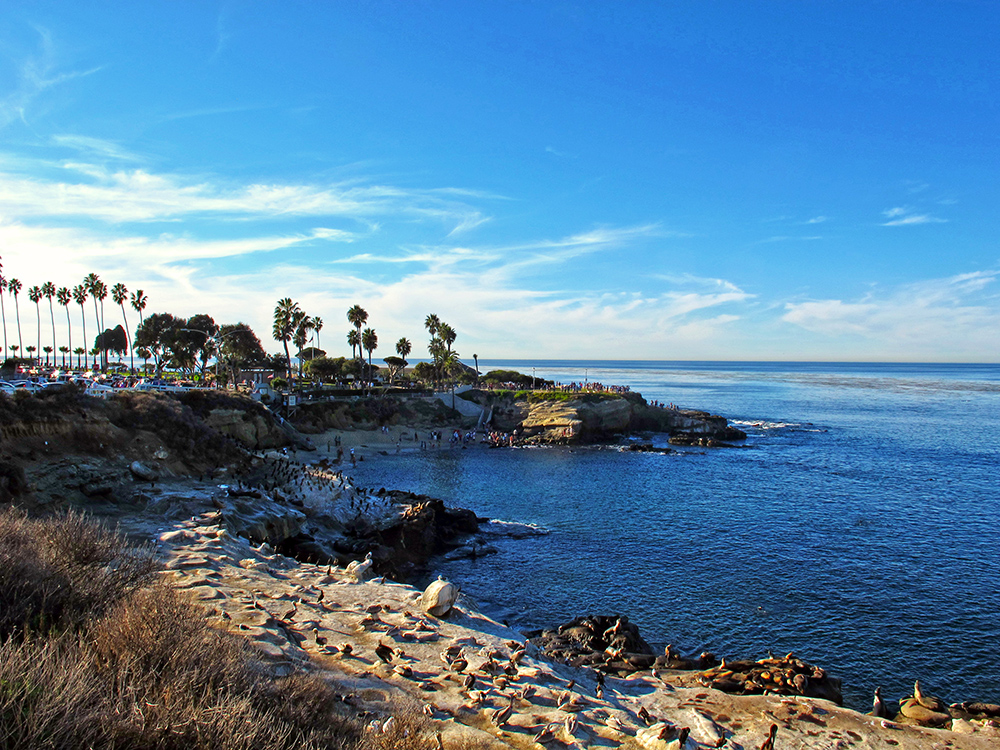 Check out the sea caves.
La Jolla has some incredible small sea caves you can go and explore, provided you've got a decent sense of balance and no qualms about getting wet. You can walk down and wander into lots, or you can go to the Shell Shop and pay a small price ($3 – $5) to get to go down into the caves.

Get moving!

La Jolla is a little more protected than other parts of the California coastline, so that means that the Pacific's chilly waters don't seem to get quite as cold here. The waves are also gentler, making it one of my favorite places to go swimming.
It's also a hotspot for water sports. You can try your hand at kayaking, with lots of courses available. If you get lucky with the waves and the tides, you can kayak into the sea caves.

Even if not, you get to get friendly with the sea lions and the birds while taking in stunning views of the coast. Paddleboarding and scuba diving are also popular, so even if you don't get into the sports you can always sit on the beach and take bets on who's going to topple into the ocean first. (Not that I would be so mean-spirited.)
And if you really don't fancy getting into the water, at the park beside the beach there are tons of people enjoying the grass to play all kinds of sports, including stuff like slacklining.

Make friends with a California sea lion.
OK, I don't recommend getting super close and personal with these guys – they're enormous and could probably do some serious damage. While they don't seem to mind people too much, I would not want to get a bite from these pointy teeth, perfect for spearing fish. Plus, I don't think they really want you to get too close either!

But do check them out from afar. You'll probably hear the sea lions before you see them, because they love to bark up a storm as they chill with the pelicans and cormorants in the sun by the waterfront. I managed to snap this guy having a little siesta in the shade on a sheltered part of the beach, although I'm not sure how happy he was after a group of 20 people also whipped out their cameras to snag a shot! He barked at them a couple times when they got too close. Be nice to the wildlife!

Take the scenic route
If you like driving, there's a special scenic route that gives you amazing views of the San Diego coast from high up above. Even though driving and road trips definitely aren't my thing, I have to admit that this is pretty cool. Bonus points for wearing California-cool sunglasses and driving a convertible. Or, if you're really fancy, having your driver take you in a limousine.

Finish with a glamorous ocean-side drink
La Jolla has gotten a lot more upscale since my first visit there as a kid, and while that's bad for your wallet it's very good for travelers who are looking for a glamorous day out. I recommend the ocean view terrace at George's at the Cove.
The dinner menu can get a little pricey for a budget traveler, with entrees hitting $20+, but the lunch menu is surprisingly affordable. Word to the wise – it gets busy, so you may want to make a reservation if you want to sit on the open-air terrace. If not, a few of the tables at the downstairs restaurant are placed in a section with an open front, so you can get unobstructed views of the pretty cove.

What's your favorite ocean side city? Any other tips for visiting La Jolla, San Diego, or Southern California?
Besos!
-Jess