Last summer, my friends kept raving about the "terraza" bars. As they enthused away about these drinking spots, I was kind of confused. I mean, a terrace is just outdoor seating, right? And lots of restaurants have those, with much cheaper drinks as well. 
As it turns out, what I was translating as "terrace" would perhaps be better translated as "amazing! get yourself to one of these as soon as possible."
OK, so maybe that's not the literal translation; that would be "rooftop bar."
Getting up high above the city is a great way to escape the heat on the streets, and a lot of these rooftop bars go above and beyond your regular bar (and not just in the literal sense for being up higher).

Where do you find these magical terrazas? A good way to come across one is to find a fancy hotel. Here's a guide to some of my favorites of the best terraza bars in Barcelona, all of which are on top of very nice hotels I normally wouldn't dream of stepping foot into. For the cost of a slightly overpriced drink (expect to spend about €5 on a beer), you get access to some of the best views in the city.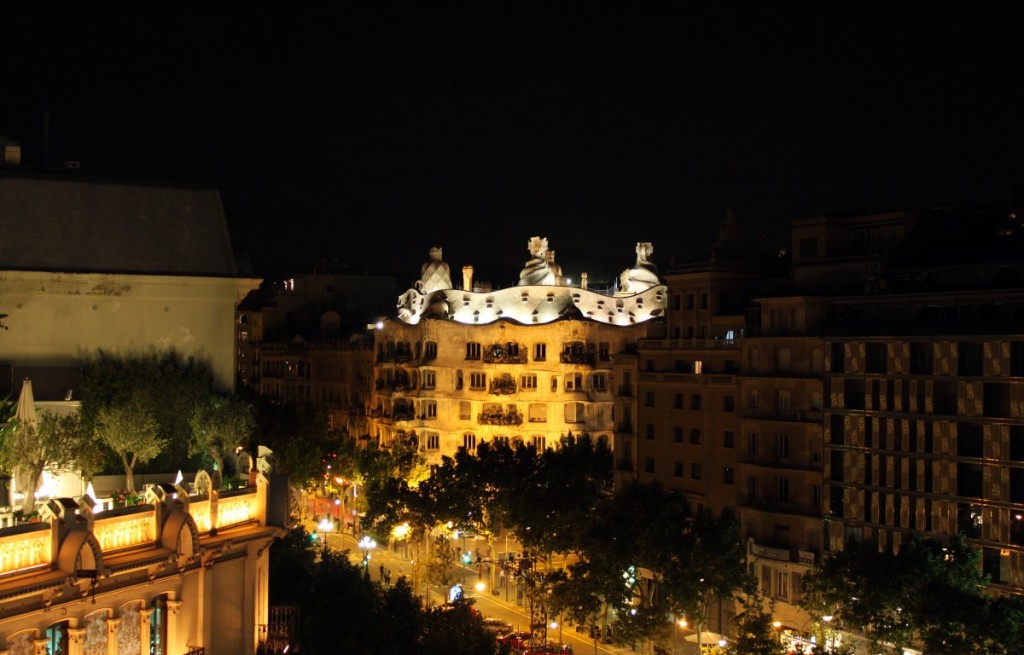 The Condes de Barcelona Hotel sits on the most luxurious street in the city center, Passeig de Gràcia. Naturally, its terrace bar fits in quite well with its chic surroundings, with lots of sleek white furniture and moody blue lighting.
The Alaire bar has direct views of Gaudí's La Pedrera from high up on the eighth floor. You can also spot another Gaudí masterpiece from the bar – his slightly more famous Sagrada Familia.
Summer hours (May – October): 12 p.m. – 2 a.m.
Address: Passeig de Gràcia, 73

This swanky hotel on Las Ramblas is right in the middle of the most touristy hotspots in the city, but step on the elevator and go up to the top floor, and you'll be whisked to a laid-back oasis away from the crowds.
This is without a doubt the most comfortable hotel terrace I've been to, with bed-like couches and cushy chairs spread out liberally on the wooden deck. Lay back and get comfy, and enjoy views of Barcelona's city center without the crush of tourists.
Summer hours (April – October): Last time I was there they shut down by 2 a.m.
Address: La Rambla, 109
Ohla Hotel: Ohla Terraza Chillout Bar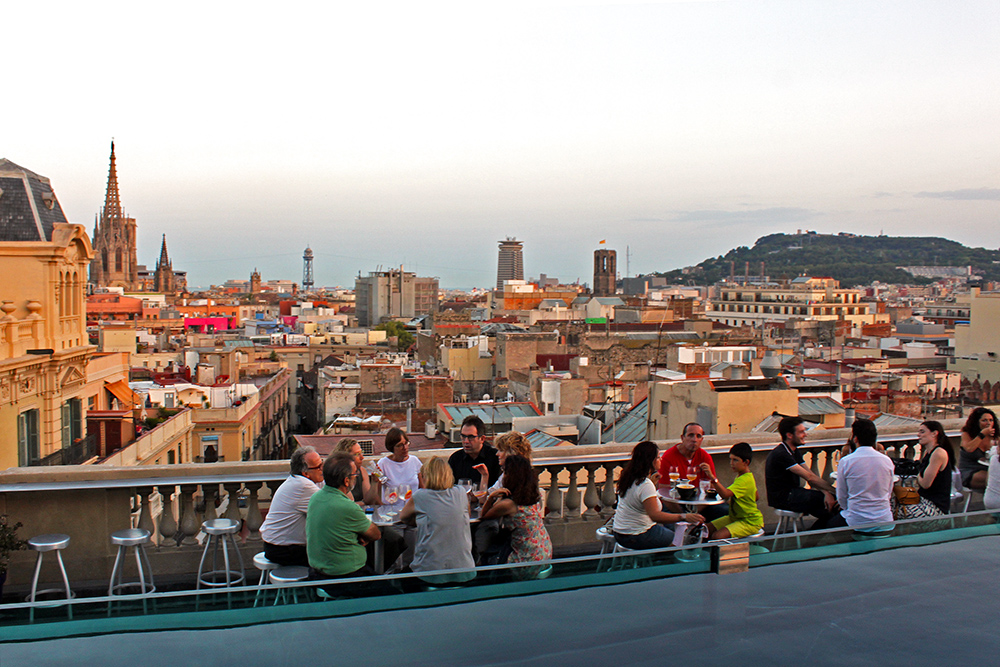 The name of this one says it all – you can really chill out at this terrace. With a pool framing views of the church towers in the Ciutat Vella, this has some really great views of the oldest parts of Barcelona.
If you can snag one of the lounge chairs in front of the pool, those are prime viewing points. If not, there's a great bar running around the outside where you can sit and enjoy unobstructed views. Oh, and the menus are awfully cute here – they come printed like a newspaper.
Summer hours: 6 p.m. – 1 a.m.
Address: Via Laietana, 49

I've saved my favorite one for last! This terrace is in the middle of the Raval neighborhood, and the name is 100% accurate in this case – it has 360° views of Barcelona. You can see the city stretch from Tibidabo, the theme park on a hill, to the Mediterranean.
The glass has little silhouettes of the key buildings you can see from the terrace, so even if you're not familiar with Barcelona you can figure out what you're looking at. I love taking visitors here so they can get a feel for the layout of the city. It's especially nice at sunset.
Summer hours: Monday – Friday 6 p.m. until 12 a.m.; Saturday and Sunday 6 p.m. until 1 a.m.
Address: Rambla del Raval, 17- 21
Of course, there are lots more terrace bars to discover in Barcelona. I'm pretty sure this is only scratching the glamorous surface, and I'm pretty excited to spend the rest of the summer researching more of Barcelona's best terrazas. Yeah, research, that's what I'll call it…
What's your favorite bar with a view? Which one of these terraza bars would you like to go to? 
Besos!
-Jess