One of the best things about planning what to do in Barcelona is that there's so much you can do when you're on a tight budget. Yeah, the Ramblas might get a bit pricey, but if you know where to hunt down a bargain, you can stretch your euros a long way here.
That's why I teamed up with WeSwap, a great little app that helps you exchange currencies quickly and easily, to design a fantastic day in Barcelona for £50, or about €65 at current exchange rates. (I've included a bit more about the app at the end of this post). Check out #WeSwap50PoundChallenge and #WeSwap on social media to see the entire challenge.
So, what can you do in Barcelona in a day with £50 to spend? Let's get started!

Start: €65
We'll start off your day by exploring the Gothic Quarter with all its lovely charming corners. I've assumed you're traveling with two people.
Let's have coffee at Federal Café, which will cost you €1.80 apiece for a "café con leche". Have a quick coffee & then it's time to get off exploring!
You can easily spend an entire morning enjoying the sights and sounds of the Gothic Quarter. But make sure not to miss the towering Cathedral and its tranquil cloister, the hauntingly beautiful Plaça de Sant Felip Neri, the postcard-perfect Bishop's Street, and the imperial Plaça de Sant Jaume, the center of the city's political power since Roman days. The best thing to do is just follow whatever looks interesting.
You may fancy crossing over the Ramblas into the Raval district. This neighborhood has historically been home to immigrants, and it's still got a hugely diverse population today. Combine that with the artsy types and grimy skaters who also frequent the neighborhood, and you've got the perfect combination for some awesome people-watching.
As you cross the Ramblas, make sure to stop in at the world-famous Boqueria Market, quite the visual and literal feast. If that doesn't get you feeling hungry, I don't know what will!
Budget: €61.40



It's probably around lunchtime now. There are so many great places to eat in Barcelona, and you can get some really great deals at midday. My new favorite? A Tu Bola. It's perfect for a quick, cheap lunch on the go, and the food is really amazing.
They serve meat, fish, and veggie balls with pita bread, sort of like an updated take on a falafel pita (there are chickpea balls that quite familiar). The best ones are the chicken or sweet potato ones. Yum!
Lunch will cost you €6.50 each (€13 total).
You're left with €48.40.

Then, you'll want to jump on the metro green line to Lesseps – we're going to visit Parc Güell! First, though, we're going to need to buy some metro tickets. Get a T10, which you'll be able to share between the two of you. It'll cost you €9.95 for ten trips on the Barcelona public transportation system (which covers the metro, the FGC commuter railway, the train, the bus, and the night bus).
You're left with €38.45
Of course, you'll need a ticket to get into Parc Güell.  Tickets cost €7 apiece if you buy them online at regular price (so €14 in total).
You're left with €24.45.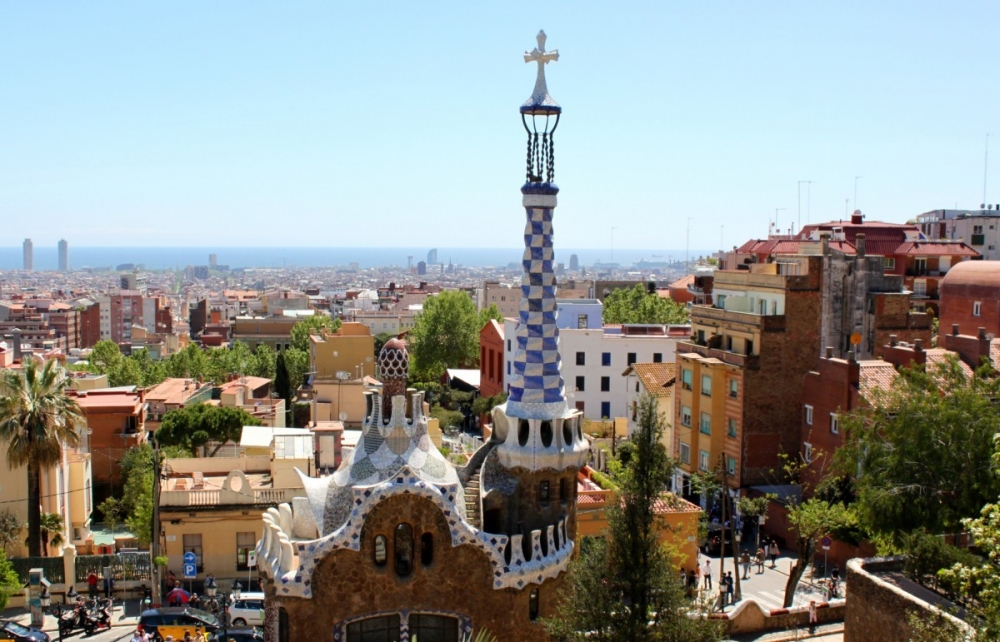 Spend the rest of your money on dinner & drinks in the traditional Poble Sec neighborhood. Your euros will go a long way in this district!
There are lots of lovely places to get dinner on a budget here, but there's one in particular that is truly fantastic – the deservedly famous Quimet i Quimet.
They specialize in "montaditos", which are small slices of baguette bread topped with all kinds of stuff. The most famous is their smoked salmon, crème fraîche, and truffled honey one, but you can also try combinations like dried "mojama" tuna with delicate threads of egg yolk, or paté with caramelized onions. Mmm!
Dinner and wine for two totaled a completely reasonable €18.80 – which leaves you with €7.45 in your pocket for some beers at one of the many nearby bars or clubs! Try the century-old sweet shop turned bar La Confetería, or if you're up for a big night out, go to Apolo club.


Now I'll let you know a bit more about WeSwap. The app is a way to swap currencies and avoid major bank commissions. For swapping my £50, I was charged €0.92 – way better than other ways I've swapped currencies. 
Here's how it works: you sign up for WeSwap and get sent a prepaid debit card in the mail. Call to activate it and you'll get your pin. Then, you load on the money you want to spend and swap it into the local currency. Once you've done the swap, you can start using your card just like a regular one. 
And the verdict? I was so thrilled! It was easy and convenient, and it saved me a bunch on exchange commissions. I'd be more than happy to use WeSwap next time I need to change currencies. 
The only thing I found a bit confusing was the process of loading and swapping. I originally thought that once the money was loaded, it would work – but you have to go into the app and swap it yourself. Once that was sorted, it was all smooth sailing. The card worked everywhere, just like a regular debit card. 
What would you do if you had £50 to spend in a day in Barcelona? 
Besos!
-Jess
P.S. Thank you very much to WeSwap for teaming up with me! I only recommend products I actually like – and this was one of my favorites I've tried lately.