Studying abroad in Barcelona is a really special experience. Who knows – you might even end up staying for a few years like someone I know! 🙂 No matter where you go in the world, a semester abroad is the perfect chance to get out there and try something different. Even if it doesn't end up being a life-changing experience, it can be a lot of fun. 
A whole semester or year might sound like a lot of time when you're applying for programs but once you actually jump on that plane, you might find out that time flies by. Before you know it, you'll be packing your suitcases all over again. That's why it's a good idea to start planning out study abroad things to do pre-departure.
If you're going to study abroad in Barcelona, I've done the work for you. I've picked out my very favorite things to do in Barcelona for study abroad students. Are you going to be spending a semester or two in the Catalan capital? Here are the 10 things you absolutely have to do when you're studying abroad in Barcelona.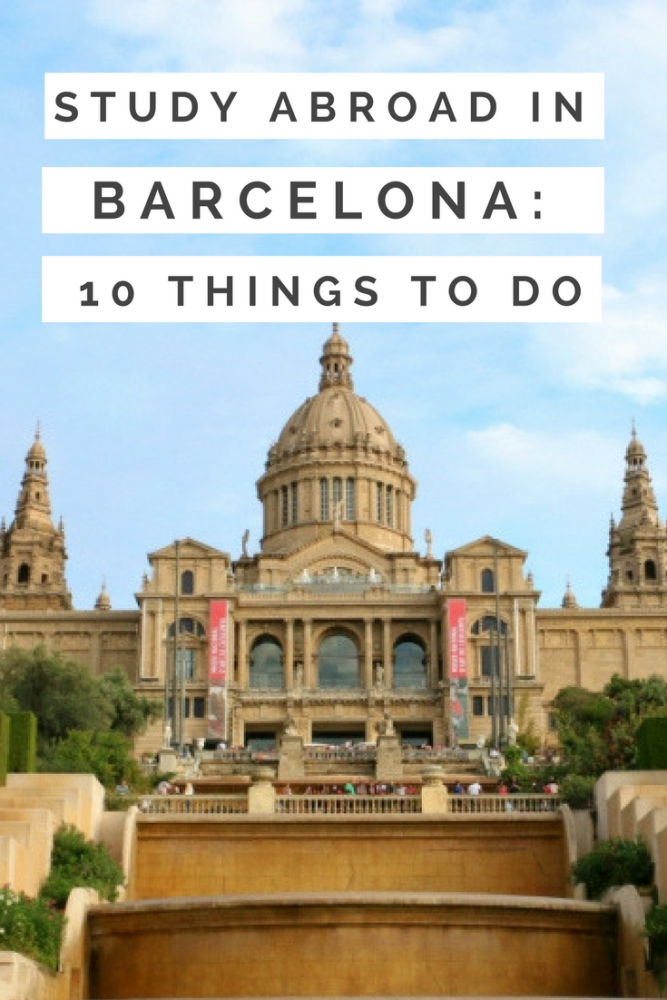 Before you get started, if you're studying abroad in Barcelona and need housing, AB Apartment Barcelona can help you out. Whether it's finding a place to stay during your studies long-term, or finding somewhere short-term for friends and family who come to visit, they've got plenty of apartments to rent all over Barcelona. Thanks for their help with this post!
Brush up on your Spanish – or Catalan!
Did you know that there are two languages spoken in Barcelona – Spanish and Catalan? It can be a bit confusing at first as they can sound similar to the untrained ear.  (I had trouble distinguishing between the two when I first got here, as I understood some spoken Catalan but then got lost when I tried to follow closer).
No matter which one you choose, you've got a golden opportunity to learn a new language (or perfect it. However, there are many English speakers in Barcelona, so you'll have to do a bit of work to make sure you take advantage of this opportunity. A lot of the time, it's on you to seek out chances to speak Spanish or Catalan!
Fortunately, there's an easy way to do this. Language exchanges are a great chance to brush up on your skills, and also a really fun way to meet friends. Why not see if you can find one near you? Try Meetup and Facebook to look for a language exchange
My favorite way to learn Spanish – with music! Check out this article plus playlist combo for some songs to get you started. 

Celebrate like a Catalan
Throughout the year, there are tons of amazing local celebrations in Barcelona. No matter when you're studying abroad, you'll definitely be able to take part in some of them. Even if you're only here for a couple of weeks, chances are you'll be in town when a local festival is on!
Easter is an important celebration here in Barcelona, with a whole week dedicated to the lead up of the holiday. 'Semana Santa' translates as 'Holy Week' and is a perfect time to see the city as the trees begin to blossom, spring begins to creep round the corner and many celebrations take place in the streets.
Sant Jordi is the local equivalent of Valentine's day and is celebrated in April, where locals traditionally exchange gifts to one another, such as roses and books.
Summer is a key time for events and festivities in Barcelona. Celebrated in June, Sant Joan is a midsummer festival that kicks off the summer with a bang – quite literally. As the skies are filled with fireworks all along the coast of Catalunya, thousands of people gather on Barcelona's beaches to enjoy the festivities and street parties with their friends and families.
June is also when the city hosts the Sónar festival, a three-day techno and electronic music festival. 'Off-week' offers similar events in venues and clubs around the city at the same time as Sónar, for those that perhaps don't fancy doing the whole festival but want to get involved in some of the fun!
September is where the party really starts in Barcelona, when La Mercè festival takes place. Known to be the biggest fiesta of the year, La Mercè offers a weekend full of celebrations where you can expect parades, concerts, fireworks and many other fun activities taking the city by storm!
Halloween isn't as widely celebrated here in Barcelona, however many of the nightclubs host events and club-nights to celebrate the spooky holiday. The following day is All Saints' Day, 1st November, when locals eat sweets called panellets. This is also when you'll start seeing stands popping up on the streets that sell roasted chestnuts and sweet potatoes, making hearty warming snacks to enjoy in the cooler weather.
Barcelona is bursting with fun activities around the Christmas and New Year period too, with festive markets selling traditional crafts, clothing and delicious food and drinks to warm you up as the evenings get colder! The city becomes a real life winter wonderland, draped in twinkling lights and decorations. Other activities to look out for during the festive season include Christmas fairs, nativity scenes and parades, such as the Three Kings parade on 5th January.
New Year's Eve is another magical celebration in Barcelona, in which crowds flock in places such as Plaça d'Espanya to watch the skies light up with firework displays. You can also join in with the local tradition of eating 12 grapes before the clock finishes chiming at midnight – it's said that if you manage it, you'll enjoy a lucky year ahead.
Read more about my favorite festival – the Festa Major de Gràcia!

Take a weekend trip with a low-cost flight
Although there are so many cool things to do in Barcelona, studying abroad is the perfect chance to take advantage of all those super cheap Ryanair flights! There are so many options for places you can get to in just a couple of hours.
Cities like London, Paris, and Amsterdam are always popular choices. But there are hundreds of destinations to choose from. Even Morocco is only a 90-minute flight away from Barcelona!
As an added bonus, it won't break the bank. You can definitely fly somewhere round-trip for €100 or less, and then stay in hostels for a budget experience. Coming from the U.S., it's such a change to be able to go to so many different countries in just a couple hours.
Why not travel to Edinburgh, Scotland? It's not all pretty streets like the one below – it's also got a fantastically creepy side!

Enjoy a laid-back session at the beach, Montjuic, or the bunkers
Barcelona's city beaches are packed in the summer months, so you're in luck if you'll be in the city outside of peak tourist season! Grab a couple of friends, some snacks and drinks, and maybe a guitar if any of you are musically-inclined. Then, enjoy!
Another great place for a picnic is hilly Montjuïc, filled with parks and gardens, or perhaps up at the bunkers. Both are also excellent places to take scenic photos of the city from up on high. Take a pack of friends and snap away. You'll have some amazing backgrounds to enjoy for the photos of your once-in-a-lifetime trip.
Further reading: 15 Perfect Things to do in Summer in Barcelona

Take a day trip
There are lots of stunning places to explore in the Catalonia region other than just Barcelona. The beach town of Sitges is a popular choice, as is the mountain Montserrat. Both are easily doable for a day trip.
You could also travel to Girona, which you can get to in just under 40 minutes if you catch the high-speed AVE train. For Game of Thrones buffs, this is one of the shooting locations used. You can also visit for the charming Temps de Flors flower festival in May.
Interested in even more places you can visit in Catalonia? Check out my list of 5 places to visit in the region that aren't Barcelona! You can go from wild coastlines to former volcanoes to medieval villages and more.

Have a wild night out on the town
Barcelona has so many cool places to go out, and I took full advantage of the city's nightlife options when I studied abroad here! The Ovella Negra tavern with its giant 5-liter pitchers of beer and sangria is a classic place to start. Absinthe bar Marsella, which has seen plenty of famous faces pass through its doors, is another excellent place for a night out.  If you're going all-out, make a stop at Espit Chupitos, a shots bar with hundreds of different types of shots, lots of which get set on fire right at the bar.
When you've had your fill of drinks, head on over to the clubs. You've got plenty to choose from – swanky beachfront clubs, giant nightclub Razzmatazz, Nasty Mondays at Apolo….the list goes on and on!
Why not start your night off in style at one of these glamorous rooftop bars? 

Eat like a local
If you're studying abroad anywhere in Spain, prepare yourself for some seriously good eating! The country is famous for tapas, paella, and sangria, but there's so much more to the cuisine. And Barcelona in particular has some regional specialities that you should sample.
Instead of going out for tapas, meet friends for a glass of vermouth and a few nibbles before a meal. Other popular local dishes include pan amb tomaquet, butifarra sausages, samfaina (peppers and tomatoes), and cod cooked with raisins and pine nuts.
If you're here in the late winter or early spring, you've got to try calcots, a type of onion served barbecued and dipped in romesco sauce. Yum!
You might also like these 10 great and inexpensive places to eat in Barcelona. 

Visit the Sagrada Família
By which I mean actually go inside the Sagrada Família! Lots of people just stick to the outside – which is amazing – but going inside means you get to see the work in progress on the monument. How many times in your life will you get to see something like this being built? The optional extra for the towers is worth it too.
You can also visit plenty of other masterpieces by the famous architect, including Parc Güell, Casa Batlló, La Pedrera, Palau Güell.
That's not to even getting started on works done by other architects – the Palau de la Música, the Sant Pau Art Nouveau Site, Casa Amatller…
Just go and enjoy being a tourist! 😀
Don't forget to check out the Gothic Quarter, full of legends and secrets.

Go wine tasting – or even better, cava tasting
Barcelona is also an excellent place to enjoy a spot of vino. Nearby Penedés is one of the most famous wine-growing regions in the world. You can always order a glass of nice wine with a meal, or you can go to one of the local stores dedicated entirely to wine. AmoVino and Jovani & Vins are two of my favorites!
You could also invest a day or half a day into going wine tasting, or cava tasting! Cava is the local specialty sparkling wine, and is incredible stuff. Two of the most famous wineries to visit are Freixenet or Codorniu. And local students are definitely familiar with La Xampanyeria, a bar famous for its super-cheap cava (don't plan on waking up for class after a night here).
You could also try something more exotic and go wine tasting in a castle!

Travel to another place in Spain
Locals love to say that Barcelona isn't really like Spain. The city unquestionably has a strong identity of its own. And the best way to see this is by going somewhere else in the country!
You could try the capital Madrid, full of world-class museums and stately royal buildings. Or perhaps you'd rather stuff yourself silly with some of the best food on the planet in San Sebastián. Or catch a plane due south and see Andalucía, birthplace of tapas and flamenco – and home to some fantastic beaches. You could travel to the heart of Spain and see university town Salamanca, or head to the misty green regions of Galicia and Asturias.
There are so, so many places worth visiting in Spain, so make some time to take a weekend trip from Barcelona to go somewhere else in the country.

What other things are there to do during study abroad in Barcelona – or even in Spain? Let me know in the comments!
Besos!
-Jess
Thanks again to AB Apartment Barcelona for their help with this post. Check out their apartments for long or short stays.