A little while ago, I did a list of places in Spain that I haven't been to yet but want to, and now here's my list of my favorite places that I have been so far. It was tough to pick, because Spain has so many beautiful things to see. 
 6) Formentera
This is one of the most beautiful places I've ever been to – gorgeous white beaches, sea so clear you can see all the way to the sandy sea floor, and stunning sunshine (well, we got some after it stopped raining). It's just a quick boat ride away from party heaven Ibiza and even prettier – the perfect way to relax after a long night in the world's party capital.

Also we rented a red Jeep convertible to go around the island. I felt like I was a real-life Barbie.
5) Cordoba and Granada (tie!)
I got to travel around Andalucía for fourth months, and these were easily my two favorites. When you just look at both cities, you can see the architectural remains of all the people who have lived there, from the Arabic mosques to the Roman columns still existing.They're fascinating and beautiful simultaneously. And both have that relaxed, charming feel that's stereotypically Andaluz. If I were to go back to Andalucía, I'd go to one of these two places.

4) Madrid
How could I leave out Spain's capital? Madrid is very cool, and very Spanish. That might sound like a silly thing to say (it IS Spanish, after all!), but once I got to know Spain a little better I quickly realized that some regions define themselves on not being "typical Spanish". I loved all the royal stuff there was to do in Madrid (sparkly palaces are the best!) , and it has some truly amazing museums, parks, and restaurants. Madrid is big, bustling, and full of exciting possibilities.

Madrid loses major points for, as the barceloneses like to remind them, ¿dónde está la playa en Madrid?
3) Cadaqués
This is a little town on the Costa Brava (the coast to the north of Barcelona) where Dalí lived for a while. This is probably the most beautiful place I've ever been in Spain, and I have some incredible memories from there. I don't think I'll ever go back for lots of reasons, but this is a really gorgeous town.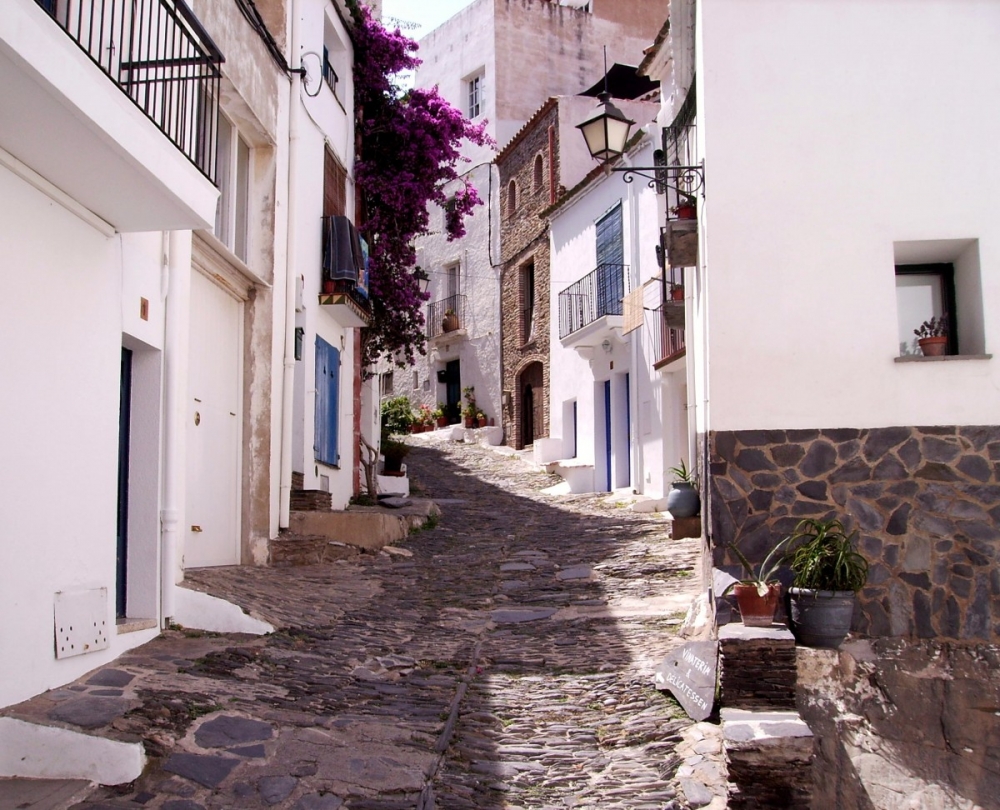 It's got a small Spanish fishing village charm mixed with just stunning natural landscapes. If you're in Barcelona for a longish trip, go!
2) Salamanca
This is the Spanish city that I'm most interested in living in for a while. It's seriously gorgeous and has a great university. The thought has crossed my mind more than once to do a master's there….and then I remember how over school I am! Still, this is a really cool place that's chock-full of history and pretty plazas. And the Duquesa de Alba has a house there – could it get any better?

Sadly, Salamanca is ridiculously cold. I went in early March and thought I was going to freeze to death. Ok, so maybe it's not THAT cold, but I grew up in southern California. Anything is cold compared to that!
1) Barcelona, of course!
This may be the only city that could knock London off the top slot in my 'favorite places ever' list. I don't even know where to start with a list of reasons that this is my favorite place on the planet so far.

Maybe it's the sunny, relaxed vibe, or the crazy but gorgeous architecture, or that it has beaches, museums, a metro, and a wild nightlife scene. Or it could be the winding Gothic quarter, studded with reminders of the Roman and medieval days, or Gracia's bohemian feel. Or perhaps it's the blend of cultures, histories, and people from all over the world.  Actually, I don't think it's any of those alone – it's more that one place has all of this.
I'm very lucky to live in Barcelona right now! It meshes so well with my personality. This is going to be a tough city to beat, and it's definitely my personal favorite in Spain. But I'm willing to keep traveling, just to be sure!
Do you have a list of personal favorite cities in Spain? Which one would top your list, and which ones wouldn't make the cut? 
Besos!
-Jess