Barcelona can get awfully hot and sticky in the summer (which is finally here, yes!). The best way to escape the busy city and the sticky pavements? Take to the skies! No, I don't mean flying – I mean checking out the great terraces that are around the city.
I had no idea you could just walk into a hotel and go up to the rooftops or that there were bars up there to visit, but terraza-hopping is quickly becoming one of my favorite verano activities. A bonus? They're usually laid-back and free of the crazy tourist stampede that overtakes Barcelona in the warmer months.
So let's start off with a hotel bar with some fabulous views – the Alaire terrace bar at the Hotel Condes de Barcelona. Its location on the very (very!) fancy Passeig de Gràcia already gives this bar some cool points, which you can instantly feel from the chic lobby.

But it gets even better when you shoot upstairs in an elevator and walk out onto the 8th floor terrace. That may not sound very high, but in the Eixample neighborhood it's high enough to give you a good view.
Waiting for you in the middle of the terrace is Gaudí's wavy wonder, La Pedrera. At night, the white building gets all lit up and changes into a golden palace overlooking the poshest street in the city.
Over to your right, the iconic Sagrada Familia glitters over the rooftops of the Eixample's apartments.
On your left, you'll get a glimpse of a gorgeous rooftop terrace belonging to another hotel. This one isn't open publicly, but seeing it from above is almost as good as being there.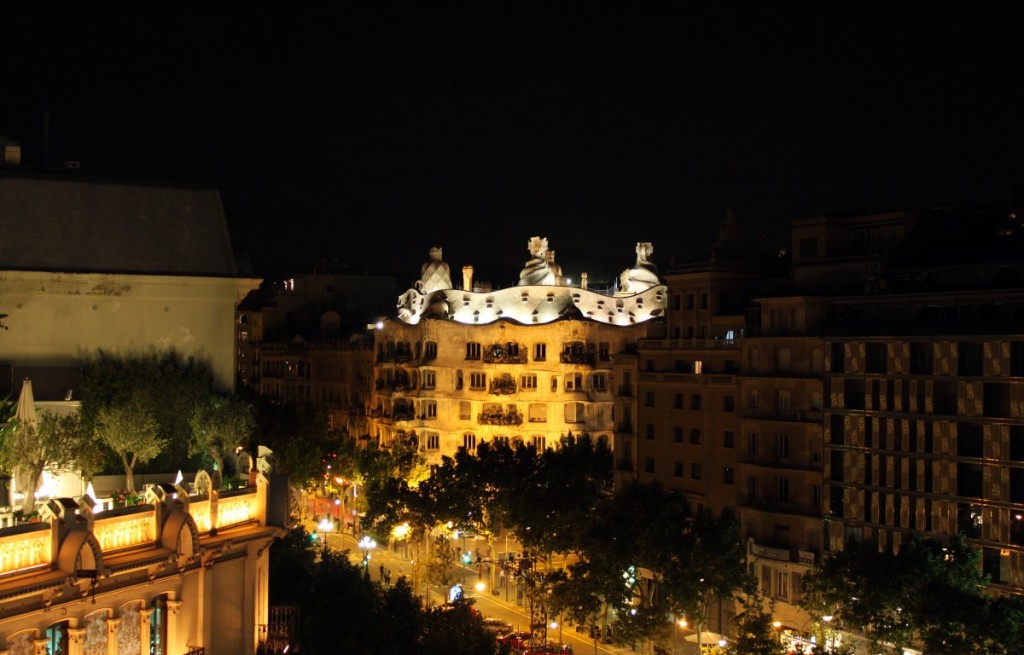 Grab a seat and choose from a menu of drinks, snacks, tapas, or light meals (they had a surprising number of hamburger options for such a fancy place). Here's the downside of these hotel terraces – you'll definitely be paying to be in a cool spot. A glass of wine runs about €5.50 and cocktails start from €10, so if you're looking for a cheap place to get smashed in Barcelona, this isn't it!
After you're done checking out the views (and potentially getting over your sticker shock), relax, sit back, and enjoy discovering why this place is called the Alaire terrace bar – it literally means 'in the air'. Sitting high above the city, it feels quite far away from the harried city center so you can enjoy the breeze.
The terrace is open year-round and opens at noon in the summertime. You can stay until 2 a.m., but I think the best time to go is definitely in the evening. You can also see more info about their special summer events at their website. 
I'll be back next week with another one of my Barcelona summer favorites now that the weather has finally heated up!
Have you ever been to a terrace bar in Barcelona? What's your favorite summer travel activity? 
Besos!
-Jess