When I thought of Berlin before going, I'd imagined a pretty but cold and grey European city. After a visit for the second time, I have to say that my initial ideas of the city were totally wrong. Well, except for the "pretty" part – it's definitely a looker!
This weekend, I got to go back to Berlin for an action-packed few days full of enjoying the very best of what the city has to offer. I enjoyed Berlin the first time I was there, so it was great to get to see more of the city and soak in more of my favorite parts about it.
(BTW, I went with Visit Berlin, Air Berlin, and Barcelona Travel Bloggers. You can find out more about our trip by searching social media for #bcnTBberlin. I went with five other bloggers – XperimentAndo,  Quaderns de Bitàcola,  Experiencia en Europa, Surfing the Planet, and Amadeu Deu,  – so check out their sites for posts too!)
Grey: The Historical Remains 
The reason I initially imagined Berlin to be grey was because a lot of the sights I had seen photos of were grey – mostly the grim reminders of the ugly past, like the long sections of the Berlin Wall or the large monument to the Jews who were murdered in the Holocaust. You can't avoid coming face-to-face, almost literally, with the tragic history that took place here. It has been respectfully remembered throughout the city.
Even though the Wall no longer exists as it used to, you get a good feeling for just how large and imposing it was. There were 87 miles of it. The city has done a very nice job of showing where it used to run with a double line of brown stones indicating a section of the wall was there.
Today, you can have a foot in East Berlin and a foot in West Berlin at the same time, and you can cross over what was once such a dividing line without even noticing it. Every so often, I would realize that's just what I'd done – automatically walked over a border that not too long ago people died attempting to cross.  I was born the same year the Wall fell, so it's very strange to think about how much the city has changed in my lifetime alone.
Rainbow: The Reclaimed History 
Part of the way the city has changed is that what was once oppressive has been very visually reclaimed as an artistic space. Today, the remaining parts of the Wall are famously covered in graffiti, ranging from political messages on the East Side Gallery to shrieking neon slogans on less-visited parts.
At the Platz des 9 November 1989 (the day East Berlin citizens were legally allowed to visit West Berlin), where the Wall first fell, there are a series of photos showing some of the first people going through. The black and white photos are next to a long section of brightly graffitied remains of the Wall. 

We were also lucky to see a young graffiti artist practicing on a different section of the Wall. In this section, people are allowed to freely practice their art on the wall. This guy seems like he picked out the most vibrant neon paint he could find in all of Berlin. It was another striking visual contrast between the photos of divided Berlin and what the city is today.

You can also spot the same reminder in the former Soviet section apartment buildings. Some of them are still the original identical grey, but many of them have been gleefully painted colors more often used to describe shades of sherbet than house paint colors. What were once long lines of identical faceless buildings have been reclaimed as very individual places brimming with color. 
White: The  Modern Architecture
Not all of Berlin has been taken over by screaming colors though; a lot of the new architecture in the city is done in subdued tones with glassy materials that shimmer and change colors depending on the lighting.

One of my favorite pieces of new architecture was the impressive Sony Center in Potsdamer Platz, especially the ceiling with its angular lines.The open-air center is filled with shops and restaurants around a large fountain. It's also home to the Berlinale Palast, a movie theater home to Berlin International Film Festival. Celebrities line up on the red carpet to get photographed before they head in hopes of winning the Golden Bear. Pretty cool place for a movie premiere, no?

Red: The Trabi Safari
I did promise a safari in the title, didn't I? Another place we got a modern twist on Berlin's history was by taking a tour around the city in a Trabant, a type of old East German car that's no longer made today because, quite frankly, they are almost hilariously inefficient, spewing out ominous looking clouds of near-black exhaust.
So if you're looking to buy a car, I don't recommend a Trabi (as they're nicknamed). But if you're looking for a fabulous way to tootle around Berlin for a few hours, then it's a whole different story! We went with Trabi Safari* for a drive around the historical parts of the city. You get handed a handheld radio, Soviet style, then jump in to an old Trabi given a facelift with a fresh coat of paint and a new interior.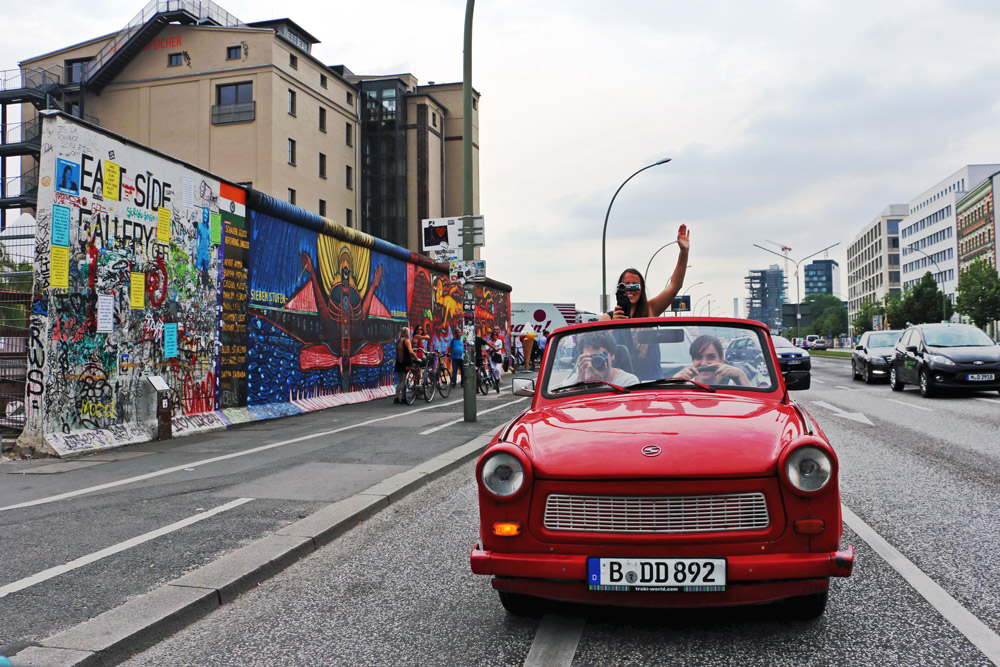 That's where things get tough – you actually have to drive the beast yourself. I quite happily sat in the back while my two lovely drivers, Rachele and Celia, took care of the business end of things. It takes a while to get the weird hand gear controls going, and the Trabi makes a hideous noise as you try to start it. 
Then, once the very patient Trabi Safari people have miraculously managed to get everyone's cars running at the same time, you're off! We went through the city center and up through the East Side Gallery and Kreuzberg neighborhood, with narration on the "Soviet radio" about what we were seeing. Of course, every so often somebody gets thwarted by either the Trabi's ridiculous controls or the Berlin traffic, and a voice on the radio squawks at the whole queue to pull over and wait.

Get used to getting stared at if you're in a Trabi, by the way. Between the mix of the attention-grabbing little car and the odd noises and fumes it enthusiastically belches out every 30 seconds, you will get the full paparazzi treatment from onlookers. People take your photo, stare, and shriek things at you. We even got serenaded by a large group of excited teenagers on a school trip, who were at the ready to welcome any distraction from their historical tour.
Orange and Yellow: Currywurst at the Brandenburg Gate
Ask just about any Berliner what you should eat in their city, and most of them will say "currywurst" before you can finish your question. This slightly bizarre-sounding street food is a sausage (this is Germany after all!) accompanied by a curry-ketchup sauce.

We tried it just outside the Brandenburg Gate during a break in our Berlin on Bike tour*. It was just as well we'd done all that biking, because the combination of sausage and French fries is not a light meal! It was pretty tasty though, and there were clean plates all around.

Green: Kreuzberg Biking
On my last visit to Berlin, I was particularly taken with the vibe in the Kreuzberg quarter, which is a place full of action around the clock (hey, there's one of those qualities I like about Barcelona too!). Kreuzberg actually used to be on one of the poorest neighborhoods in West Berlin, but at some point the low prices started attracting an artsy crowd. Today, it's one of the youngest neighborhoods in all of Europe and quite the trendy place.
The streets are covered in terrace bars with all kinds of people draped over the tables with enticing plates of food. But my favorite part was the building entrances with pretty plants and fresh coats of colorful paint, like this blue and green one complete with purple flowers and a bright pink bike, of course! You get a surprise burst of color every few steps in the neighborhood.

There's also a huge international community there, as about a third of the Kreuzberg population isn't German.  Actually, this is supposedly where the famous (or perhaps infamous?) doner kebab was invented by Turkish immigrants. Nobody believed me about this one on the bus into the city, but I was vindicated by a tour guide.
Midnight Blue: All-night Berlin Parties 
While I'm talking about Kreuzberg, I really can't skip over the part of the neighborhood I had the most contact with – the nightlife! Once again, both Kreuzberg and my lovely local friend came through, and we enjoyed a fabulous night on the town. This time, I went out with a group of Berliners, who were more than happy to introduce me to the bar culture in the neighborhood. Bonus: I got taken round on an old German Democratic Republic scooter in dark blue!
There's no shortage of bars here, and we started off at a terrace with a big group of people happily chatting and occasionally singing traditional German songs (a surprisingly common occurrence that weekend). Later, we moved on to a secret vintage themed bar that featured cocktails based on famous burlesque dancers. There was no sign on the door, and once you did the secret knock a man dressed in full doorman attire appeared to let us in. Inside we asked for a nice gin drink, and ended up "prost"-ing with a mixture of gin, ginger ale, basil, and lemon.
Eventually, the group decided to call it a night and we stumbled past the chandelier-draped bar to push our way out. To our great surprise, we were welcomed with a serenade of birdsong…and a shockingly bright blue sky. So much for a quiet drink or two!
Blue: Berlin Style Brunch
What to do after a night on the town? Well, according to the locals, the only thing you should be doing on Sunday morning is enjoying a lazy brunch with your friends. This weekend, the weather was truly outstanding (I have the sunburn to prove it!), so the brunch crowd was out in full swing. You could practically feel the relaxing vibes soaking in.

There are lots of pretty bars with outdoor seating and yummy-looking food. I wish I'd had time to stop for brunch this time, but I was just too busy. On my last visit, however, I got to enjoy brunch on a boat restaurant. There are so many cool places to try, so I know that was just the tip of the tasty, tasty iceberg. My new plan is to get Berlin brunch experts to come implement their genius system in Barcelona, as the barceloneses are slowly coming around to the idea of the breakfast-lunch hybrid.
Purple: Dessert at Neni Berlin
Have you heard the "dessert stomach" theory? If not, I'll run it down for you. You know how cows have four stomachs? Well, humans have two – a regular stomach, and then a secret desert stomach that only appears when you are presented with an especially delectable-looking dessert after a ginormous meal.
Yeah, my dessert stomach made an appearance after stuffing myself to bursting at Neni Berlin*, a new restaurant by the zoo on the top floor of the 25H Hotel. Its walls are actually floor-to-ceiling windows, and there's a small open air terrace running around the exterior. It's all done in chic light wood and filled with pretty plants. The views and the decor are fabulous, and the food is just as good. The concept is about sharing dishes, so it went over well with our Barcelona group used to tapas!

The highlight was this gorgeous cheesecake, which was topped with cream, fresh berries, and little curls of mint. I had eaten a rather large lunch, but still found a space for a taste (or two or three).
Pink: Berlin's Musical Hotel, the nHow
Our visit sponsors chose our hotel for us, so we had no idea what was in store at the nHow Berlin*, a new design hotel themed around music that's right up the street from the East Side Gallery. We rolled in and everyone's mouths dropped open when we saw the undulating pink and purple lobby, complete with a sparkling pink drum set nestled in between glowing purple iceberg sculptures.

The whole place is like walking into a tasteful version of an Austin Powers movie, or perhaps into a fantasy dreamed up between my 5-year-old self and a music lover on hallucinogens. In other words, it was awesome! Even the elevators are themed, each with a different musical genre, and you can get a guitar delivered to you via room service.
On our last night in the hotel, there was a wedding reception that finished with a huge display of colorful fireworks on the river. We were enjoying the riverside terrace with a few beers when we got an eyeful of this gorgeous display. What a great way to go out with a bang! Usually, I don't complain about not spending much time in a hotel on a trip, but I would not have complained about a day at this one. 

Well, that just about wraps up my colorful safari through Berlin. The city may have a dark history, but today it's bursting with bright color, from the buildings to the food. Every so often, one of us would catch a glimpse of an especially charming bike or a cute colorful restaurant and sigh "I'll be back in Berlin. Maybe I'll live here someday." 
I don't know if I'd ever survive in a city with such cold winters, but I do have to say that I think I'll be back in Berlin. The city has so much to offer, and I feel like I've only scratched the very enjoyable surface.
Thank you to Air Berlin for sponsoring our flights, nHow Berlin for sponsoring our stay, and Barcelona Travel Bloggers and Visit Berlin for arranging a ton of fun activities. Also, thanks to Berlin on Bike and the Trabi Safari for giving us tours of the city, and to Neni Berlin for treating us to lunch. 
Besos (or küsse in German!)
-Jess
A note  on my trip: because this is my first time covering a trip that was totally sponsored, I want to be very clear about how I've written this post.  
What was sponsored exactly? Every time I've discussed something that was sponsored, I've included as asterisk*  next to the name. This covers flights, accommodation, food, and activities. 
Was this the weekend I would have planned in Berlin had I gone independently? Absolutely not – I would have done fewer organized activities and less foodie stuff (and definitely scheduled in more nap time). 
Did I actually enjoy the activities anyway? Absolutely YES! Even though things weren't what I would have picked, I got to discover a totally new side of Berlin and try out some very fun stuff.
Even though the majority of my opinions are very positive, that's because I really thought those things great. 
It's a bit like trying someone else's food in a restaurant and finding out that they picked something really delicious (maybe even better than your meal) – it just wasn't what stood out to you on paper. That doesn't make it any less delicious, even if your friend pays for your meal too. In this case, I think the sponsors definitely picked out an excellent 'meal' (which was almost certainly better than the one I would have chosen).