Today, instead of chilling at my apartment with a huge bowl of Vietnamese takeout, I'm supposed to be partying it up at the BBK Festival in Bilbao. I bought my tickets months ago when one of my friends invited me to tag along with her group of friends. But right at the last minute, she pulled out – leaving me with the decision of whether to go anyway, or whether to gracefully bow out. 
I decided to bow out.
Even though I was really looking forward to going and I'm disappointed not to be seeing Franz Ferdinand and the Black Keys, my past travel experiences with flaky friends made me realize that it really was the best choice for me.
I've had quite a few of those experiences in my travel history. It's totally different when your friends cancel on meeting up with you at the bar versus canceling on a commitment that involves hopping on a plane (and probably some kind of financial commitment).
Here are five times when my friends have fallen through on our travel plans at the last minute…and what I ended up doing about them. Oh, and guess what? These are all different friends!  

New Year's Eve, 2009: Dublin
I was just finishing up my study abroad program in Sevilla, and one of my best friends from high school had been living in the U.K. for a few months. We'd been to lots of European cities together over the semester and had had a fantastic time. So we decided to meet up for one last Euro-fling before heading back stateside – celebrating New Year's Eve in Dublin.
A few days later, she called and said she wouldn't be able to make it after all.
My friend must have had a sixth sense for canceling at the worst minute. I got her call literally five minutes after I'd booked the hostel and paid the deposit.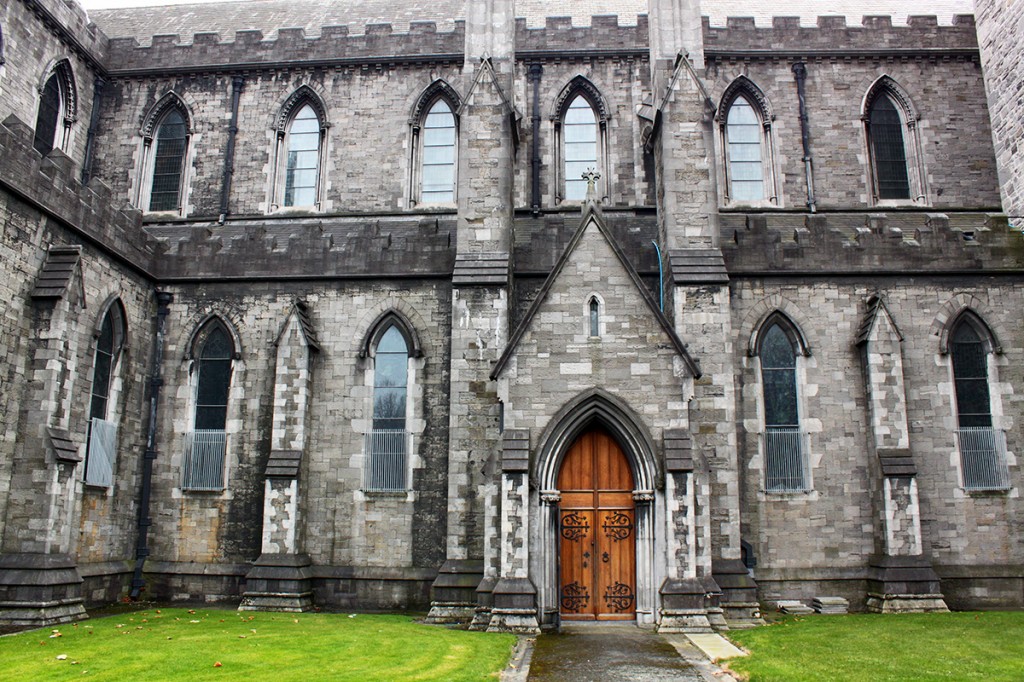 Did I stay or did I go? 
I stayed. Luckily, I called the hostel right away to explain my situation and they were really nice about it. They let me cancel the reservation and get all my money back! That was a relief, because their policy didn't guarantee that you would get your deposit back. They could easily have charged me, and then I would have been a bit more upset.

Lesson learned: 
If one plan falls through, see who wants to make another one! I ended up going to visit a college friend who was finishing up her study abroad program in Bristol, in the U.K. (it's where Skins is set and where there are lots of Banksy paintings). I rang in the new year at a wild house party packed to the brim, and got to see a totally new city.
Also, once you know that your plans are cancelled, call the hostel/airline/whatever right away to see what you can do about it. 
New Year's Eve, 2011: San Francisco 
I was spending Christmas break at home after a truly devastating few months in Barcelona. Between a horrible breakup, an apartment that was literally roofless in places, major issues with my job, and health problems, the start to my dream of living in Barcelona had not gone well at all.
Instead of living it up on the Mediterranean like I'd dreamed of, I was spending all my free time in bed crying. I could have really used a friend at that time, but when your first impression of the new foreigner is that they're constantly in tears, it's no wonder I struggled to make friends.
With all that, I'd been really looking forward to seeing my friends at home, who I expected would be supportive and distract me. They were going to San Francisco for New Year's, so I asked if I could join in too. Like good friends, they said yes.
Well, sort of. They said they would figure out somewhere for me to stay and promised it would all be fine. When I was in the airport hearing my boarding group number called, I got a phone call. "So, um, Jess…there's not a place for you to sleep."
I said I didn't care, I'd sleep on the floor.
"Maybe it would be better if you just didn't come", was the answer I got.

Did I stay or did I go? 
I stayed. I called my mum crying, asking if she would please turn the car around and pick me up right away. Then I asked her, "But how do I get OUT of the airport?? I haven't gotten off a flight!" I was so upset I couldn't think straight.

Lesson learned: 
If you're traveling with notoriously flaky friends, make sure you have a backup plan. My mum, who'd bought me the ticket as a Christmas gift, had very sensibly had the foresight that my friends might cancel things at the last minute (my group of friends from my hometown is great, but definitely flaky). So she'd booked a refundable Southwest ticket.
You can only exchange it for flight credit, but if you're unsure at all about your plans coming through, it's a way to get something back out of an unfortunate situation. They are a little more expensive, but they are worth it if you know that things might not go exactly as planned.
Salamanca, Segovia, and Àvila, 2012
Just a couple of months after my New Year's Eve fiasco, a very cheap student trip to the Castilla y León area of Spain popped up on my radar. A bunch of my friends promised they would buy tickets too, so I picked mine up on the way to work one morning.
The trip sold out much faster than expected. Not one of my friends had bought a ticket in time. They promised to look for someone to sell them their ticket, but nobody wanted to give theirs up.

Did I stay or did I go? 
This time, I went! I had always dreamed of seeing beautiful Salamanca since I saw a photograph of its Plaza Mayor, and I'd already spent the money on the trip. As my friends hadn't told me until the night before, I couldn't get a refund anyway. So I just went.
I was definitely nervous, because I didn't know anyone.
But as it turns out, there were a bunch of people who were also there on their own. Plus, the trip organizers did a pretty good job of introducing themselves to everyone, especially people who were obviously on their own.

Lesson learned: 
If it's a trip you've been wanting to do for a long time, just go for it. On big group trips, there will probably be other people traveling on their own. Most people are perfectly friendly, and if you truly hate it, you can always get the next ticket back home. I was so busy I barely had time to feel lonely, and I'd made "weekend friends" pretty much instantly on the 12-hour bus ride there. Some of them have turned into good friends 2 years later.
I actually was so glad I went that I signed up for a similar student trip to Asturias in the fall of that year. Again, it wasn't long before I'd found a group to hang out with for the weekend. Don't pass up chances to see places you really want to see because you're worried about being lonely for a few days.

Spring Break, 2013: Ibiza
I'd gone to Ibiza in 2012 with a bunch of my friends and had a fantastic time partying it up in paradise. So in 2013, we made plans to do a repeat trip. They kept putting off buying their tickets, but eventually all of them confirmed that they would be on their way to the bank that very morning to get things sorted out.
I called one of the guys – "OK, so my plan is to get my ticket on my way to work this morning. Are you absolutely, 100% sure that you guys are going? No hard feelings if you aren't, but today's the last day".
"Yes," he promised, "We'll get ours today! Go ahead and get yours."
That afternoon, it turned out they'd put it off just a little too long. Shortly after I got my ticket, the trip sold out. The guys tried bargaining and looking for extra tickets, but again, no luck.

Did I stay or did I go?
I went. I knew one or two people and figured it would be easy enough to join in with their friends.  (Er…and I couldn't get my money back). Unfortunately, their friends weren't especially open or welcoming, and I hadn't known quite as many people as I thought without the friends I'd originally planned to go with.
I had a perfectly nice time, and got to see sides of Ibiza that I hadn't seen the previous year due to being permanently installed at the nearest pool, beach, or club. But it wasn't nearly as much fun as going to party heaven with all your friends (especially one night when the whole group I was with disappeared at a club).
Lesson learned: 
Sometimes, you've got to be clichéd and make lemonade out of lemons, right? If you've already made the commitment to a trip that doesn't go as planned, figure out a way to make the most of it anyway.
Here's the thing. City tours are usually just as enjoyable on your own; actually, I kind of like doing them on my own because then I can take as many pictures as I want without worrying about annoying my travel friend. But clubbing is something that is sort of weird to do by yourself.
I felt a little uncomfortable and out of place most of the week, and was definitely a tiny bit resentful of my friends for falling through.
That meant I had to re-think my idea of what a week in Ibiza entailed. Because the group I fell in with was not very open to "extra" people, I made my own plans. I went for a long walk along the coast, I saw the ancient fortress, I hung out at the pool with a book, and I tried to talk to everyone I could.

The clubbing and parties? Well, I went and tried to chat to everyone I met, but clubs are not the best place to have a good conversation. On top of that, I actually got very, very sick after the first party and could barely speak. While Ibiza is gorgeous, it's not really surprising that the partying wasn't as much fun as I'd hoped with all that combined.
In the end, I did have a good time, but I was quite glad when it was time to go back home.

BBK Festival, 2014: Bilbao
I'd been planning on going to BBK for months, and had it pencilled in in my calendar since the tickets first went on sale. The lineup was good, the festival was cheap, and I was looking forward to getting to go back to Bilbao. The idea was to go with one of my friends and her group of friends, who were plenty welcoming but I didn't know well.
This Monday, a message arrived. She'd just started at her regular summer job, and her boss decided at the last minute that she couldn't take any days off. I was supposed to be leaving in less than 48 hours. Obviously, this wasn't at all her fault, but still.
When my friend cancelled, I instantly felt disappointed. All the excitement I'd had about the festival disappeared. I decided to mull it over for a few hours. That evening, no matter how often my yoga instructor encouraged us to let go and focus on our breathing, I couldn't. I spent the entire class dwelling on the situation.

Did I stay or did I go?
I've already given this one away! Based on my experiences being the "extra" person in a group in Ibiza, I decided that I just wasn't comfortable going to another party event as the outsider. I ended up selling my ticket in a sketchy deal on Facebook.
(Side note: one of the most frustrating parts on top of the disappointment was that BBK had been sold out. Then, pretty much just as my friend canceled, the festival released a bunch of extra surprise tickets. Had she cancelled just a day sooner, I could have made a nice profit (like, 500 euros profit). I made a little extra cash, but it was so, so irritating!)
This group is almost certainly different than the Ibiza group. They were very welcoming and glad to have me come along. But…I had only met them about two times. Although they were so nice to me and I'd love to get to know them better in the future, I felt really awkward about tagging along with them. First of all, they'd known each other for a long time, and it's almost always hard to break into a group like that right away.
Secondly, they prefer to speak in Catalan in the group. I don't have a problem with Catalan and I do understand most of it, but I'm afraid my speaking level is abysmal. I know I would have had a hard time being involved in conversations and goings-on during the festival. Language barriers are pretty exhausting to deal with (and yeah, I am regretting not doing more Catalan courses).

Thirdly, the festival is six hours away from Barcelona. Had it been here instead, I would have gone anyway, knowing that if things got too uncomfortable I could always have gone back to my apartment. And fourthly, I went to Coachella one year with a group of my good friends, plus a girl who tagged along. There was absolutely a weird dynamic with having just one person who wasn't close with anyone else, and I didn't want to be that person (and we all spoke the same native language).
Lesson learned:
Trust your intuition. I didn't feel comfortable with the change, and if BBK was going to be anything like my Ibiza trip the year before, I knew it just wasn't worth it.
Solo travel is a great thing for some people and in some situations, but this wasn't the right time, place, or person. Going to see a beautiful old city like Salamanca by yourself is one thing. Going to a giant music festival is totally different. My favorite memories from going to Coachella with my friends in college aren't seeing the bands play; they're about spending a weekend getting crazy with my favorite people.
Also, even though solo travel gets a lot of positive press, I almost always prefer to travel with someone. It's probably hideously uncool to admit that,  I generally enjoy being around people and having someone to share my travel experiences with. That's even more so for party situations.

Maybe if it were just a trip to Bilbao the city, I would have gone. Maybe if I hadn't had a weird experience in Ibiza the year before I would have gone. Maybe if it had been a group of people who spoke in Spanish or English, I would have gone.  Still, I think I made the right call in staying in Barcelona. And hey, it's not all bad! I have a 4-day weekend because I already had the days off work, and I've decided to use it to relax and enjoy myself.
So today has been a chill day of lazing around with a delicious Vietnamese curry from my favorite takeout place and endless cups of tea to go with dramatic T.V. shows (please tell me someone else is addicted to Pretty Little Liars too!) and scandalous documentaries (in honor of the Tour de France, I am in the middle of The Armstrong Lie. What. A. Tool).  I might go down to the beach, do a spot of rebajas shopping, go check out the cool new restaurant I found…or I might just enjoy not having anything at all to do.
(The restaurant, if you're wondering, is A Tu Bola in the Raval neighborhood. It is SO good and so cool). 
Bonus: I will be able to go to a bar to watch the World Cup finale on Sunday night without worrying about getting back from Bilbao in time!

Even though having your travel plans fall through at the last minute is frustrating and disappointing, I've learned how to deal with lots of different unexpected situations thanks to my flaky friends. You can't always be prepared, but now I know better how to figure out the best course of action for me when travel plans don't go as I'd hoped.

Have you ever had a friend cancel on a trip at the last minute? What did you do about it? 
Besos!
-Jess