Sometimes you visit a place and it's exactly what you expect it to be like from the guidebooks and photos. Other times, there's something special that those books and pictures aren't quite able to capture – and that's what I found in Helsinki, Finland.
A couple of weekends ago, I spent a few days exploring Helsinki. While the city did end up living up to some of my expectations, it also had a whole bunch of surprises in store. Here's my piece on my pre-trip expectations, and now here's what I thought about the city after having a chance to explore it for myself.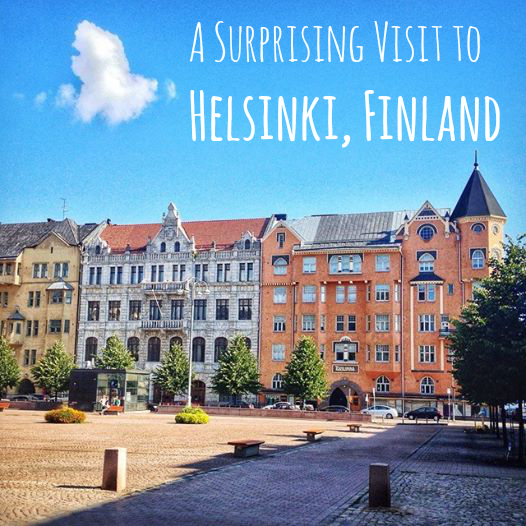 Expectation: A sleek and stylish city.
Reality: Style is everywhere in Helsinki. 

I knew that Helsinki was probably going to be be a chic place; after all, that northern European sleekness is world-renowned for how simple and elegant it looks. But I was still surprised at how much of the style was automatically visible in the city, like clean lines and lots of bright, airy spaces. Things are simple but not boring in a way that's tricky to pull off.
And even better, the great-looking designs also served a very practical function too. My favorite example of this is this fun fly decoration, which is actually a smoke detector! The designers figured if it looked nicer, then people would be more likely to display it and thus use it. Pretty cool, eh?

There were hints of Finnish style everywhere, and it was clear that style is imbued into everyday life here.  I wouldn't mind adding hints of in into my life; for instance, I could have stayed in this beautiful Artek chair all day! (Though it was a bit out of my price range).

One fun thing the tour guide mentioned – if people buy special fabrics from a designer, they leave the edge pieces with things like design information and serial numbers on. That way, everyone knows which year and designer it came from!
A peek at just some of the endlessly stylish things you can get your hands on in Helsinki:

Expectation: A very expensive city.
Reality: It really wasn't as pricey as I was fearing.

After a horrifying weekend in Oslo when it came to my budget (I am still smarting over that €10 beer!), I was a bit wary about what a similar weekend in Helsinki would do to my bank account.
But luckily, Helsinki is actually quite a bit cheaper than Oslo. Of course, compared to Barcelona prices, it was still not cheap, but it was about the same price as eating in the city center of Barcelona, say. Not too bad at all! If you're on a budget and want to travel to a Nordic city, I'd definitely consider Helsinki.
Expectation: The chance to eat some interesting animals.
Reality: The chance to eat lots of interesting things in general.

Another big surprise? Definitely the food! From the markets to a Finnish 'sapas' restaurant (a take on tapas), I ate SO much delicious food in Helsinki. There's a real focus on a lot of the trends I saw happening in California recently  – fresh, local foods and a selection of "small plates" so you can try lots of dishes.
But unlike in California, locals said that Finnish food's emphasis on local products isn't a trend; it's always been that way. Eating locally just makes sense.

Some highlights of food in Helsinki included sampling lots of different types of smoked salmon at a local market, trying out "new Nordic cuisine" at Juuri, and finishing off an afternoon of eating with mouthwatering Fazer chocolates.
This selection plate at Cafferino Oba was a highlight too (not to mention their baklava!):

Expectation: natural beauty and a lot of sunlight
Reality: I'm getting sunburned in Finland??
I just talked about eating locally being big in Finland, but that attitude wasn't limited to the food. Even though Helsinki is a bustling city, it's so close to nature, and the people are very connected to it. You can catch a boat to sail through the nearby islands, and it's amazing how quiet and, well, natural everything feels just 10 minutes out of the city center harbor. There are small islands covered in dark green trees, with the occasional brightly colored wooden house and matching sauna peeping out of the leaves.

It's quite common for Finns to have summer homes with saunas, which they enjoy with their family and close friends. A few groups were still making the most of the last days of summer and leaping into the water. It looks like such a nice relaxing way to spend your vacation!

And side note: I got sooo lucky with the weather! It was incredibly sunny and everyone was outside enjoying the last of the summer sunshine, from strolling around with their friends to sitting at a café terrace.
Although, I must say, it is awfully tempting to go back when it's chilly and snowy; I bet the city totally transforms. (And I say this as somebody who hates the cold).

Expectation: Saunas, saunas, and more saunas!
Reality: OK, the saunas are pretty awesome.
I'll admit it – I was actually secretly a bit nervous about trying the saunas. After all, it's not every day you start touring a city with a guide and everyone ends up stark naked at the end of it! I was definitely a little concerned about it…but everything was totally fine. Actually, it was more than fine.
First of all, women and men get separate saunas, so there was no need for me to freak out about the possibility of being naked in front of strange men. Relief!

Second of all, saunas are so totally chill that it probably wouldn't have even been a big deal anyway. People go here to relax, and even though to an outsider it's unusual that that relaxation happens totally nude, it's something that pretty much everyone does with their friends and family. It's not sexual at all! (As one local assured me, "These aren't German saunas – we don't have orgies or anything in ours!")
The way it was described to me seemed like it might serve a similar function to me getting a coffee or a drink with a friend. But, as a local pointed out to me, anyone can overhear you in a coffee shop. She said that in a private sauna, you can have really intimate conversations, and people often end up spilling their deepest secrets in the dark, steamy rooms. It's a totally different type of intimacy than a lot of foreigners might expect happens!
I ended up getting a whole sauna to myself, which was nice in terms of alleviating stress about nakedness; I just hung out by myself! Although, after hearing about the whole social aspect of the sauna, I was slightly disappointed. It would have been a much more daunting experience to go in with strangers, but at the same time it would have been a totally different look at the sauna culture and the social atmosphere surrounding it.

If I go back, I'd love to experience the social side of it (and now that I know that the naked part is nowhere near as weird as I'd previously made it out to be in my head,  it would be much easier to relax and enjoy it the whole time!).
Also, did I mention how amazing a good sauna will make you feel? I felt sooo good at the end of it. Afterwards, it was like all the tension and stress had been wrung out of my body, so it was a fantastic way to top off a day of sightseeing and walking.  Bonus: it made my skin just glow afterwards.
Now, let me move on from my expectations onto a few of the things that flat-out surprised me about Helsinki.
Surprise #1: the relaxed, laid-back vibe

Maybe everyone was in an especially good mood because of the good weather, but all of Helsinki just felt relaxed and even-tempered. Maybe even-tempered is a strange way to describe a city, but the whole feeling was very peaceful and happy. People were polite and kind, everything was clean and well-run, and it seemed like Helsinki would be a very, very nice place to live.
I wasn't surprised that it was nice, but I was surprised at how warm, friendly, and laid-back it felt, as I was expecting something a little colder in terms of vibe.
Surprise #2: the funky Sibelius monument

Finding the strangest, most unusual things in a city is always a fun challenge, and the Sibelius monument was one of the odder things I visited in Helsinki. Set in the pretty Sibelius park by the sea, this undulating monument doesn't exactly fit in with the sleek style favored throughout Helsinki. Over 600 metal pipes with varying patterns are arranged in a wave. Originally, the work was supposed to make its own music when the wind blew through it; unfortunately, it's arranged at the wrong angle.
You can try making your own 'music' by shouting into it, but perhaps my voice wasn't loud enough to produce any interesting sounds.
Fun fact: there's a small version of it in Paris and a similar piece in New York City.
Surprise #3: Moomin is a TROLL!
I thought beloved Finnish cartoon character Moomin was a hippo when I first saw a drawing of the Moomins. I was incorrect – they are actually trolls (though apparently there is a joke in the series about people mistaking them for hippos).
Either way, they are very cute and VERY big in Finland. I'm going to have to read up on Moomin, because it sounds so lovely and the characters are adorable. Just look at these Moomins in lamp form! 

Most Finns know which one of the Moomins fits their personality, so I took a personality quiz that said I was Snufkin: "As light as a feather, you travel where your feet take you, are spontaneous and free, but quiet. You have great wisdom and share it with those who are worthy. You are friendly and kind. If you could get rid of everything material and live off of air and love, you'd be the happiest person alive. Sometimes you may be too reserved though and keep to yourself too much."
But another one gave me the Hobgoblin: The Hobgoblin is mysterious man with magic hat. he is a magician, he can only fulfill wishes of others. He collects gems, and rides on his panther in the space. you are secretive and intense."
I could be SO down with either traveling all the time or riding a space panther.
Anyway, I've got to say that I enjoyed visiting Helsinki way more than I expected to. Cities that have something to surprise you are almost always my favorites, and the Finnish capital is definitely full of surprises.

Which cities have you traveled to that have totally surprised you? And did YOU know that the Moomins are actually trolls?
Besos!
-Jess
Note: a special thank you to Visit Helsinki, Aallonkoti Hotel Apartments, Happy Guide Helsinki, and WE Factory for helping me have an incredibly enjoyable weekend in Helsinki!