Chalk this one up under articles I never thought I'd write! Even when people have directly asked me for suggestions for things to do in Barcelona with children, I've ended up referring them to another website because I had no clue.
But this spring, I ended up doing about six weeks of childcare for a family friend. My initial reaction was panic – where on earth was I going to take these kids? And how could I keep two of them entertained at once?
It turns out I didn't need to worry; there is tons of great stuff to do with kids in Barcelona. Whether you're looking for highbrow cultural stuff or just plain fun, there's something for every type of kid here.

Even if you're going at a slower, child-appropriate pace, you can see a whole lot of Barcelona while working in a bunch of kid-friendly activities. Some of them are even secretly cultural, even if the kids don't realize it!
So, here are more than 50 ideas family-friendly things to do in Barcelona, with a few little insider tips along the way to help you really enjoy the city with your family (or perhaps in spite of them). I've also got some general tips at the end of the post for families visiting the Catalan capital.
Of course, traveling with kids can get pricey pretty quickly, so if you're interested in cheap things to do in Barcelona, you may want to check out my list of budget-friendly suggestions here.
Gaudí Sights
You can't go to Barcelona and NOT see any of Gaudí's stuff. Well, you could, but you'd be majorly missing out.
Artistic kids will be fascinated by the unusual shapes and designs he created, and lots of the works you can visit have kid-friendly activities to make it more engaging for them. These extra activities for children do come at an extra cost, though, and you may find that Gaudí's works are captivating enough on their own.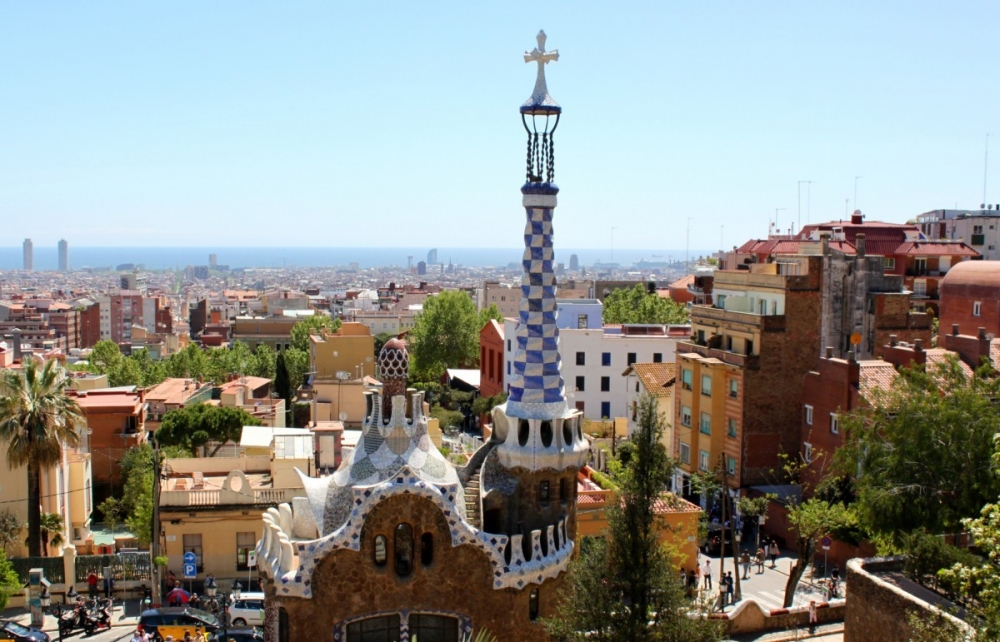 Casa Batlló – the fancy Gaudí building on Passeig de Gràcia, Casa Batlló, gets the whole family involved. They've got a virtual reality guide of the building that makes it come alive.
La Pedrera – not to be outdone, the other fancy Gaudí building La Pedrera hosts weekly activities for families, like the "Indiana Stones" activity that explores the natural inspirations behind the building. Call ahead to book the activity and to request languages other than Catalan.
Parc Güell – the fantastical shapes here will capture a creative kid's imagination. Just outside the park, you can also stop by the 4D Gaudí Experiència.
Tip: If you sign up for the local government's"Gaudir+" program, you can get into Parc Güell for free. Here's a link with all the information on how to apply – anyone can do it.
Sagrada Familia – kids love the crazy designs, plus there are playgrounds on two sides of it, so you can keep kids occupied while you gaze at Gaudí's still-unfinished masterpiece. We sat in the shade by the lake in one park and had a snack, which gave the kids something to do while I stared at the beautiful church.
Tip: On the C/Provença side of the church, one of the gift shops has a large model of what the Sagrada Familia will look like when it's completed (there's no charge to look at it).

Other Major Sights
However cool Gaudí is, there's much more to see in Barcelona than just his work. Here are a bunch of the sights that are fun to visit with kids.

Barcelona Cathedral – make sure you stop by the cloister and visit the geese there. They're part of quite a gory story (there are 13 geese for every torture Santa Eulalia suffered), but animals, that's the important thing here.
Tip: Visit the cathedral before 12:45 p.m. or after 5:45 p.m. during the week to get free entry. For Saturdays, it's free before 12:45 and after 5:15, and on Sundays, it's free until 1:45 and then again from 5:15. Double-check the current visiting hours here.
La Boqueria – the colorful foods from all around the world at the Boqueria are fascinating for kids (and lots of adults, too). They'll enjoy wandering around and picking out a snack here.
Tip: While the Boqueria is the biggest (and busiest) market, you'll be able to have a similar experience at any of the local neighborhood markets too, just without the crowds.
Bus Turístic -The bright red, double-decker Bus Turístic lets you rest your tired feet and see a lot of the city from high up. It's hop-on, hop-off, so you can come and go as you please (there are 1-day and 2-day passes available).
Camp Nou – for fútbol-crazy kids, a stop at the Camp Nou Experience is a must. You'll get to see the playing field, walk through the changing rooms, and, of course, gaze upon the seemingly endless trophies Barça has won over the years.

Las Ramblas – love it or hate it, Las Ramblas is an icon of Barcelona. There are all kinds of stands selling stuff from souvenirs to freshly-cut flowers. Kids will get a particular kick out of the living statues and tricksters performing along the boulevard. Nearer to the bottom, there are artists drawing caricatures, portraits, and city scenes.
The Magic Fountain at Montjuic – during the evening, the fountain at the entrance to Montjuïc is lit up in rainbow colors and shoots out different jets in time to music. You might get local songs, Disney classics, or famous movie music to accompany the show. Pack a picnic, find a spot on the steps, and enjoy!
Tip: check the official website for show times, as they vary according to season – scroll down to 'horaris'.
Also, near the Plaça Espanya metro stop exit is a shopping center, Las Arenas. In the basement level of the mall is a Mercadona supermarket perfect for getting picnic supplies or drinks.
Temple of Augustus – a small section of a real Roman temple remains in the city center of Barcelona. Kids studying ancient history at school will love getting a glimpse of the real thing. It's free and a quick visit, and definitely worth seeing.

Museums
Barcelona has a huge selection of good museums, but some of them are endless art galleries that would put most kids to sleep. Here are a few that are more interesting to kids than others.
Do check prices online before you go – some museums are free on a specific day of the week, and others let kids in for free all year round. I've linked to all the official sites for museums I mention, and to their English site if possible.
The Blue Museum – this museum is dedicated to the natural history and sciences. It's been recently relocated to the Forum district right in front of the beach, and has a garden and runs workshops for children. Under-16s get in free.
Caixa Forum – this was a huge hit with my charges because they had a special exhibition about all things Pixar! The exhibitions change, so make sure to keep up with what's on. It's free for kids under 16.
Chocolate Museum – because really, what kid doesn't like chocolate? They have a section of activities on their website grouped by kids' age (from 0 to 17), so there's something here for all age groups.
CosmoCaixa – the science museum outside of the city center has a ton of exhibitions, and it's also free for the under-16 crowd. They run special activities that cost €4 each.

Fundació Joan Miró – Miró's style is childlike, and kids often love his artwork. The gallery puts on events for children and school groups, including tours, workshops, and shows.
Maritime Museum – located right by Drassanes metro stop, this museum explores the maritime history of Barcelona. The building was actually used for making ships in medieval times, and there are quite a few boats to see here.
Mammoth Museum – yup, there's an entire museum dedicated to woolly mammoths in Barcelona. This might be better for the younger crowd, but they've got enough to keep kids interested, with animal skeletons and relics from the Ice Age, plus reproductions of cave paintings.
Museum of Ideas and Inventions – this museum has interactive exhibits about technology from the useful to the quirky but useless. They've got a kids' zone where kids can design their own inventions and submit them to a monthly competition.
Picasso Museum – like Miró, Picasso's bright and colorful style often appeals to kids. Children up to 18 years old get to enter for free!
Tip: Everyone can enter the Picasso museum for free on Sundays after 3 p.m., and all day on the first Sunday of every month. But get there early and be prepared to wait in line, because this is a hugely popular museum.
Parks, Gardens & Beaches
Letting kids loose in a park or a garden while you relax in the shade or take in views of the Mediterranean? That's what I call a win-win. Barcelona parks may not have as much grass as you're used to in a park, but there are plenty of places for kids to get outside and burn off some energy.

Beaches– go to the Nova Icaria section, as there's a cool red climbing structure and a playground there (next to the Red Cross building). You can also use beach volleyball nets, although they tend to be booked up.
Ermessenda de Carcassona Gardens playground – tucked into the residential area around Hospital Clinic, there's a large playground featuring a small zipline. It's right behind the library with a big children's section. It's not worth going out of the way for if you just have a few days in the city, but if you're staying in the area or are here longer term, this is a great little spot.
Joan Miró Park – just behind Las Arenas shopping center, there's a big park with a playground and some Miró sculptures  – perfect for sitting in the shade while the kids burn off some energy. This is where you can see the famous Dona i Ocell – Woman and Bird.
Parc de Cervantes – the Cervantes park is best known for its beautiful rose gardens. This is a bit out of the way but very easy to get to on the metro's green line, and it's a good spot for picnics, as there's lots of grass to sit and run around on.
Parc de la Ciutadella – there are quite a few things you can do here, like finding the big mammoth statue, taking out a boat onto the little lake, and having a picnic. The zoo is also located inside the park.

Parc de la Creueta del Coll – another off-the-beaten path park, this one features a large, shallow pool against a scenic backdrop of palm trees and a sculpture by Eduardo Chillida. It's also got picnic tables and a playground. Admission costs €2.35 (though it's reduced to €1.35 if you go after 6 p.m.). Take the bus rather than the metro to get here, as it'll leave you much closer to the entrance.
Parc del Laberinto – as the name says, this park does indeed feature a labyrinth – or, as we'd call it, a maze. It's free on Sundays and Wednesdays, although it's hardly expensive on other days at under €2 a person.
Passeig de San Joan playgrounds – the whole upper section of Passeig de Sant Joan street (above Diagonal Avenue) is dotted with playgrounds for different age groups. It's an easy walk from the Sagrada Familia.
Platja de l'Exiample – the Eixample district has its own very own beach! Well, sort of – it's a small bathing pool and park hidden behind an alleyway near the Girona metro stop.  To make the beach effect more real, sand and striped changing huts are brought in during the summer. It costs €1.55 to enter.

Catalan Culture
Locals in Barcelona are very proud of their cultural heritage, and many of their traditions involve the entire family. Here are a few highlights that are great for letting the whole family see a bit of Catalonia's unique traditions.

Castellers – the kids I was babysitting were fascinated by the idea of castellers (Catalan human towers). We didn't manage to catch any performances while they were in town, much to their disappointment, but look out for local celebrations to see castellers in action.
Correfocs – another element of local celebrations, correfocs literally mean 'fire runs', and involve lots of fireworks, explosions, and loud noises. Younger kids might be scared by them, but on correfoc days there are smaller children's correfocs before the big ones (they're usually in the late afternoon).
Tip: to see the costumes used for correfocs, go inside the Ajuntament building in the Plaça de la Vila de Gràcia (it's the blue one). It's free! You can see the 'gegants', or 'giants', costumes here, too, and it's a great square to let the kids loose in.
Mosaiccos mosaic workshop – what better way to learn something new than to do it yourself? At Mosaiccos, you get to make your own ceramic art using the 'trencadis' technique Gaudí mastered. Kids can make their own treasure chests, photo frames, and more. There are glass pieces older children can break themselves, or pre-cut plastic pieces for the younger ones. Friendly owner Angelika speaks English, Spanish, and German.
Tip: See a Gaudí work in person before going to Mosaiccos so kids can see the technique they'll learn here. A busy morning at Parc Güell paired with a quiet afternoon of ceramic crafts would be ideal, for instance. 

Great Views
It's fun to get high up above a city to see it from a bird's eye perspective no matter how old you are. Here are a few places that are great for seeing a sky-high view of Barcelona.

Columbus Monument  – it may not look like it from the outside, but you can actually get inside this tall, narrow statue at the bottom of the Ramblas and take an elevator up to the top. You'll get fantastic views of the port and city center of Barcelona.
Las Arenas shopping center – Las Arenas is a bullfighting ring turned into a shopping mall. It's also got fantastic views of both Montjuïc and the Miró Park, and kids will love running around the top of the building and looking at the views (don't worry, it's fenced in). Combine this with a day out at Montjuïc.
Tip: there are free public bathrooms here, plus a supermarket on the lowest floor that's great for picking up supplies before heading to Montjuïc.
Montjuic Cable Cars – jump on the cable cars on the beach and get zipped across to Montjuic as you overlook the harbor. This is not for kids afraid of heights, as even I got a bit nervous on the wobbly ride!
Montjuïc Castle – a castle is usually a great place to let kids loose, and this one has the bonus of coming with great views of the beach and the industrial harbor in Barcelona. Take the cable car or the funicular railway (from Parallel metro stop) for a different way to arrive, or use get on the 150 bus. It's free for kids up to 16 years old.
Tip: the castle is also free with the "Gaudir+" program.
Read more: If you're hoping for good views and don't necessarily plan on bringing the kids along, check out these fantastic summer rooftop bars in Barcelona!

Zoos, Aquariums, and Theme Parks
Most kids love a day out at the zoo or a theme park, and there are a few different options for stuff like this in and around Barcelona.
Barcelona Zoo – Barcelona's zoo hosts over 325 different animal species, so there's loads to see here to keep kids happy. At the weekends, animal experts are on hand to answer kids' questions (or yours, too!) The zoo is located inside the Parc de la Ciutadella.
Tip: look out for discounts to the zoo online, as there are often promotions that combine train tickets and zoo entrance fees.
Illa Fantasia – this is a water park just outside of the city with all kinds of slides and pools to play in. Getting here from the city center takes about half an hour.
Tip: if you arrive after 2 p.m., it's counted as a half day entrance and your ticket will be a bit cheaper.
L'Aquarium de Barcelona – it's not the biggest aquarium, and the entry prices are a bit steep, but this was a big hit with the kids I babysat.
Port Aventura – OK, this one isn't actually in Barcelona either, but it's fairly easy to get to (it takes about 90 minutes by train). For big thrills and some of the fastest rides in Europe, this is the theme park to go to.
Tibidabo Amusement Park – looking out from the top of a big hill behind Barcelona, this small theme park is definitely family-friendly. You can hike up in the Colserolla Park if you want (take the FGC train to the Baixador de Vallevidrea for this route), or you can go directly to the park via the funicular railway. This is actually one of the three oldest theme parks in all of Europe.

Just for Fun
There are loads of really fun activities to do in Barcelona with children. Here are a few little extras that your family might enjoy.

Convent de Sant Agustí – this convent turned into a café and civic center has a play section inside for little kids. And, because it's in a convent cloister, it's in an enclosed area that's perfect for kids to play in. Bonus: they have free wi-fi!
English language bookstores – while most large bookstores in Barcelona do sell some things in English, there are a couple bookshops whose business is selling mostly books in English. Try Hibernian Books in Gràcia (they have a kids' section) and Come In on C/Balmes.
English language cinemas – you can find movies in English in Barcelona – look for ones on offer in 'V/O' or 'versión original'. The film will be shown in its original language with Spanish or Catalan subtitles. Renoir, Verdi, and Yelmo theaters all frequently run movies in English.
Tip: another theater that shows original language movies is the outdoor Sala Montjuïc, which runs during the summer at the Montjuïc Castle.
Las Golondrinas glass-bottomed boats – the Golondrinas boat ride has short cruises on the sea in glass-bottomed boats. They've been running for over 125 years. They're budget-friendly too, at just €2.80 for kids up to 10 years of age for a 40-minute cruise.

Bonus Activities
If you're spending more time in Barcelona, here are a few activities you can do with kids in the city. As Spanish families tend to involve children in lots of things, there are no shortage of activities you can do with your children here – these are just a few ideas.

I had the kids I babysat learn some Spanish food vocabulary, then we went to the market and picked out some fruit to make smoothies with. The catch? They had to say the word for the fruit in Spanish before we'd buy it.
Do an animal sculpture hunt! There are animals hidden all over Barcelona thanks to the 'modernista' style, so while you're walking from sight to sight, have kids see how many animals they can spot in the buildings.
Have them make a little scrapbook of the sights they've seen. Paste in ticket stubs, write in new Spanish or Catalan vocabulary words, draw pictures, and write a bit about the day.
Check out local civic centers and libraries. They have a ton of activities on for kids and families, although they don't typically start until around 6 p.m.
Take a day trip and explore the area. Barcelona may be the star attraction in Catalonia, but that doesn't mean it's the only place here worth visiting. Here are some ideas for easy trips – your kids might also like seeing Roman ruins in Tarragona or exploring the mountain of Montserrat.
Attend local festivals and celebrations. Most have a family-focused component to them during the day. Try the Festa Major de Gràcia in August and other neighborhood 'festa major' celebrations (each neighborhood has one), La Mercé in September, and the Santa Eulalia children's festival in February.

General tips for families visiting Barcelona
Here are just a few more general tips for families visiting Barcelona that will help you make the most of your trip.
Keep your eyes peeled for discounts and family ticket offers online. There are lots of good deals to be had if you do a little Google research beforehand.
If your kids are older, have them bring student ID cards. You can often get discounts that way too. Not everywhere will insist on seeing the card to give you the discount, but you never know.
A T-10 transportation ticket is a great way to get around. It gives you 10 trips on any form of public transportation in the city. T-10 tickets can be shared, so multiple family members can use the same ticket. Here's more information about Barcelona metro prices.
The metro is the best way to get around Barcelona. It's clean, quick, and easy to use. Many stations have access for strollers, too. You can consult a list of stations on the main lines that have elevators here. Children under age 4 travel for free (you may need to prove their age, though).
Check opening hours and times online beforehand. Museums are often closed on Mondays, for instance, while Sundays are good for getting free entrance.
Kids' menus aren't common in Barcelona. Very, very few of the restaurants I went to with my babysitting charges had a children's menu. However, there are lots of kid-friendly food options at Spanish restaurants, and they tend to be pretty welcoming for families. Here's more on eating out with kids in Spain.
Enjoy the city's many plazas and terrace restaurants – they're often packed with kids running around and playing in the square while the parents sit back at a restaurant and have a drink or snack.

Any other tips for visiting Barcelona with children? Are there any other great things to do with kids in Barcelona that I've missed?
Besos!
-Jess