You know, for a blog with the name "Barcelona Blonde", I often find myself writing about topics that are very non-Barcelona (oops!).
That's something I'm planning to change in 2016. So to kick off the new year, I'll be taking a little trip back through my top Barcelona moments of 2015 as seen on Instagram!
Happy New Year, everyone. Thank you for being along for the ride!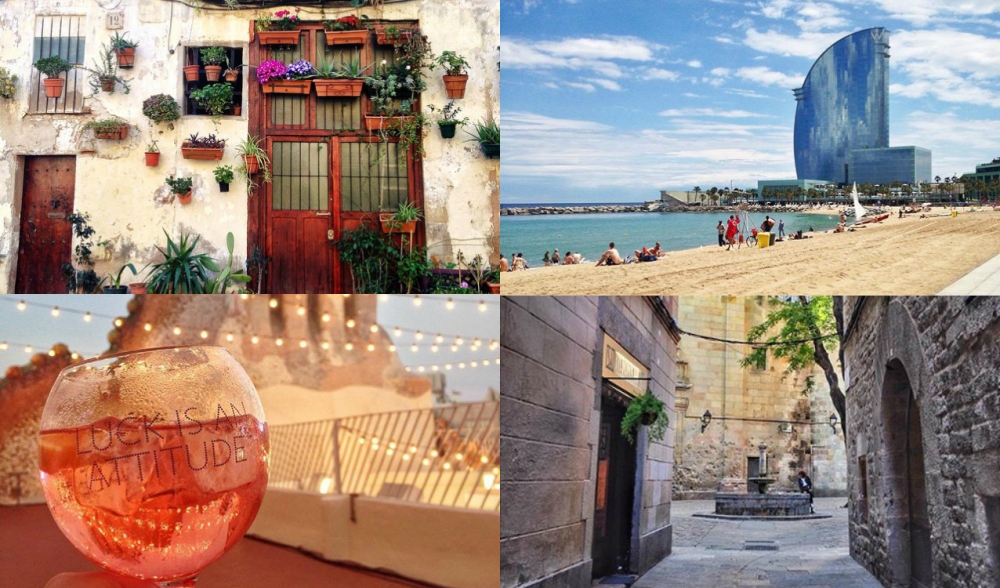 10) A hotel rooftop on Rambla Catalunya
The NH Barcelona Calderón rooftop, to be specific! I was there for a work event, and while I was waiting for my meeting time to come up I had a little wander around the hotel. Much to my delight, I found out that there was a rooftop swimming pool with incredible views of downtown Barcelona.
9) A hotel rooftop on the Rambla del Raval
Another hotel rooftop, another spectacular view. This particular hotel, the Hotel Barceló Raval, is one of my favorite places to take visitors, because it has a 360° bar giving you a wonderful perspective on the entire city, from the Mediterranean to Montjuïc.
A photo posted by Jessica (@barcelonablonde) on
8) A glimpse of Plaça Sant Felip Neri
This little square in the Gothic Quarter couldn't be more picturesque. But look closely at its walls, and you'll see they're pockmarked with holes from a bombing that killed over 40 people (most of them children). Despite the square's tragic history, today it's one of the most scenic spots in the city.
A photo posted by Jessica (@barcelonablonde) on
7) Sunset as seen from Casa Batlló
Casa Batlló is my favorite Gaudí building from the outside, with its skeletal structure and shimmering stained glass. I still can't quite wrap my head around the idea that people actually lived in such a surreal building. This upstairs balcony gives you a fantastic look at the sun setting over the grand Passieg de Gràcia – and was once somebody's view out their home window!
6) "Luck is an attitude"
This is actually another shot from Casa Batlló, but this time it's from the rooftop. During the summer, the house hosts rooftop concerts, which you enjoy under a canopy of twinkling white lights and with glasses of chic cocktails. I loved the message on this glass – "Luck is an attitude", and I couldn't have felt more lucky to be there.
5) Casa Batlló – again!
Looks like I'm not the only one who loves this house, as it makes three appearances on my top 10 most liked Barcelona Instagrams of the year. Every night, the modernist jewel is illuminated with lights that make it shine late into the evening.
Once in a while, the lights change color to commemorate a special occasion. This pink lighting was in honor of global breast cancer awareness.
4) The prettiest doorway in Barcelona
This might just be the most-Instagrammed doorway in the history of the universe. The part you don't see in the 'grams is that there are often some rather unphotogenic characters hanging around in the doorway, often sporting scruffy clothing and untamed beards and always slinging back a beer or two. (I think they must live there, as they're there so frequently).
It's hilarious to watch people politely wait for them to move so they can get their snap in, too – with no beer cans or beards.
3) Beach season officially starts!
It felt like the warm weather took forever to arrive this year, but I was absolutely thrilled when it did. There are always a few really great weeks where it's sunny but not too warm, and the hoards of tourists haven't quite settled in yet. Just a couple weeks after this shot was taken, this beach would almost certainly have been filled to bursting with sun lovers.
A photo posted by Jessica (@barcelonablonde) on
2) Inside the Sagrada Familia
When I first got to Barcelona, I was shocked that lots of my local friends had never stepped foot inside the spectacular Sagrada Familia. Or, if they had been, it had been on a forced school trip around age 8. Then I realized it's one of those things that everyone thinks they'll just get round to one day, but in the meantime they don't really feel like paying the nearly €20 entry fee.
This year, for the church's annual open doors day, I took one of those friends who hadn't ever seen the inside to get to know the most iconic building in his own hometown.
1) Sky-high in Plaça Espanya
If there's one thing that's clear from this list, it's that there's no shortage of gorgeous places to get up high and take in all of Barcelona's beauty. The fourth sky-high view on my list was taken from Las Arenas, a former bullring turned into a shopping center. The top floor of the old "plaza de toros" is now a ringed viewing deck, one side of which gives you a direct view of the palace that hosts the MNAC museum.
That's officially goodbye to 2015 and hello to 2016! For good measure, here's a handful of my favorite Barcelona posts from the past 12 months that I hope you'll enjoy:
Like I said at the beginning of the post, I'm hoping to shift my blog to be a little more focused on Barcelona this year.
I'd love to hear from you about what sorts of stuff you'd like to see here over the next year – whether that's something you've been dying to know about Barcelona, living abroad, other destinations, or anything else!
Thanks again for following along, and I hope to see you around in 2016 too!
Besos!
-Jess