My first visit to Dublin, I remember being totally blown away. I fell head over heels for the pretty green city on the Liffey River, especially with the feeling that it was a place full of young people busy going great places.
Wandering around the streets filled with interesting shops, live music all over the city, and colorful doors that housed equally colorful characters, I entertained thoughts of living there someday in the future.

Going back,the city was just as charming as I remembered. There's just a cheerful vibe that infuses the city that makes me smile, even if it's a cold and rainy day.  While it's not a huge city, it's definitely got plenty to see and do.
While I haven't ended up living the Dublin lifestyle, it's definitely a fantastic place to visit  – so here's what I think are the 5 best things to do in Dublin (out of many, of course!).
5. Temple Bar & Ha'penny Bridge
Temple Bar is one of those places that is totally touristy, but also totally fun. With a huge choice of pubs, many of them hosting live music performances, and plenty of people in a mood to have a good time, it's hard not to enjoy a stroll across Ha'penny Bridge and into Temple Bar.
Though "Temple Bar" refers to an area, there is also a bar called Temple Bar, which is painted bright red and draped in hanging baskets of flowers.
Nightlife aside, this bit of Dublin is also filled with museums and hosts all sorts of markets during the week. That's why it's considered the cultural quarter of the city.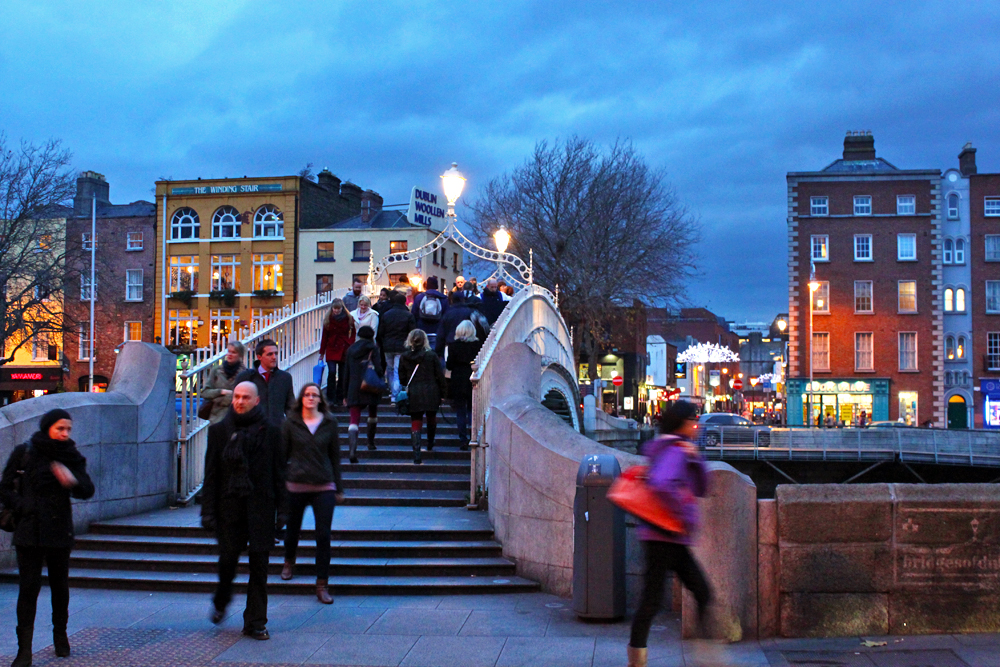 4. St. Stephen's Green
It's always nice to be able to find a peaceful green spot in the middle of a city. If you're looking for one in Dublin, head straight to St. Stephen's Green. It's a 22-acre park packed with foliage in all shades of green, making it the ideal place to walk and take a break from the bustle of the city.
Inside, you can visit a few different things, including a garden for the blind that features scented plants that hold up well to being touched, with corresponding labels in Braille. There are also a slew of statues representing important people in Irish history (though you'll find the famous Oscar Wilde statue in the nearby Merrion Square Park, not here).
Next to a major shopping street, a handful of museums, and some of Dublin's beautiful Georgian squares, there's plenty to see and do around the park as well.



3. Grafton Street & the buskers
Buskers are a common sight and sound in European cities, but buskers in Dublin go way above and beyond your standard guy with a guitar. The street musicians here are legitimately good, so it's quite a lot of fun to walk down Grafton Street while peering in all the shop windows with a cool soundtrack playing live all around you.
Fun fact: Some of the buskers actually go on to become quite famous musicians, including Damien Rice and Rodrigo y Gabriela (who I love!).


2. Anything literary!
There are so, so many fantastic literary sights to see in Dublin that this doesn't really count as just one thing! It's a UNESCO City of Literature, an honor that just 7 cities around the world hold. There really are all kinds of amazing things brimming with literary history here (check out my complete guide here).
My personal pick? Go library hopping! See the Chester Beatty Library at Dublin Castle to explore a collection of manuscripts, books, and art from all around the world collected by a millionaire with a penchant for travel.
Or if spooky stuff is more up your street, visit Marsh's Library, which is said to be haunted by its founder. They've also got a great collection of books that date back centuries, and the staff are incredibly kind and welcoming.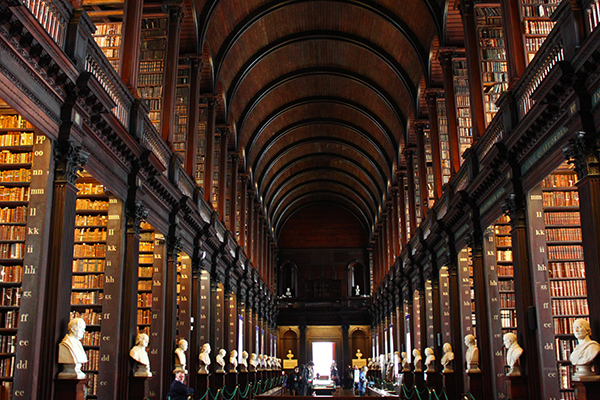 1. Trinity College Dublin
Hands-down my favorite sight to see in all of Dublin is Trinity College Dublin. The grounds are like walking into an ideal version of what a college campus should look like, with beautiful stone buildings, large grassy squares ideal for hanging out, and lots of students milling around.
Though the campus is lovely, the real highlight is the Long Room at the Old Library, a gorgeous old library packed to bursting with thousands of books. They even raised the roof in the 1800s so they could cram in more books!
This library is the place that houses the Book of Kells, an intricately detailed illuminated manuscript from the year 800, more or less. You can also see important documents from Irish history neatly displayed.



As far as places to stay in Dublin, I've only stayed in one so I'm not an expert – but the people over at Expedia Ireland are! Here's their guide on the best hotels in Dublin.
Have you ever visited Dublin? Do you have any recommendations for things to do or see in Dublin?
Besos!
-Jess
This article forms part of a collaboration with Expedia, but don't worry – as always, all opinions are mine!