It's not every night that I get hoisted into the air by a shirtless man and spun around in circles in front of a crowd. But then again, it's not every night that I go to Barcelona's El Molino, either.

The name translates to "the windmill" in Spanish – which may be sounding a bit familiar to those of you familiar with the Moulin Rouge. Yep, this is Barcelona's very own cabaret house, right down to the rotating red windmill adorning the building.
Located on Parallel, an avenue historically known for its thriving theater scene that divides the Poble Sec district from Sant Antoni. Today, there are only a handful of the original theaters left,  but there's still plenty going in and on around this slice of Barcelona.
El Molino has been hosting saucy performances every since 1898 – that's actually a year before the Moulin Rouge – when it was known as Pajarera Catalana (The Catalan Aviary). In 1910, it changed its name to Petit Moulin Rouge, though when dictator Franco came into power, they were forced to have the name in Spanish. "Red" was cut from the name because of the political connotations it had. That's how the theater ended up as simply El Molino.

Now, let's bring things up to the present day. The theater got a huge rehab job done in 2010 that still preserves the spirit of the original but also brought it right up to date. It still hosts its classic cabaret, plus performances of jazz and rumba with a cabaret touch.
They've got a team of talented performers, including the charismatic host Merche Mar, who's performed at the venue in some way since she was 13 years old. She's in her sixties now, and she definitely knows how to work the crowd. You can also see Lady Molino perform (real name: Vanessa García), whose parents met when they worked at El Molino themselves.
So what is a cabaret performance like, anyway?
Parts of it are sexy, with dancers slinking about on stage in nothing more than a few pieces of fabric and teasingly playing with delicate wings or feather boas as they reveal almost everything.
Parts of it are impressive feats of dancing and acrobatic skill, including an acrobat who twisted and turned high up in the air supported only by a couple of swathes of gauzy fabric.
And lots of it is funny, from a cheeky sketch involving a painting of Frida Kahlo coming to life to all the jokes Merche Mar cracked with the audience.
I'd never been to see a cabaret performance before and wasn't sure what to expect, but the 90-minute long cabaret show was thoroughly entertaining the whole way through, and had a way bigger range of performances that I'd imagined.
In short, it's definitely a fun way to spend an evening. Don't forget to finish off your night at the cabaret with a cocktail on its rooftop bar behind the turning arms of the windmill.
Practical information for going to El Molino:
First, pick your show! You can see cabaret,  jazz, and Catalan rumba currently. The offerings do change up regularly.
Price: Starting from €18 per person, or €33 and upwards for cabaret (but look out for discounts online)
Location: Carrer de Vila i Vilà, 99 – just outside Parallel metro stop. Take the Ronda de Sant Pau exit and you'll end up right outside.
Who should I go with? There were a mix of groups of friends and couples. I went with one of my best girlfriends, and I can see this being a really fun thing to do to start the night for a bachelorette party.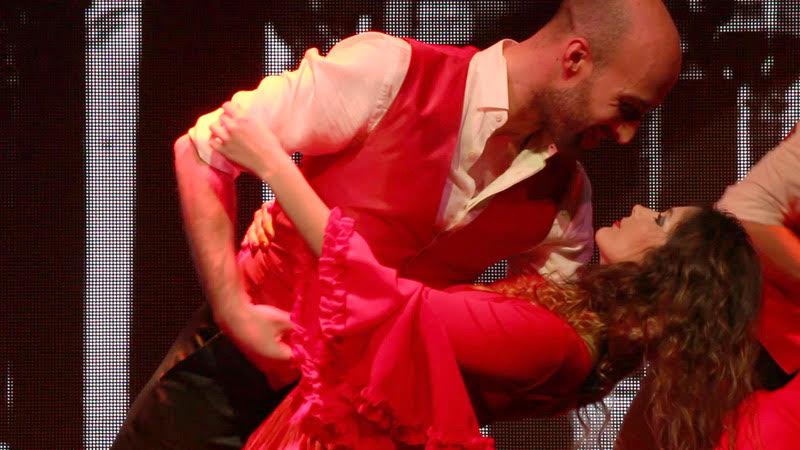 Bonus #1: Always wanted to learn burlesque dance? Lady Molino herself teaches a weekly class!
Bonus #2: El Molino is hosting the VI Barcelona Burlesque Festival in June this year, which is the only burlesque festival in Spain. You can get tickets here.
Have you ever been to see a cabaret performance? 
Besos!
-Jess
El Molino kindly invited me to their "Cabaret Experience" performance in exchange for a post on my blog. All opinions are my own! 🙂