Barcelona's top modernist sights are usually pretty obvious to anyone passing by – the colorful buildings with incredible design details and unusual shapes are fairly hard to miss! 

But, despite the eye-catching nature of these buildings, lots of them are still hiding little secrets behind their walls. I went on a Gaudí-inspired treasure hunt put together by Marriott International to discover some of the lesser-known secrets that these spectacular buildings hold.
Let's start off with a little Gaudí inspiration to get in the spirit of #FindingGaudi. 🙂 Oh, and don't forget to check out the map at the end so you can plan out your own architectural adventure.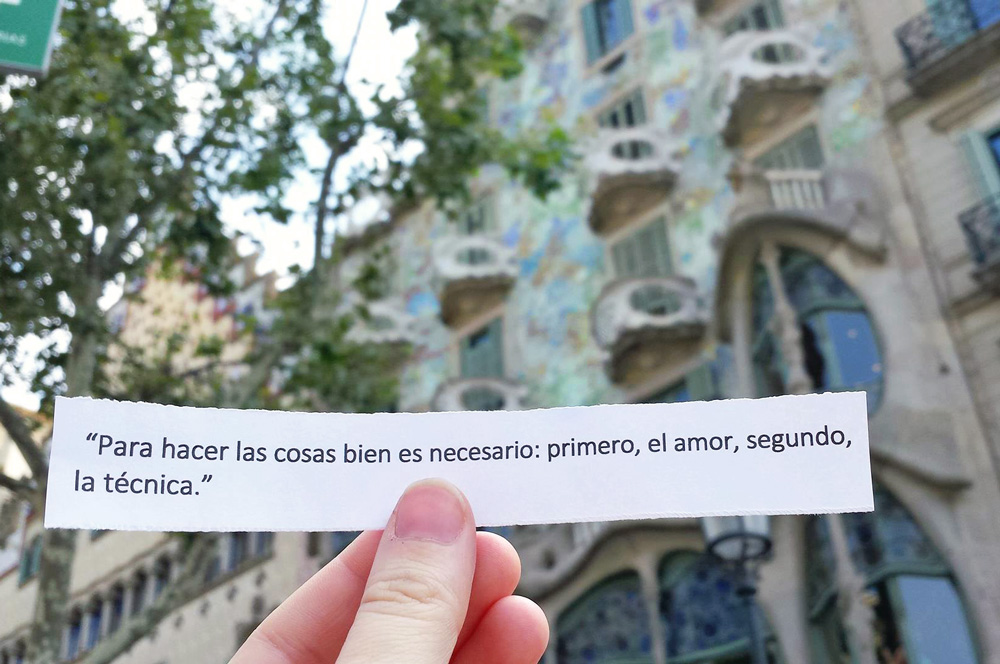 10) You know you're on the right trail when you see one of these.
Look closely at these little red circular tiles, and you'll see that they say "Ruta del Modernisme" – the Modernist Route. They're placed all throughout the city when you're near the major modernist sights. They're a great way to both stay on track and as a heads-up to let you know that you should keep your eyes peeled for something spectacular coming up.

9) Casa Lleó i Morera is guarded by lions.
As you walk up the grand Passeig de Gràcia from Plaça Catalunya, this is the first house on the Block of Discord that you'll see (that's the nickname for a city block packed full of modernist buildings from the most famous architects of the movement). Fittingly, the house is guarded by lions – or a "lleó" in Catalan!
You'll also see "moreras" decorating the building; that translates to mulberry tree. Lots of modernist houses have secret references to the owners somewhere hidden in them. They're pretty to the passing eye, and special if you know the story.

8) Casa Batlló features one of Gaudí's signature moves.
The shimmering front of Casa Batlló is made up of small pieces of broken glass and ceramics. The glass pieces are for an underwater effect that goes throughout the house, and just like water they shine when the light hits it and changes color throughout the day.
To sound fancy, the proper term for this is "trencadís" (from the Catalan verb "trencar", which means "to break").

7) You can try a local speciality at La Pedrera – for free.
Combine the words "free" and "food", and you've almost certainly got a hit on your hands. Famous turron-makers Vicens have a small shop located on the street level of La Pedrera. Turron is a Spanish specialty a bit like nougat, and there are nearly endless varieties here, from your traditional varieties to more adventurous flavors like rice pudding and even mojito.
You can sample before you buy, as well as browse a truly mouth-watering selection of sweets. Yum!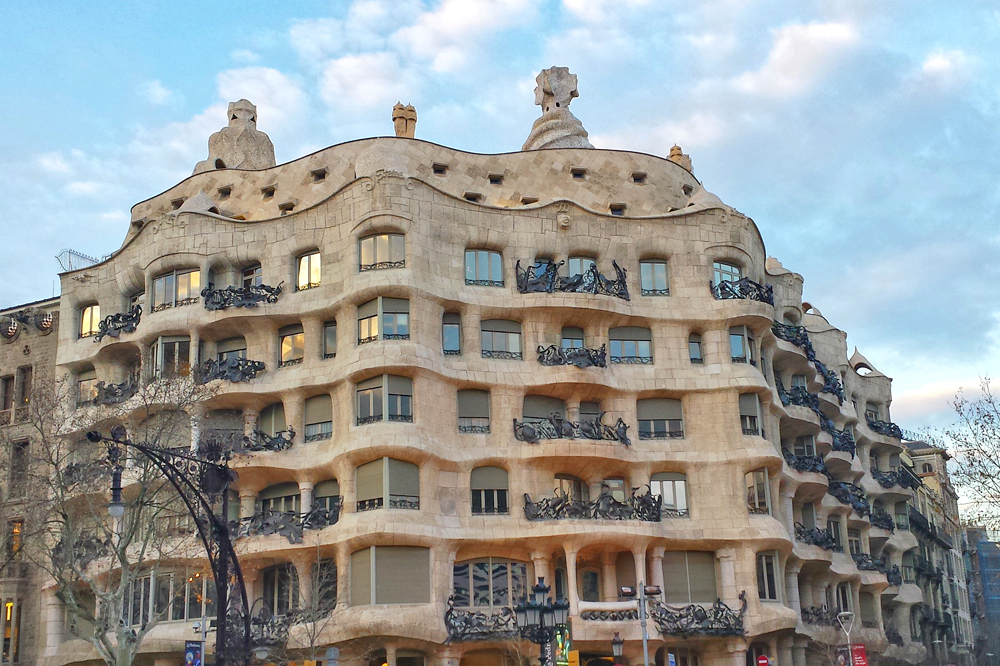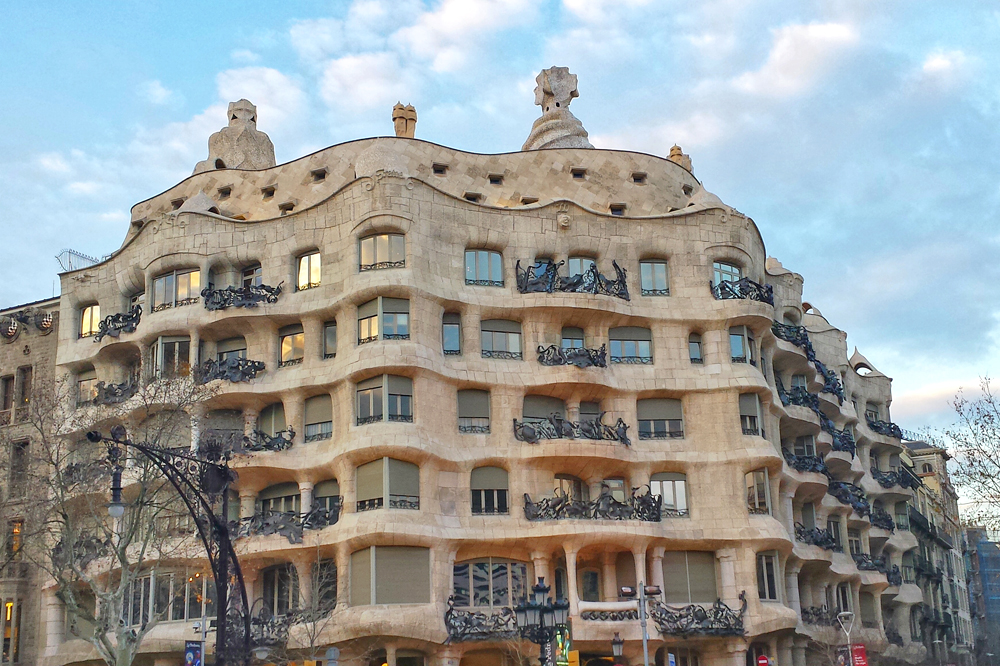 6) Woody Allen is a fan of the Casa Fuster hotel.
Casa Fuster sits at the very top of Passeig de Gràcia on the edge of the Gràcia district, and it's quite well-known for a few different things: being an outstanding piece of architecture, being a crazy luxurious hotel, and for having a jazz club.
Woody Allen featured the lounge of Casa Fuster in his movie Vicky Cristina Barcelona, and he himself has played at the Jazz Club. If you're a big Allen fan, rumor has it he likes to eat his evening tapas right around the corner at Bar Mut -as well as other big names like Javier Bardem, Russell Crowe, Robert de Niro, and Pep Guardiola.

5) There are two very different sides to Casa Comalat
Yes, these really are two sides of the same building! This intricate house is only half a street away from Passeig de Gràcia, but manages to be firmly off the tourist trail. Though it is spectacular, it isn't actually a Gaudí piece, but it does incorporate lots of the same elements the famous architect used, like curved forms and details that make a nod to nature.

4) The House of Spikes has a real name, too
It's Casa Terrades, after the Terrades sisters, who had three houses on this block and wanted to combine them into one big house. But it's better known as the Casa de les Punxes, the House of Spikes, to locals. And  – it's opening to visitors very, very soon!
The man behind this house is Josep Puig i Cadafalch, who also designed the Els Quatre Gats café, a center for artistic types like Picasso and Ramon Casas. He's the guy who designed the next item on our treasure hunt…

3) There's a lovely café inside Casa Amatller 
Case Amatller was build for a rich chocolatier, and today the house looks like a fancy jewel box. Though you might not know it from the outside, there's a wonderful cafe on the ground floor that anyone is welcome to visit (even if you haven't bought a ticket to go inside the house).
Even better, the now-cafe conserves many elements of the original house, like the kitchens and a large circular mechanism used to turn cars around. There's also a lovely large terrace at the back that's a nice bit of peace and quiet in the busy city center.

2) Not everybody gushes over the Sagrada Familia
George Orwell is among the people who think the Sagrada Familia is a lot of fuss about nothing much, and famously had this to say about the building:
"I went to have a look at the cathedral—a modern cathedral, and one of the most hideous buildings in the world. It has four crenellated spires exactly the shape of hock bottles … I think the Anarchists showed bad taste in not blowing it up."
I personally don't agree, but the quote makes me laugh – and not just because some of my guests have been similarly forthcoming about their dislike of Gaudí.

1) Casa Batlló becomes especially magical during the summer nights
To finish off the adventure through Barcelona's whimsical modernist scene, what better place to end then back at Casa Batlló? Like I mentioned earlier, the façade changes colors throughout the day, so you may be surprised at how different it looks at night.
And on top of that, the house hosts concerts on the colorful rooftop under a canopy of twinkling string lights during the summer. Relax and enjoy the show – this is one summer night you won't be forgetting.

Read more: Barcelona's Ultimate Modernist Architecture Route
I hope you've enjoyed this little tour through some of the loveliest modernist sights in Barcelona. Which one is your favorite?
Besos!
-Jess
Thanks to Marriott International for working on this project with me! I received compensation in exchange for writing this post and participating in the event – which was a lot of fun. 🙂 As promised, here's how you can recreate the route.