One of the most fun ways to improve your foreign language skills is watching movies. But practically every list I've seen of the best/good Spanish movies includes the same old standbys – lots of Almodóvar and Mar Adentro. They're great, but there are so many interesting movies that these lists don't cover. So I wanted to start sharing some of the best Spanish films that I've seen for more variety. Practicing languages doesn't have to be boring! 
One of my favorite Spanish movies I've watched recently is Tesis, a thriller directed and written by famous Spanish filmmaker Alejandro Amenábar. You may have heard of his most famous work, Mar Adentro (The Sea Inside), which stars Javier Bardem as a quadriplegic.
Well, I went into Tesis expecting more of the same, and I came out shocked. I love surprises, so I never read the synopses of movies if I can help it.  I much prefer just sitting back and enjoying a story.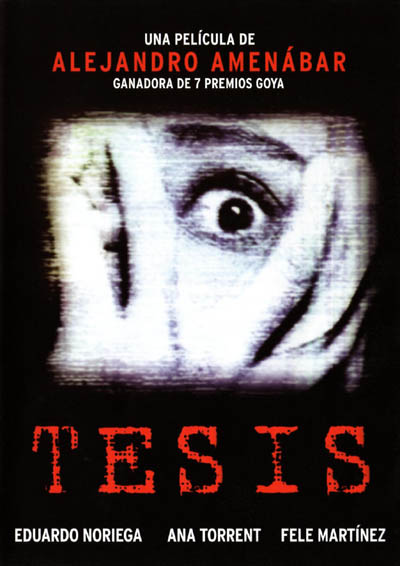 Let's just say Tesis is nothing like Mar Adentro – it's a creepy psychological thriller set at a university in Madrid. (The poster may have been a clue that this was a different type of movie!).  It deals with increasing levels of violence and how the media represents violence. It's not an explicitly violent movie for the most part, though it does have lots of implied violence. Tesis is uncomfortable without being graphic.
The story kicks off when film student Ángela decides to write her thesis on audiovisual violence, and she quickly realizes that it's much closer to home than she originally thought. I don't want to give away any key plot points, so I'll stop there!
Here's the trailer for the movie (with English subtitles):
This is NOT a movie to watch alone – as I made the mistake of doing! There's a particularly creepy scene that involves a tiny red light, which just so happens to look exactly like the light on my anti-mosquito device. I freaked out, and every little noise in my big empty apartment made me jump.
The only negative aspect of this movie is that sometimes it's a little contrived, but then again, what thriller isn't?
Even though the movie is 17 years old, the issues are definitely very current. Other than the way the characters dress and some of the technology they use, the movie could be new.
It also gives you a look into Spanish culture and what 20-somethings are up to, as it's set in a university. One major difference? The main character Ángela is at least 22, but she still lives with her family and lives by their rules. This probably wouldn't be the case if it were an American movie.
I don't want to give too much away about the plot line, so check this one out for yourself if you like thrillers. This one will keep you guessing until the very end.
 Also, here's a fun fact – the director released it when he was just 23 years old! That makes me feel awfully unaccomplished (I recently turned 24). It ended up winning seven Goya Awards (Spain's Oscars).
The movie: Tesis (1996)
The basic plot: A university student gets into trouble while exploring the issues of violence and media representations for her thesis project.
Genre: Thriller
Set in: Madrid. The students attend the Universidad Complutense de Madrid.
The critics say: "Despite some whopping improbabilities […] Thesis generates genuine tension. Pic also manages a few pointed comments about the relationship between violence and voyeurism, particularly in the final scene." (Joe Leydon, Variety. Removed section contains plot info).
Where can I see it? I found multiple downloads of this one online, but not many had English subtitles. AllSubs.com has the subtitles.
Have you seen Tesis? What did you think of it? What other good Spanish movies have you seen?
Besos!
-Jess