One of my very favorite things about living in Barcelona is that you can do a lot of stuff here while still sticking to a fairly strict budget. As I've mentioned before, with the way the economy is, it's just as well  – but still, it's definitely something that's much appreciated!
Upon request on my Facebook page (thanks for the suggestion, Kristin!), I've picked out ten of my favorite cheap places to eat in Barcelona. With €10 to go on, you can eat really well here. Everything here is around or below that price point. It's all good stuff that won't cost you much.
So, are you ready for some cheap eats in Barcelona? Here are ten I recommend, in no particular order.

Mosquito
C/Carders, 46
Let's do the bad news first. You'll almost certainly have to wait in line to get in here. The good news? The food is seriously delicious. Mosquito is a tiny little restaurant in the trendy Born district that serves Asian fusion tapas. In this case, that means the dishes are Asian, though not from any one specific country. The tables are packed in tight, and the ceiling is strung with lights that give the restaurant a cozy glow.
The star of the show here are the dumplings, which are offered in steamed, pan-fried, and boiled versions. Try a few different types; if you're not sure which ones to get, the waitstaff will be more than happy to help you choose. The pork and shrimp dumplings are excellent, as are the perfectly salty edamame.
They've also got a great choice of craft beers, and you can also order sake to drink with your meal.
Bacoa
C/del Judici, 15
Sometimes, you just need a good burger, and Bacoa is the place to get one in Barcelona. This chain of burger restaurants has proven so popular that they've opened up quite a few new locations. But the very best one is the Barceloneta location, which has an outdoor seating area right on the beach boardwalk. You can't get a cheaper meal with this view. And the food is great, too!
They've got a range of different burgers, including chicken burgers and veggie options that are more than just a bland patty. You can top it off with everything from high-quality local cheeses to crispy bacon to slices of avocado. Order a portion of fries to split (these are hefty burgers) and enjoy in the Mediterranean sunshine.

El Rincón del Cava
C/Blasco de Garay, 53
It always seems to be easier to find inexpensive non-Spanish food, but El Rincón del Cava (the Cava Corner) in Poble Sec is an exception. The tapas aren't gourmet, but they taste good. Best of all, the cava is really inexpensive, making this a favorite for some people (ahem) to enjoy dinner and leave feeling full and happily tipsy.
The staff are very friendly and have plastered the walls with photos of locals. Last time I went there was a photo of me and my old roommates up there! It's casual neighborhood dining at its best.
Chivuo's
Torrent de l'Olla, 175
The menu at Chivuo's is certainly abbreviated – travel guidebook speak for "they only serve five different sandwiches". But boy, are those five sandwiches delicious. They offer a burger, a tuna melt, a chicken and avocado, a Philly cheesesteak, and a pulled pork sandwich. All are packed with top-notch ingredients and just the right amount of toppings, and come served with fries.
Every day, they have a selection of different craft beers on tap, which come served in glass jars. If you're not quite sure what to get, they'll help you choose the one that suits your taste in beer. There are also a few desserts to choose from if you still have room after your sandwich.
There are three Chivuo's locations: one in Gràcia, one in the Raval, and one in the Eixample. Each location has funky black, white, and yellow wall art for decoration, making the place bright and cheerful. It's got just enough of a hipster touch to be fun without trying too hard.

Spaghetti a la Guitarra
C/Lleialtat, 4
Fancy this is not; delicious it definitely is! Spaghetti a la Guitarra is a casual place in the middle of the Raval, and it serves traditional hand-made pasta at ridiculously low prices. They whip it up in a tiny alleyway of a kitchen in the front section of the restaurant.
You can either eat in – the restaurant appears deceptively small from the front seating area but has both indoor and outdoor seating at the back – or take your pasta to go. Don't forget to order an Italian beer to go along with it!
Prices start from €2.50 for a single portion of pasta with simple sauces, and that's not a typo! The prices go up if you get a fancier sauce, and you can order a double portion starting at €4.
Faborit
Passeig de Gràcia, 41
Normally, I try to stay away from big chain restaurants if I have visitors, because it's more fun to go places you can only visit in Barcelona. But Faborit is an exception, and that's because it's in a really, really cool location: inside Casa Amatller, one of the most beautiful modernist mansions on Passeig de Gràcia. The café is where the house's kitchens used to be, and still conserves many of the original elements.
This is the perfect spot for a casual lunch, as they do good deals for combining soups, salads, wraps, and sandwiches. They also serve smoothies and juices, as well as coffees and cakes for an afternoon pick-me-up during a busy day of sightseeing.
While you're in here, check out the gift shop. The Amatllers were chocolatiers, so they sell lots of pretty chocolate gifts here. And, by the way, they have free samples. Just saying.

Bar La Plata
C/Mercè, 28
Bar La Plata is a tiny corner restaurant in the Gothic Quarter that's been serving exactly the same menu since is opened its doors in 1945. That menu is literally four items long.
The only point of caution with La Plata is that it is not a good place to go for choosy diners. The tiny fried fish come whole, so you gulp them down, heads and bony bits and all. They also have tomato and onion salad, and Catalan sausage and vinegary anchovies served on slices of baguette rubbed with tomato. And…that's it!
They've got plenty of house wine and beer to enjoy with your meal, which will probably be eaten standing elbow-to-elbow at either its narrow bar or at one of the tall tables outside. It's cheap, simple, and delicious. It doesn't seem to have changed much since it opened, and I hope it doesn't change now either.
A Tu Bola
C/Hospital, 78
This little hole in the wall place right off the Rambla de Raval is one of my favorite restaurants in the city – and it's so cheap! The name is a play on words, as it's a phrase in Spanish that means to do things your own way, plus "bola" translates to "ball". A Tu Bola serves meat, fish, and veggie balls both inside pita bread pockets or plated with side dishes.
The flavors are fresh and unusual without being bizarre, and everything is freshly made right in front of you, as the open kitchen is in the middle of the restaurant.
You can get a 2-bola pita and a drink for €6.50 (which is more than filling for lunch for me), or a 3-bola plate with a side dish, a drink, and a dessert bola for €9.50.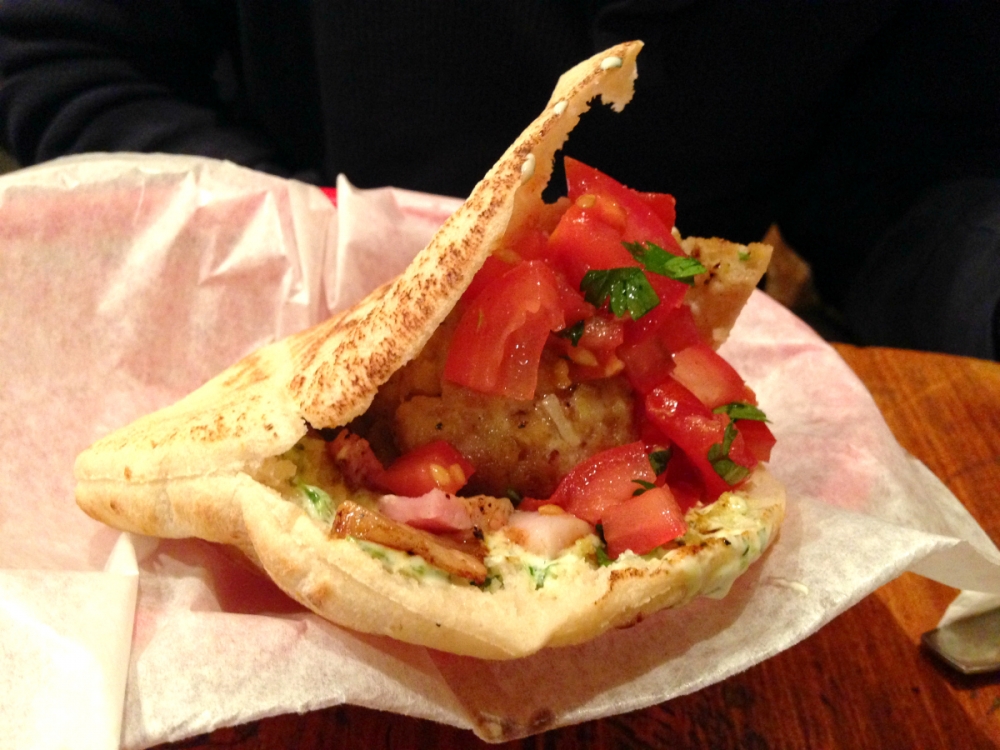 Carrer de Blai
C/Blai
Rather than a restaurant, this is a collection of restaurants on a street in Poble Sec that's developed a thriving Basque pinchos bar scene. At each bar, you'll get a plate and then load up on the good stuff directly from the plates on the bar. Don't fill your plate too full – the waiters at most of these places will occasionally come out of the kitchen bearing platters of fresh pinchos.
At most, you'll pay a couple of euros per pincho. This is another great option to check out with friends, though you may have to try a few different bars before finding space for your group to eat. It's also OK for eating with picky eaters, as there are lots of different things to choose from.
Rekons
Comte d'Urgell, 32
Hands up if you love empanadas! Rekons sells homemade Argentine-style empanadas, though the menu combines South American flavors with local ingredients. They've also got a selection of sandwiches, salads, and and handful of tapas. Located right outside a very Instagrammable former squat plastered in colorful paintings, this restaurant is a great place to go with friends.
Most empanadas cost €2.10, though they have a handful of "special empanadas" that cost a bit more. Last time I went, I had two empanadas and split a salad, bringing my total up to around €7. Well, my pre-beer total, anyway.

Can I just say how hungry writing this list made me feel? 😀 I'm definitely thinking that a stop by one or more of these restaurants is in my very near future.
Now it's over to you! Do you have any favorite cheap places to eat in Barcelona that I've missed?
Besos!
-Jess