L.A. is perhaps the most frustrating city I've ever been to. A permanent snarl of traffic in an endless sprawl of a city, with many areas that are ugly and others that are flat-out dangerous, Los Angeles isn't exactly the easiest city to get to grips with.
But there is one place I feel like I get a bit better these days – and that's Downtown L.A. While by no means have I gotten to grips with the City of Angels, Downtown is now on my list of places I almost always stop by when I visit home, and it's quickly become my favorite part (so far) of Los Angeles.
However. It's definitely taken me a long time to come round to L.A. at all.

The Deal With L.A. 
I once read that people from L.A. tend to overrate the city, people from Southern California but not L.A. underrate it, and people from everywhere else have no idea what it's actually like. Spot. On.
Nearly everyone I've met who's a born-and-bred Angeleno adores the place, and seems to think there's no better place on the planet. Point out something like the insane traffic, and they'll simply say "Oh, you just have to learn when to go places."
On the other hand, my friend from my hometown had a theory about why L.A. residents love their city so much – "It's Stockholm syndrome."
(It's worth mentioning that this friend has now moved to L.A. and has begrudgingly grown to love it – proof, perhaps?).
Then, there are people who just don't know much about L.A. at all and envision it as a wholly glamorous palm-tree filled playground for celebrities and beautiful people.

So, what's L.A. actually like? 
That question is sort of impossible to answer; L.A. is made up of so many different parts that as a whole it's just too messy to categorize. Your experience of L.A. really depends on which parts you go to.
Try to see all of it at once? You'll remember it mostly as a frustrating crawl through the truly horrific Los Angeles traffic, as I experienced on a day when we erroneously attempted to visit both the Getty and Venice Beach, which are a mere 11 miles apart. It took over an hour to drive between the two.
Not so fun fact: drivers in L.A. on average spent 104 hours in traffic last year. It officially has the worst traffic in the entire world.
But, if you really just stick to one neighborhood and don't try to move around, it's much easier to actually enjoy the cool things there are in Los Angeles. The city really is full of them; it's just difficult to see them as they're so spread out.
That's how I came to sort of love Downtown.


Why Downtown L.A. is Great
You can get out of your car – and consequently, the traffic – and enjoy walking around some of the most beautiful architecture in the city, usually in the California sunshine. Parts of it are relatively dull and filled with tall, looming office buildings, but get into the older bit further downhill and there are fascinating things to look at on every corner, from intricate Art Deco architecture to vivid street art paintings to quirky little shops to creative new restaurants.
That's not to mention that it's got great museums and tons of functional public transportation (the latter is a real rarity in Southern California).
Even better, it's all in a small enough space that you can explore it on foot, but big enough that there are plenty of things to keep you entertained. It still conserves some of the best parts of days gone past, mixed together with innovative new things.
It's also right next to lots of other interesting parts of L.A; you can jump on the metro and whizz up to Hollywood or out to Santa Monica, or stroll into the other bits of Downtown like the Arts District or Little Tokyo.
In short, it's got a little bit of everything you want in city life. Or, at least, it's got everything I want in city life!



But…
The course of true love never did run smooth – and neither does my nearly love for downtown Los Angeles.
Although the area is getting a facelift (even an infrequent visitor like me has noticed), I still don't feel comfortable walking alone at night in Downtown L.A. Nearly every single time I've gone I've had something uncomfortable and frightening happen, from people leaping out and screaming aggressive things at me to a man following me all the way to my parked car and standing behind it so I couldn't get out.
Then, there's the L.A. as a whole issue. It's a city that has so much to offer, but it can be mind-bogglingly frustrating to actually try to enjoy it. Public transportation is improving, but it's a tough task in such a spread-out city.
(Here's a really interesting article about the history of public transportation in L.A., if you're curious. The jitney is just like Uber, but 100 years ago).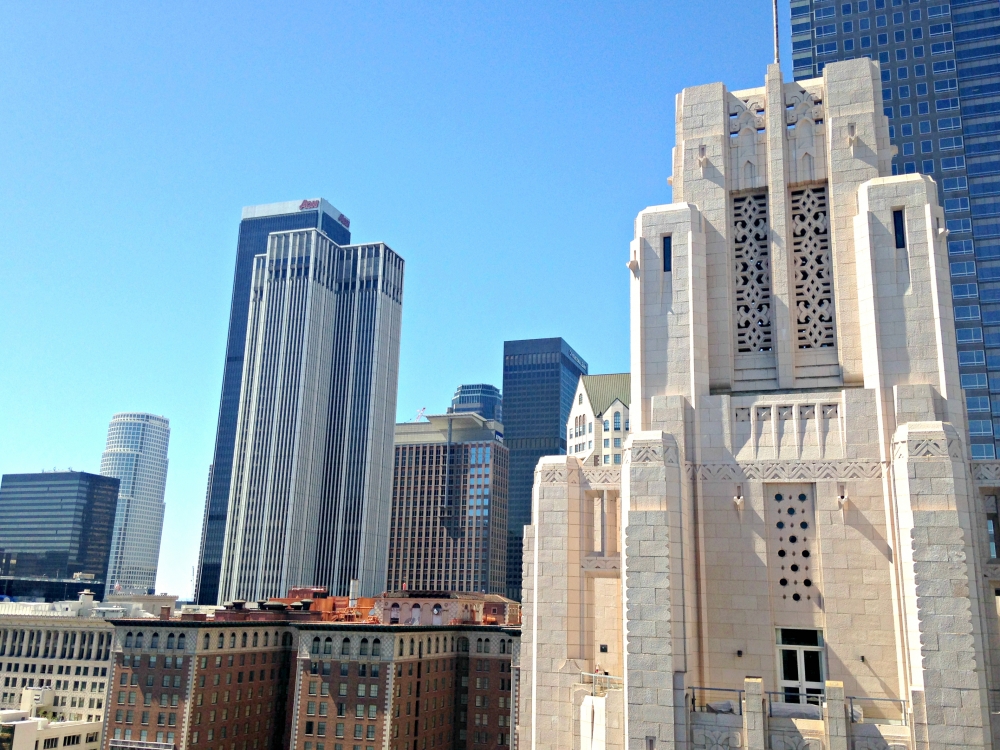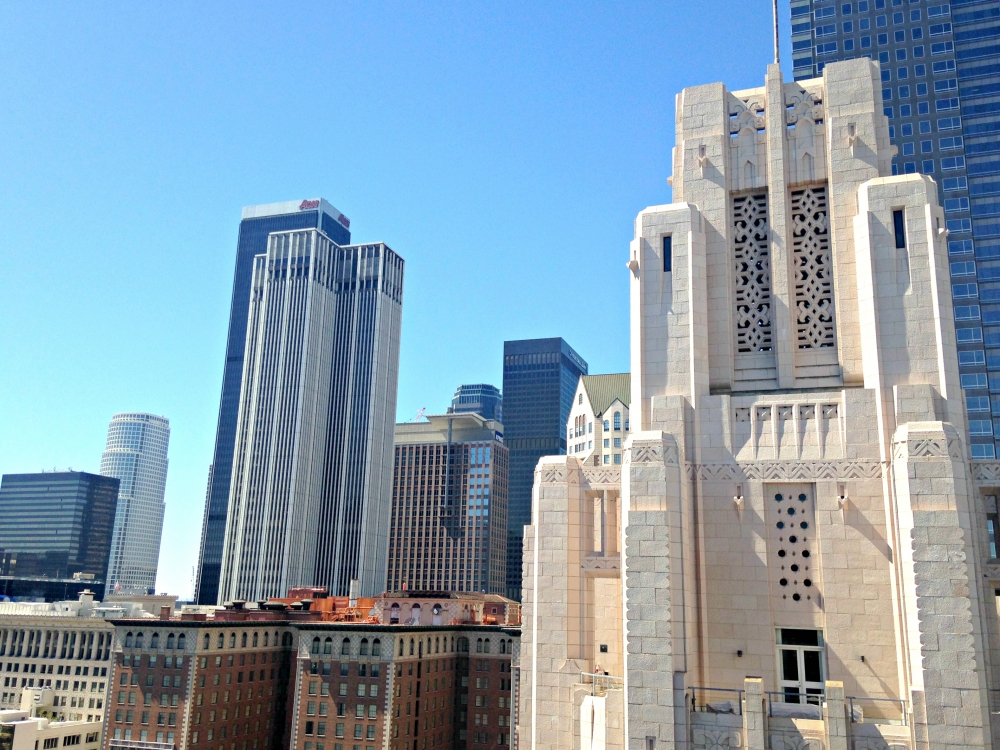 L.A., I Love You, But…
It's frustrating to compare how quick, easy, and safe it is to enjoy all the amazing stuff that Barcelona offers to how tough it can be to enjoy all the great things there are in L.A. (and often Southern California in general). I don't think one place has more cool stuff than the other, just that in one it's easier to access it, and thus appreciate it.
Still, I owe a big thank you to Downtown L.A. for helping me see the city with fresh eyes and to be excited about exploring it more in the future. L.A., I sort of love you – so shall we see where this thing goes?
A mini-guide to downtown L.A. – based on a few places I've been and liked!
Bars: Perch, Mrs. Fish, Sixth Street Tavern
Shopping: The Last Bookstore
Food:  The Must, Kazunori,  Guisados, Maccheroni Republic, Grand Central Market
Sightseeing:  The Broad and the Walt Disney Concert Hall, the Bradbury Building, the Water Court and Angel's Flight, MOCA, the City Hall viewing deck, the Art Deco buildings. Here are some more fun ideas!
Watch before you go: 500 Days of Summer, which does such a nice job of showing off all the beautiful old buildings.
Have you ever visited Los Angeles? What did you think of it? Where else is cool in L.A. that's worth checking out?
Besos!
-Jess