Normally, I don't associate the words "fun" and "hospital visit", but the Hospital de Sant Pau in Barcelona is an incredibly fun day out. A little while ago, I posted a video of the cool hospital, and now I finally got around to editing my photos too! This is the biggest Art Nouveau complex in the world, and it's well worth a visit if you're in Barcelona.
(Note: it's officially the Sant Pau Art Nouveau Complex).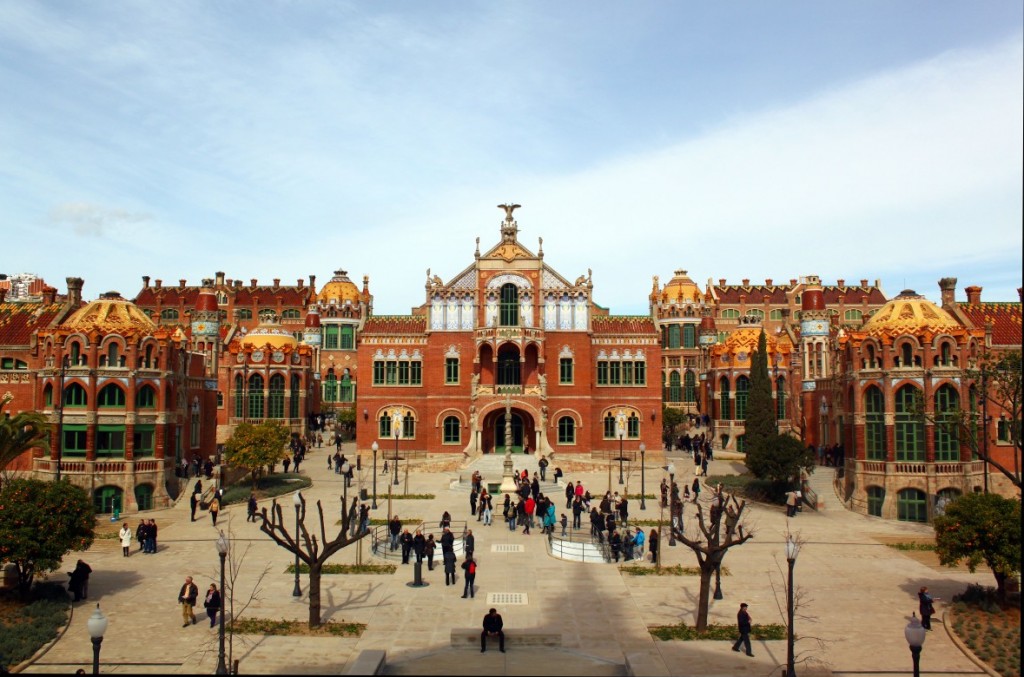 Even though it's a totally spectacular building, it's not super famous because it only recently re-opened to the public. That meant for one weekend it was totally and completely free. It nearly felt like I was stealing something getting in the complex without paying anything.
Previously, I'd only seen the outside of the building, because the rest of it had been covered for years. Going inside, I was definitely not disappointed.

The day we went was the big opening weekend, so they had actors dressed up as doctors and nurses who diagnosed you with an ailment as you walked through the door, lots of times shouting that you need to see a psychiatrist right away. 

As I walked through the halls of the building, I kept finding myself marveling that it was actually a working hospital until fairly recently. It looks more like a palace than a place for the sick…although if you were sick, this definitely wouldn't be a bad place to stay!

They also added little touches around the complex to make it a nicer place for residents to stay. The courtyard, for instance, is dotted with orange trees to add some healthy green space to the patio. And there are lots of little tunnels running underneath the buildings to help hospital staff move things more efficiently. There's over a kilometer of those tunnels, and they moved everything from the patients' medications and meals to the patients themselves.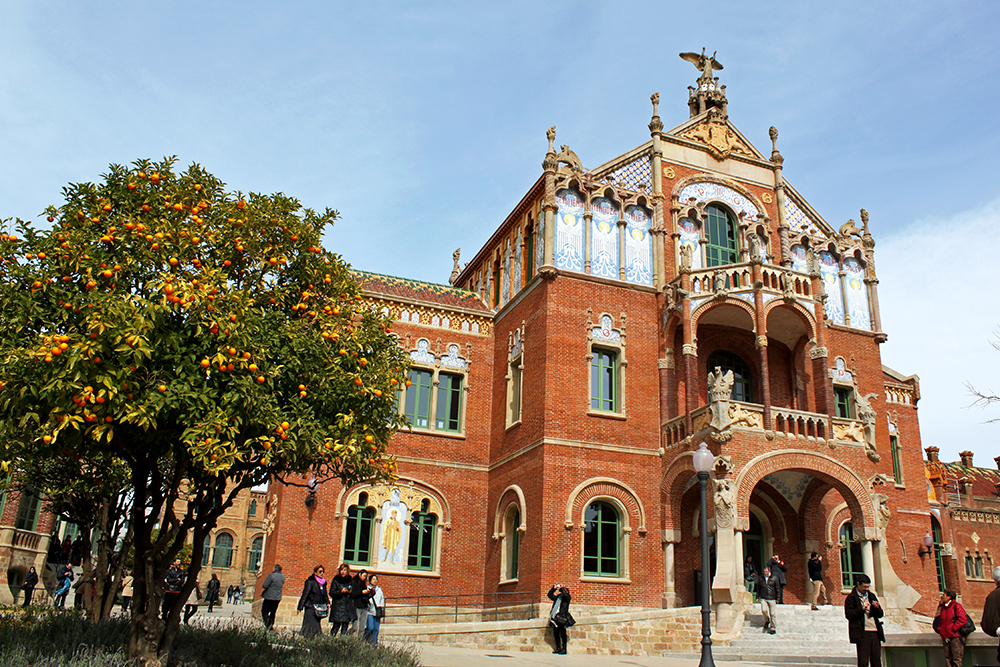 As this is a modernist building, there are also lots of little nods to nature in the details on the building. If you keep a keen eye out, you might be able to spot little animals perching on top of the little towers and turrets, mixed in with some gargoyles and saints for good measure.

Architect Lluís Domenech i Montaner designed the hospital. His much more famous project is the Palau de la Música Catalana, which is similarly spectacular. I actually liked the hospital more though, and it helps that the visits to the hospital are about half the price! It's strange that an architect who could create something like this is just the "other" guy from Barcelona who does that modernist stuff, but it's hard to be competing against Gaudí.

Speaking of Gaudí, as you walk back out towards the front of the hospital to leave, you get a rather fabulous view of the Sagrada Familia outlined by the Hospital de Sant Pau. The hospital is just up the street from the crazy church. Although it may not get as much attention, they've managed to build it much faster. Maybe they should get those construction guys on the Sagrada Familia project!

Even though a visit to the hospital usually isn't associated with positive things, the Hospital de Sant Pau is a very nice way to spend the day in Barcelona!

Practical information for visiting the Hospital de Sant Pau: 
Address: C/Sant Antoni Maria Claret, 167 (metro stop: Sant Pau/Dos de Maig)
Phone: (+34) 935 537 801
E-mail: visites.recinte@santpau.cat
Website: https://www.lapedrera.com/ca/home
Hours: Monday-Saturday: 10 a.m. – 4:30 p.m. (November- March); 10 a.m. – 6:30 p.m. (April-October). Sunday: 10 a.m. – 2:30 p.m. (year round)
Besos!
-Jess