Barcelona is a pretty popular place these days! With visitors from every corner of the globe paying visits to the Catalan capital, things can get busy – especially at the height of the tourist season.
Still, there are plenty of places where you can go to get away from the crowds and still enjoy some impressive sightseeing. This is also helpful if your first choice pick is full…which does happen.
Or, maybe it's not your first time in Barcelona and you're looking to see something off the top 10 list.
Let's get started! Here are the best non touristy things to do in Barcelona. 
As a side note: if there's an attraction you absolutely can't miss, make sure you book tickets ahead of time!

Instead of Casa Batllò or La Pedrera, visit Casa Vicens or the Casa de les Punxes
Casa Batlló and La Pedrera are both spectacular Gaudí buildings, and both are absolutely worth visiting. But maybe you've already seen them, or perhaps tickets are sold out for when you want to go.
That's OK – there are plenty of modernista mansions you can visit in Barcelona! And two of them are only recently opened to the public, meaning you can get the inside scoop before they get crazy popular.
Casa Vicens, one of Gaudí's early projects, is on a quiet side street just steps away from Fontana metro station. It's decorated in a Eastern-inspired tiles and plenty of floral details. The house was recently bought by a bank, and will be opening to the public for the first time in the fall of 2017.
La Casa de les Punxes – literally "The House of Spikes" – overlooks the bustling Avinguda Diagonal. This is not a Gaudí building, though the architecture is equally stunning. The architect, Josep Puig i Cadalfach, designed the house for 3 sisters. Each got her own house, so though the building is joined, it's got distinct touches on each section in honor of which sister it was for. The house opened to the public in July of last year.

Instead of eating overpriced paella on the Ramblas, have an excellent one at Escribà
Many a visitor has come to the Catalan capital with visions of seafood paella dancing in their heads. However, all the regular tourist traps are well aware of this. If you order at paella at one of these places, you'll get served a tasteless frozen meal – and pay dearly for it, too.
(Hint: never choose the places that have photographs of paella outside. This is a surefire sign the food will be expensive and not very good).
Instead, if you want a really great paella, head over to the beachfront Escribà restaurant, which does excellent rice and noodle dishes. You'll also want to try one of their desserts, as the restaurant is run by the same family that runs the Escribà pastry shop on the Ramblas. Just try to say no as you watch the dessert cart go by…
Read more: 10 Delicious Cheap Places to Eat in Barcelona
Instead of the Sagrada Familia, see the Sant Pau Art Nouveau Site
In all fairness, I think you should always see the Sagrada Familia. It really is something special that you can't see anywhere else on the planet.
Having said that, the Sant Pau Art Nouveau Site just up the street is also a fantastic example of the architecture from Barcelona's modernista movement. It's also less-crowded and less-expensive – both wins for any visitor!
On top of that, the site was actually a working hospital until 2009, so much of the architecture is functional as well as beautiful.
Read more: The Coolest Hospital You'll Ever See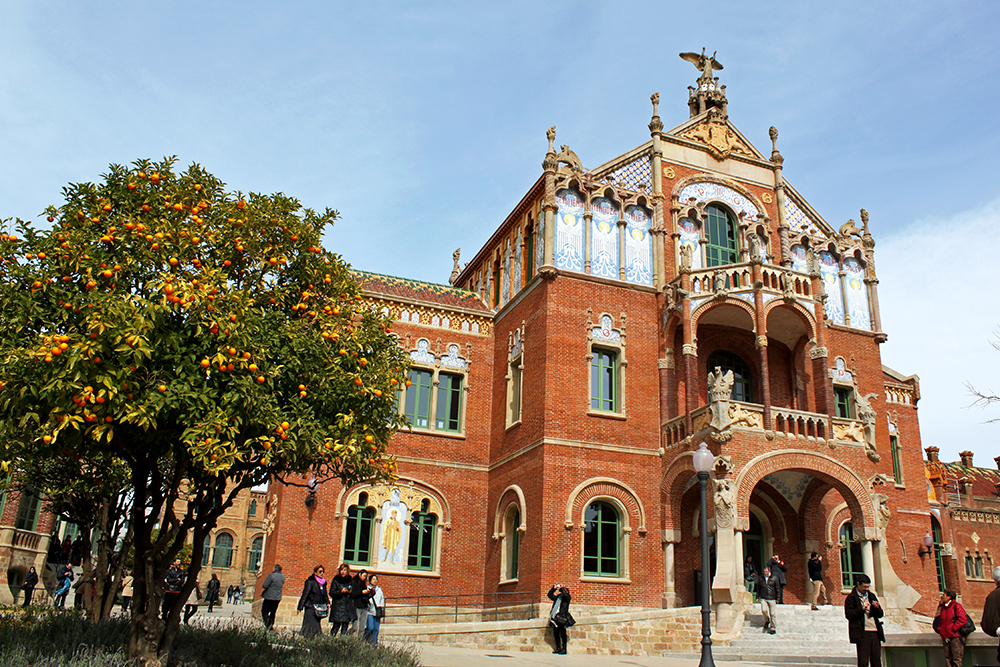 Instead of Barceloneta, go to Sitges
One of the major upsides of living in Barcelona is that the city has a beach. I can bike there in about 20 minutes from my apartment.
However, the city beaches can get so packed it's hard to find a bit of sand to put your towel on. Turns out everyone else can get down to the beach pretty quickly too!
That's why it's nice to get out of the city center to have a more relaxing beach experience. One popular option is Sitges, which is about a 40-minute train ride away from Sant station. That's just a bit longer than taking the metro to the city beaches.
This charming beachside town is all the prettier for the church that overlooks its northern end, and all the more fun for the events that take place throughout the year. February sees its famous Carnaval celebrations, and October has the Sitges Film Festival, known for its selection of fantasy and horror movies (and accompanying zombie walk through the city with people dressed up their finest frightening apparel).

Instead of La Boqueria, go to Santa Caterina Market
La Boqueria is the most famous of Barcelona's many markets, which has its pros and cons. Pro: you'll be able to find just about anything you could dream of at this market. Con: It's always packed to the gills.
For a more relaxed market experience, try the Mercat de Santa Caterina, which is still located in the old city center. This market is just steps away from the Born, and is noticeably less crowded than the Boqueria. The exuberantly tiled roof is a tribute to Gaudí's famous tile work. 
You can enjoy a great meal inside here at the Cuines de Santa Caterina restaurant.
Would you rather see another beautiful wrought-iron market? Try the Born CC, a former market which is now a historical center, or the Mercat de Sant Antoni that's currently being restored.

Instead of an Irish pub, go to a historical bar or a rooftop bar
Barcelona is packed full of Irish pubs, and they're an eternal favorite amongst the visitor crowd. But even though they're fun, why not check out a bar with a more local vibe?
Don´t worry about where to find one – here are some suggestions right here:
If you're going to an Irish pub to watch soccer, then why not head to one of these great bars to watch football in Barcelona? They're nearly always full of fútbol fans?
Instead of Plaça Catalunya, check out the squares in Gràcia
Plaça Catalunya isn't much more than a transportation hub. There are a couple of pretty fountains and a slew of pigeons – but not much else. Although you'll almost certainly end up passing through here at some point during your trip, there's no point in spending much time in the square itself.
If you're looking for a real Barcelona square experience, head up to the Gràcia neighborhood. This district is filled with plazas where locals love to hang out. That might be having tapas and a drink at Plaça de la Virreina, or pulling up a spot of pavement in the Plaça del Sol to join the bohemian crowd strumming guitars.
Another option? Go to Plaça Reial, just steps away from the Ramblas and a hub for all kinds of city street life around the clock.

Instead of the Gothic Quarter, take a day trip to Girona
The Gothic Quarter is undeniably picturesque. But it's also the hub for a serious amount of tourist activity. Take a trip to nearby medieval walled city of Girona. It's got all the historical charm of the Gothic Quarter but none of the tourist traps.
The trip takes about 90 minutes on the regular train, or just under 40 minutes on the high speed AVE train. If you're around in the springtime, visit when Girona's Temps de Flors flower festival is on. As a bonus, if you're a Game of Thrones fan, the city was used as a shooting location for season 7.
If you'd rather stay in Barcelona, then the Born neighborhood is also a nice alternative to the Gothic quarter, as it's a bit funkier (and more fun!).
Read more: 5 Places to Visit in Catalonia That Aren't Barcelona

Instead of Montjuic, go to Collserola
Montjuic, the hilly expanse of parks, gardens, and museums that rises up on the city's southern edge, is so large that save for a few select parts, it rarely feels crowded.
But if you're looking to explore further afield, try visiting the Parc de la Collserola. Fun fact: this is the biggest park attached to a city in the world! Here, you can really get in touch with nature as you hike pleasantly quiet trails through plenty of shady areas.
Make sure you have a plan for where you're going though; some of the trails actually lead to the smaller cities and towns beyond Barcelona.
Another similar place to pass the day? Try Tibidabo, the wonderfully old-fashioned theme park in the slopes of the Collserola Mountains.
Instead of Parc Güell, see the Parc del Laberint d'Horta
Parc Güell is another Gaudí masterpiece that can get unreasonably crowded. If you're looking to enjoy Barcelona's parks, the labyrinth park is a more laid-back alternative. Tucked away high on a hillside in a sleepy residential part of the city, the park's most enticing feature is the hedge maze. The carefully groomed gardens are also worth spending some time in.
The park is just over €2 to enter, and it's completely free on Wednesdays and Sundays. Take a picnic and enjoy the breather from the hustle and bustle of the city center crowds.

There are so many fantastic things to see in Barcelona for all different types of trips. Whether you're making a repeat visit or just want to see something different, these alternative sightseeing spots in Barcelona are worth a visit.
Are there any other non touristy things to do in Barcelona that you'd like to see on this list? Let me know in the comments!
Besos!
-Jess