One thing I've seen pop up from time to time on other Spain blogs is that it can be seriously tough to make friends with Spanish girls. I've heard lots of expats say that they feel like they'll never have a close Spanish girlfriend.
I used to think that too – until this year! I've had the amazing luck to meet a fantastic group of cool, smart, and talented girls, who just happen to Spanish, too. And what better way to cement a friendship than by taking a trip together?
That's exactly what I did to round out the summer with two of my girlfriends; we jetted off to the southernmost coast of Spain for a week of sunshine, tapas, and fun in our quest to find the best beaches in southern Spain.
Starting point: Sevilla
OK, so this one isn't a beach. Before heading to the coast, we stopped off in Sevilla for two nights, and had a fantastic time eating out on a limited budget and seeing some of the most spectacular sights in Spain. Sevilla and I have a complicated history, but I'm slowly warming up to the sunniest city in Europe.
Sevilla is jam-packed with incredible historical things to see, whether that's the gigantic Gothic cathedral, the charming old quarter of Santa Cruz, or my personal favorite – the Alcazar. Even though it was almost 100 degrees outside and I've been inside at least half a dozen times, the Alcazar still blew me away once again.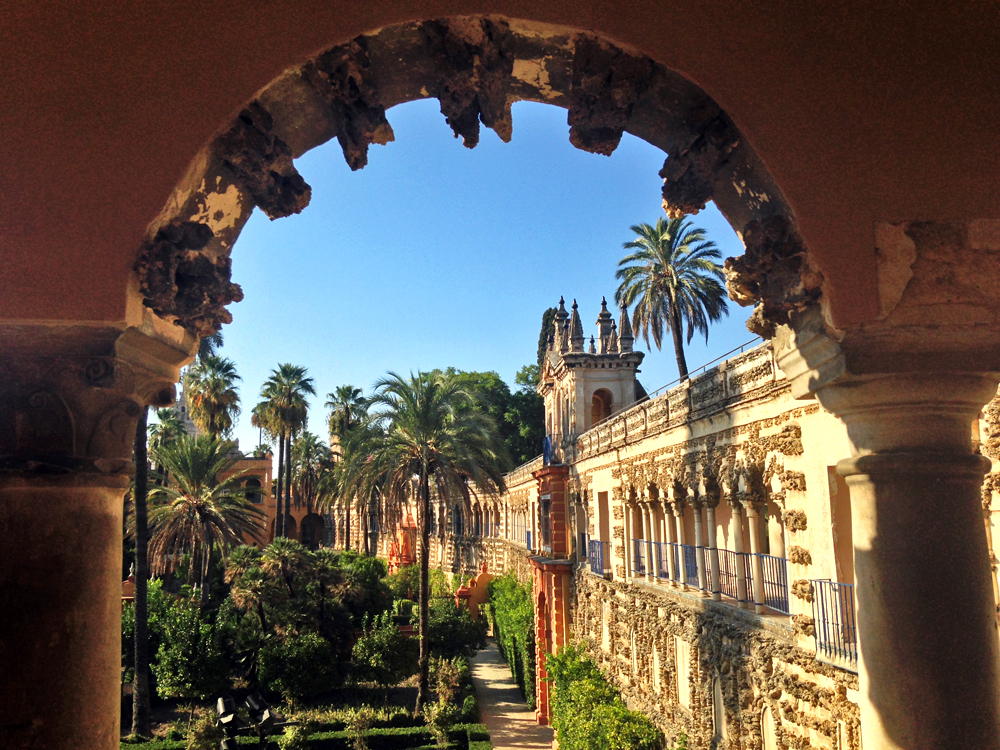 In between sightseeing and cañas, we rather overindulged in tapas, from the oldest tapas bar in Sevilla to a tiny riverside bar in the Triana neighborhood and standing-room only bars with amazing food.
Also, we stayed at the beyond great Nomad Hostel in Sevilla. I've never stayed in a comfier hostel, and it's right in the city center too. It's got a bunch of outdoor spaces you can chill out and relax, and lots of quirky travel design touches. I really can't recommend it highly enough!
(Thanks to the Nomad Hostel for hosting us in Sevilla! All opinions are honest – they really are 100% fantastic). 

Next stop: Wind & Sand in Tarifa
From Sevilla, we decided to drive to the southernmost point of Spain – Tarifa. It's so far south that you can see the beginnings of the northern coast of Africa from the beaches. A day trip to Tangier, Morocco is a totally feasible thing to do from Tarifa.

Apart from being the southernmost city in Spain, though, Tarifa is also one of the windiest.
That's why it attracts a huge crop of wind and kitesurfers. Just before you pull into Tarifa from the freeway, you'll see a sudden splash of color over the sea – and when you look closer, you'll see it's actually hundreds of kites whipping around in the air.
Once you're on the beaches, you'll see that they're divided into swimming sections and sports sections.

Every so often a surfer would lose control of his or her board and would accidentally come zooming into the swimming section. That's when the staff of rather frazzled lifeguards would race over, determinedly blowing on their whistles to try to stop the rogue surfer.
Because it's so windy in Tarifa, it's actually pretty chilly. In late August, I ended up wearing a sweater and leggings out, and I would have worn more warm clothing had I thought to bring it – you know, to Spain's southernmost city at the height of summer!
Heading west: Valdevaqueros
Just outside of Tarifa proper is a small surfer's outpost – Valdevaqueros. It's got a beautiful open beach that the wind-seeking athletes love, and a very cool little complex that includes a hotel, restaurant, and bar.
There's a huge open space of grass right in front of the beach where you can sit and watch the surfers or the sunset. The Tumbao bar serves up drinks and music to accompany the view, and also provides comfy beanbag chairs to sit on.

Not surprisingly, it fills up with a laid-back beach crowd in the late afternoon and early evening. Get here early on, as the bar shuts down shortly after sunset.
The most unusual beach: Bolonia
As we went further west, we made a stop at Bolonia de Cádiz. I'd actually first heard about this beach when somebody told me about in a comment on my blog. Friends who'd been said it was a hippie haven, full of people in touch with nature.
But when we got there, we knew instantly that the secret was out. Instead of the quiet, beautiful beach we were hoping to see, we found a slew of cars fighting for parking spots.
The beach itself is still really pretty, but it was a bit disappointing as we'd had such high expectations.

Still, its huge dune that overlooks Bolonia is truly unusual, and it's actually one of the biggest in Europe. We climbed to the top and took in the fantastic views of the coast.
Don't miss the Roman ruins by the beach either. (My Spanish friends were not quite as blown away by them as I was, as they're used to this sort of stuff).
The best beach:
 

Zahara de los Atunes

Being from California, I'm a bit spoiled when it comes to beaches. I'm used to lots of space, great weather, and lovely sandy beaches. So my standards of a great beach are sometimes a bit high.

Luckily, Zahara de los Atunes managed to live up to those standards, along with the neighboring section, the Playa de los Alemanes. Both beaches have large expanses of beautiful white sand, and plenty of space for people to stretch out and relax.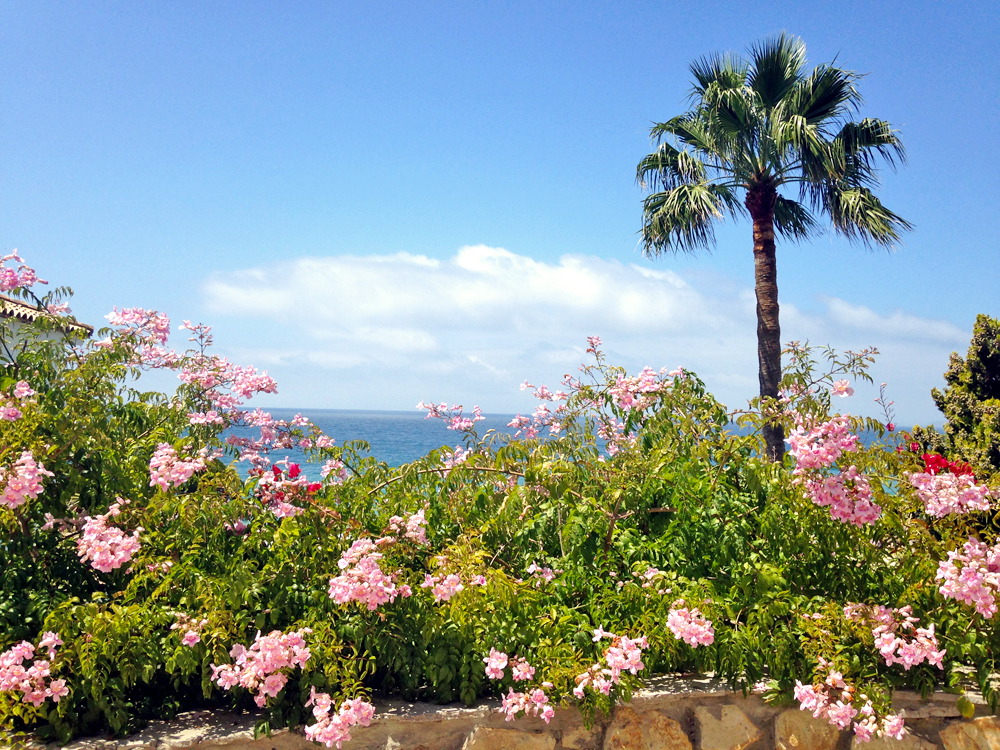 These were hands-down the best places to kick back and enjoy the beautiful light the Costa de Luz is named for.
The surprise: Caños de Meca
What was supposed to be a quick stop to check out another beach before heading on to Cádiz ended up being our favorite place on the trip. Caños de Meca really is the unspoiled hippie hangout we'd been hoping to find in Bolonia.
There are street markets selling handmade artisan products, people doing yoga on the beach, and a perfectly relaxed environment that you only get at sunny beach towns.

By far the highlight of Caños de Meca is La Jaima, a three-story beachfront bar and restaurant draped in colorful, sparkling fabrics and carpets from faraway lands. It's the perfect theater to watch the incredible sunset and enjoy a drink in front of the waves.

When the sun does set, the music gets cranked up and the whole bar turns into a relaxed party. They play all sorts of music, from cheesy Spanish 80s hits and movie musical songs to get people singing and dancing along to more current stuff.
The waiters occasionally dance around in the crowd too, sometimes with giant cocktail shakers filled with drinks they pour directly into your mouth.
Because there's such a great vibe here, it doesn't turn into a sleazy party at all – everyone really is just there to have a good time.
City playas: Cádiz
We rounded up our road trip with a stop in another Andalusian city, Cádiz – one of the oldest cities in Europe. It's a small city but not too small, and there's plenty to do, see, and eat here.

At mealtimes, it seemed like the whole of Cádiz was out at one of the endless terrace restaurants enjoying some tapas in the sunshine. There are so many adorable tiny streets to wander down to find restaurants, and almost all of them are cheap and good. You have to try the fried fish dishes if you're in Cádiz!
The city beaches are also really nice, whether it's La Caleta, which was used in that famous James Bond scene where Halle Berry walks out of the water, or Santa María, with the Pikachos beach bar giving you great views right on the sand.

There's something really special about watching the sun set any time, but even more so when it's over such an ancient city. We got the best sunset on the last night of our trip, and all wished we could have stayed just a tiny bit longer.

Tips for a great girls' road trip in the south of Spain:
The south of Spain is the perfect place for a laid-back road trip with your girlfriends. There are tons of fantastic places to stop, whether it's charming European cities or relaxed hippie beaches.
It's also inexpensive – we managed to eat incredible meals for €5 apiece – and a safe place to travel.  I couldn't have asked for a better way to say goodbye to summer in style!
We did three nights in Sevilla, two in Tarifa, and two in Cadiz. We might have spent less time in Sevilla, as it was pretty dead in August, and spent a night in Caños de Meca instead.
Definitely rent a car! We rented a car from Sixt at the airport, and we couldn't have been happier. We got an eco-friendly car and only spent €45 between the three of us for gas for eight days of lots of driving.
It also meant that we could see tons of the beautiful coastline; we probably would have only made it to a third of these places without a car. Driving really is the only way to get to a lot of the best beaches.
Parking was a pleasant surprise; there's plenty of free parking at most of the beaches if you look off the main streets. You may also need to get there earlier in the day to take advantage of the free spots, but they are there.
Also, you might need to pack a tiny bit more than you're expecting. I would have loved to have brought some warmer layers, as well as a second towel.
After a week of hostel showers and near-constant beach sessions, our towels were liberally sprinkled with sand and permanently damp. I have never been so glad to get back to my tiny cramped shower at my apartment!
Are there any other fantastic beaches in this part of Spain that we've missed? We'd be more than happy to go back and try another handful anytime!
Besos!
-Jess
Thank you very much to Sixt España and the Nomad Hostel in Sevilla for working with us on our trip! We had a fantastic time, and I'm happy to recommend both with zero reservations.