I'd originally planned to post something completely different, but there's something about Madrid's Literary Quarter that distracted me and pulled me in. Funnily enough, this isn't the first time literature has played a role in my trips this year. I've also taken a literary stroll through Dublin and a Harry Potter tour of the U.K. I'm sensing a theme!

But it just makes sense to link literature and travel. After all, how many times has a good book given you an instant desire to be whisked away to faraway lands? Even better, if the book takes place in a real place, you can go and see those places for yourself (whether or not they live up to the image you read about is another story!). Or maybe you just want to go to the place where a favorite author was inspired to start telling their wonderful stories.

And that's exactly what lovers of literature have been doing in Madrid for centuries in Huertas, also known as El Barrio de Las Letras – the Literary Quarter. It got the nickname thanks to the surprisingly high concentration of huge writers who lived here; ones that sound famous even to this guiri with a limited knowledge of Spanish literature, like Lope de Vega and, of course, Cervantes.
And yes, like any place in Spain with even the slightest link to literature, Hemingway supposedly spent some time here. Of course, like any place in Spain with even the slightest link to Hemingway, that really means he drank here.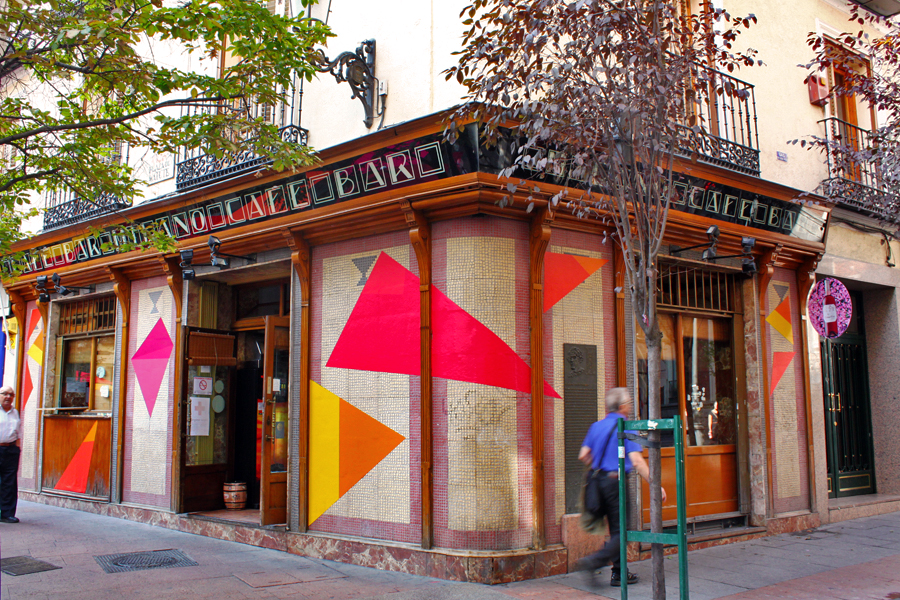 I wandered through the Literary Quarter on a sunny Saturday, and I pretty much instantly fell in love with the neighborhood. It's one of those places where you end up thinking, "Hey, how much would it cost to rent an apartment here?"



There was just such a great vibe. Of course, the bright and sunny day helped, as did the large concentration of enticing tapas bars and cafes. There was a nice buzz of people out enjoying the sunshine and some good company, often accompanied by some good eats as well.

Speaking of good eats, I loved this window display of colorful tinned fish. Some of the best fish in Spain is actually tinned, believe it or not!

Every so often, you catch glimpses of Madrid's literary history on the walls and the streets, quite literally. Look down and you'll see passages from the must-reads of Spanish literature. Look up and you'll see portraits of their authors painted on street signs on the calles named after them.

Though the neighborhood is glossy and chic today, it used to be quite a bit rougher round the edges. When theaters started opening here, the play was only part of the spectacle; the other part came when the actors and audience fought after performances! Today, the closest thing I saw to a fight was…actually, I didn't see anything even remotely violent. People seemed almost suspiciously happy to be here!

And those good vibes are contagious. I could have spent all day happily wandering its streets, bouncing between restaurants, literary sights, and little shops. Actually, I secretly daydreamed about packing up and moving to Huertas on the next train from Barcelona, because there's just something special about this charming, artistic neighborhood.

And I'm tempted to believe there's something in the water (or the vino) here that makes great writers. Following in the footsteps of Spanish literature greats could only mean fantastic things for my español – right? And I think a Cervantes-style ruff around my neck to get inspired would totally suit me.  A win all around, I think! I can picture it already…

Have you ever fallen in love with a place right away?
Besos!
-Jess