What's the first thing that comes to mind when you think of Dublin? Okay, so it might be something like Guinness, or pubs, or castles, or leprechauns (all but one of those are fair!). But a huge element of Dublin culture is the city's incredibly rich literary culture. I don't know if I've ever traveled to another place where literature was so clearly intertwined with a city.

Of course, it's not surprising that Dublin is proud of its literary background, as so many hugely famous writers are from the Irish capital and its suburbs – Samuel Beckett, Oscar Wilde, Jonathan Swift, George Bernard Shaw, James Joyce, William Butler Yeats, Bram Stoker, Roddy Doyle, and Maeve Binchy are just a few.
It's been honored as a UNESCO City of Literature, one of just seven worldwide (along with Edinburgh, Iowa City, Kraków, Melbourne, Norwich, and Reykjavík). It's a well-deserved award, and if you're an avid reader, there are oodles of fascinating literary sights to see in Dublin.
The Book of Kells
It all starts with the Book of Kells, a beautiful illuminated manuscript that dates back to about the year 800.
I'll just let that sink in for a bit. The year 800!
The art in the Book of Kells is just spectacular. Practically every single square inch is detailed with bright colors, intricate Celtic knots, and curious mythical beasts. There are four bound volumes today, and you can usually see a page of the large illustrations and a page of text. The pages are changed every so often, and you can check online to see which ones you'll be able to see (but doesn't that ruin the surprise?).

I say you can usually see the pages because when I went, the actual book itself wasn't on display as it was being restored. But they did have a replica, and I had seen the original before on a family trip. Plus, you can see the whole thing online, which isn't quite the same, but is pretty good.
While the book itself is gorgeous, the whole process behind how they created it is perhaps even more fascinating. It's handily detailed downstairs in a small exhibition, which you should definitely stop by before racing off to see the book itself.
Although the book has held up very well over the years (again, the year 800!), it's quite delicate. It got slightly damaged while traveling to Canberra for an exhibition, and they think it was the movements and vibrations from the flight that damaged it. Just as well they don't let you touch it with your sticky fingers then!

Trinity College, Dublin and the Old Library's Long Room
The place where the Book of Kells is housed is spectacular in and of itself. You may have seen it on lists of the most beautiful libraries in the world – it's the Long Room in the Old Library at Trinity College, Dublin.
The long halls filled with rows and rows of neatly alphabetized books are just what an impressive library should look like. Each row is carefully labelled with golden letters, and you can also see sculptures of key literary figures and philosophers lining the rows. There are over 200,000 books here! They actually had to raise the roof in the 1800s to make room for more books. (I wish I could do that to my room sometimes).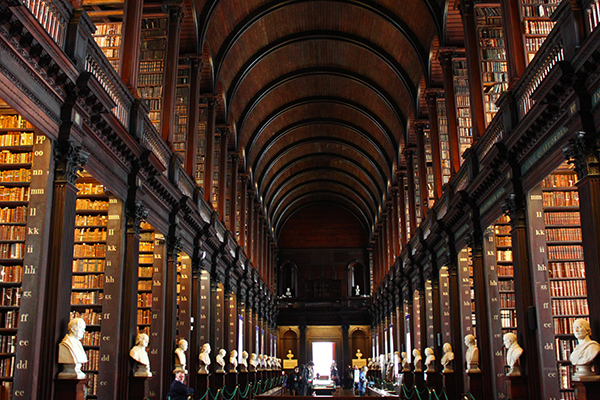 You can also have a gander at important documents from Ireland's history and the battle for Irish independence, so you can get a little dose of history as well as literature.
Oh, yeah, and the harp Guinness supposedly modeled its logo on is there too. There is no beer in the library though, just so hopeful drinkers are aware.

But don't just stick to the library. Take a stroll around the Trinity College campus too. When I was about 14, I was so impressed with the university and Dublin in general that I decided I wanted to apply to the school. I didn't end up doing it because of you know, winter and being far from home, but it looks like a fantastic place to go to school.
Fun fact: Jack Gleeson, the actor who plays the awful Joffrey on Game of Thrones, studies at Trinity College. My local friend said he considered dropping out because people thought he would be just as horrible in real life as his character is on the show. Talk about being typecast. Poor Jack!
The special Ulysses tiles
In some cities, you can spot the history and culture written in stone – literally. That's the case in Dublin. If you keep an eye out, you may find small bronze squares laid into the pavement. They're all excerpts from James Joyce's work Ulysses, which takes place in Dublin.

Each bronze tile provides a short quote, and they're laid at the real places where scenes happened in book. Sometimes the buildings and sites have changed significantly, so even if you haven't read the book (I haven't), it's interesting to stop and read the passages to imagine what the city would have looked like in 1904, the year the book is set.
In total, there are 14 little plaques that follow the route character Leopold Bloom walks at lunchtime around the city center, so keep an eye out for them!
For big Joyce fans, you can also go have your picture taken with a sculpture of the author on North Earl Street.

A trip through literary history at the Chester Beatty Library
Normally, libraries aren't high on my "to see" list when visiting new cities, but I was very glad to have stopped by the Chester Beatty Library, a small building on the grounds of Dublin Castle. I was not prepared for what was in store here, especially as the outside is quite modest. Well, most things would seem modest when placed next to a castle anyway, but even if this were on a quiet street I might have walked past it without a second thought.
Inside, there's a collection of manuscripts, books, and paintings from all around the world, from delicate Japanese scrolls to sparkling copies of the Qur'an. There are a few pieces that are more expensive travel souvenirs than books dotted in between the cases too. The highlight, though, is seeing how bookmaking developed internationally over the years. The collection has pieces that date back to as far as 2700 BC!
I could have spent all day poring over the intricately detailed works in the small museum. The story behind the collection is kind of cool too. The Chester Beatty who gave his name to the museum was an American millionaire who lived a lot of his life in Dublin. He loved collecting beautiful pieces from faraway countries, and he seemed especially drawn to all that glitters. I sensed a kindred spirit in that sparkly sense!
Oh, and if you're looking for a nice place for a spot of lunch, the Silk Road Café in the library's atrium serves really tasty food at really reasonable prices – music to my stingy ears!
Saying hello to Oscar Wilde
A stroll through a park is always a nice way to work off a lunch indulgence, and Dublin is packed with lovely green spaces. For Oscar Wilde fans, the best place for this stroll is Merrion Square Park, which houses a sculpture of the witty writer.
He lived in Merrion Square for a while, along with lots of other writers, like Yeats, and fancy aristocrats – it was quite the trendy place! His sculpture is looking towards the house his family lived in (1 Merrion Square).

You'll find the Wilde statue perched on a big rock and surrounded by small blocks covered in some of his most famous quotes, like this one that always makes me laugh:
"There is only one thing in the world worse than being talked about, and that is not being talked about."
Bonus fun fact: they found one of Oscar Wilde's grandsons to use for the head model to create the sculpture.

Visiting Marsh's haunted library
Marsh's Library, like the Chester Beatty library, totally surprised me. It's got a rich history, as it hasn't been changed in 3 centuries, and it's stuffed with 25,000 enticing-looking books. Lots of the collections are still on the shelves they were originally put on when the library first opened!
But an amazing book collection isn't a huge surprise in a city like Dublin.
No, the real surprise is that Marsh's Library is rumored to be haunted.

They say the ghost of the library's founder, Archbishop Narcissus Marsh, haunts the corridors, grieving the loss of his favorite niece.
The story goes like this. Marsh raised his niece Grace, and when she turned 19, she fell in love with a man he really disapproved of – a sea-captain (no word on whether he had a peg leg or not). He tried to stop the couple from seeing each other, so the two eloped and got married in secret. But before leaving, Grace left her uncle a letter begging his forgiveness. She hid it inside one of the books in his library collection, but he never found it, and so he never understood why she disappeared.
His ghost still paces the corridors, endlessly searching for the letter.
Other visitors have also seen the ghost of a little girl wearing a white lace dress. She's said to be Grace's daughter, who ended up in an insane asylum after pushing her mother out the window.
I'm not one for ghost stories, but in this quiet library, every little noise makes you jump. The cold drafts that occasionally waft through don't help either. Being let into one small room at a time after closing the door behind the last room makes you wonder what else could be happening behind those doors.

Then you see the cages designed as study hatches to stop people from stealing the valuable books. One of them has a skull displayed next to the leather-bound books.
Imagine being locked in one of those cages in a tiny, quiet library on a dark night, when suddenly you hear a strange noise and a freezing draft blows through…
Yeah, it definitely makes sense why people believe this place is haunted.
The ghost stories are a bit of fun and liven up the visit, but even if they're not quite your thing, do stop by the Marsh Library. It's off the beaten tourist track, though it's neatly tucked behind St. Patrick's Cathedral, so you may be in the area anyway.
Also, the staff are ever so friendly and were so excited to talk about Barcelona and football scores! That's as well as being super knowledgeable about the library's collection and eager to chat. And you can try writing with a feather quill (WAY harder than it looks) and designing your own fancy book binding. I would have loved this as a kid too!

Still looking for more literature in Dublin? Visit Dublin has tons of suggestions, from literary pub crawls to an event that promises "food, folklore, and fairies", and even more special libraries you can visit. There's definitely no shortage of resources to feed your inner bookworm in Dublin!
One final note: A special thank you again to Marsh's Library for their fantastic help. This was a sponsored trip by another company. 
Did you know Dublin was such a literary city? What's the coolest literature-related place you've been?
Besos!
-Jess