So if you've been following along with my blog lately, you'll know that I recently lost my job. I'm not too upset about it (it wasn't the job of my dreams or anything). But I have had to change my lifestyle a little bit, as you might expect. Luckily, there are SO many cheap things to do in Barcelona.
It's a good job too, as I'm definitely not the only one of my friends to be without work right now. Fortunately, we live in a city where there are a bunch of fantastic cheap things to do. So, without further moaning about being unemployed in Spain, here are my favorite things to do in Barcelona that you don't need a lot of cash for.
Oh, and stick around until the end…I have a BIG announcement to make!

€5 and Under
If you're on a teeny tiny budget in Barcelona, there are still lots of nice little things to do. A lot of these involve having a drink or a coffee somewhere nice, where you can see something special about the city. If you mix these kinds of things in with seeing all the free stuff, you can have a very nice and very cheap visit to Barcelona.
Walk up to Montjuïc Castle
The castle used to be free to visit, but last year they started charging to get in. Still, it only costs €5 to enter now. While the castle isn't one of the most impressive castles I've ever seen, the views of the city are fantastic. It sits right at the top of Montjuïc Park, so you get to see everything from the Mediterranean to the Sagrada Familia's towers. (Tip: if you have an extra euro or two to spare, it may be worth getting the bus up here – it's quite a trek!).
Enjoy a romantic day out at the Parc del Laberint
OK, so I'm not exactly going on tons of dates here (is everybody's dating luck as bad as mine? Don't answer that, it probably isn't), but from what I hear, this is the spot to go for an offbeat but cute date in Barcelona. The park is a huge bunch of gardens featuring everything from gazebos to waterfalls. And, oh yeah, there's a maze (the labyrinth!). Entry costs a little over €2, but you can go for free on Sundays or Wednesdays.

Relax with a beer in Plaça Reial
Plaça Reial is one of those things that just doesn't exist in California. It's a huge square filled with terrace bars and restaurants, and it's bustling with people all around the clock. This is also the only Spanish-style square in Barcelona. You're paying for where you're sitting, so this isn't the cheapest place to go, but if you just have one beer, you can enjoy the views for €5 or less.
Take in the views at a 360° rooftop bar with a beer
Rooftop 'terrazza' bars are a great summer Spanish tradition, and Barcelona has a bunch of amazing terrazzas to enjoy. But the one with the best views is the 360° bar at the Hotel Barcelò Raval. Drinks are a little steeper than at bars on street level, so a beer will cost you about €5. It's not too bad when you get to take in these amazing views!

Meet some locals at a language exchange
If you're looking to meet friendly locals, language exchanges can be a great place to do so. Check out websites like Meetup and Couchsurfing to find out what's going on when you're in town. There are often special food or drink discounts at language nights, so they can save you some money on the eating front too.
Grab a coffee and see some art at Cosmo
My favorite café in Barcelona is definitely Cosmo (along with its sister café Cometa). It's a combination of a cozy café and an art gallery, with exhibits that change every few months. They have your standard coffee on offer here, plus a selection of fancier coffee and tea drinks, like chai lattes. Bonus: it's on the very charming Enric Granados street, which is a lovely place to sit outside and watch the world go by.

See art about social issues at the Espai Mescladís
I know, there are lots of places you can get a standard coffee or beer for under €5 in Barcelona  – in fact, if you see prices higher than that, you should probably walk out – but this is another nice place that's very special. It's a mixture of a café, social justice project, and outdoor art gallery. Located in the Born district, it's one of those things I'd call a "hidden gem".
Check out the Convent de Sant Agustí Civic Center
Civic centers aren't usually the prettiest buildings; but then again, they usually aren't housed in former Gothic convents! They do workshops, courses, concerts, and shows, and there's quite a nice café there with wi-fi. It's a little haven in the middle of the busy city center, and a lot of the stuff costs less than €5 to attend.

€10 and Under
All of these these things to do in Barcelona cost under €10, so even if you're traveling on a really tight budget, you could fit in a few of these on your trip without spending too much cash. I've tried to write up a good mix of things, including a couple of the big tourist sites that aren't too pricey to get in to.
Visit Gaudí's Parc Güell
This one might be a bit controversial; after all, until very recently, Parc Güell was completely free to visit. Now, it costs €8 to enter the park (€7 if you buy it online ahead of time). That's still not a lot of money. Plus, a large part of the park is still free to enter, although it's not the colorful Gaudí part.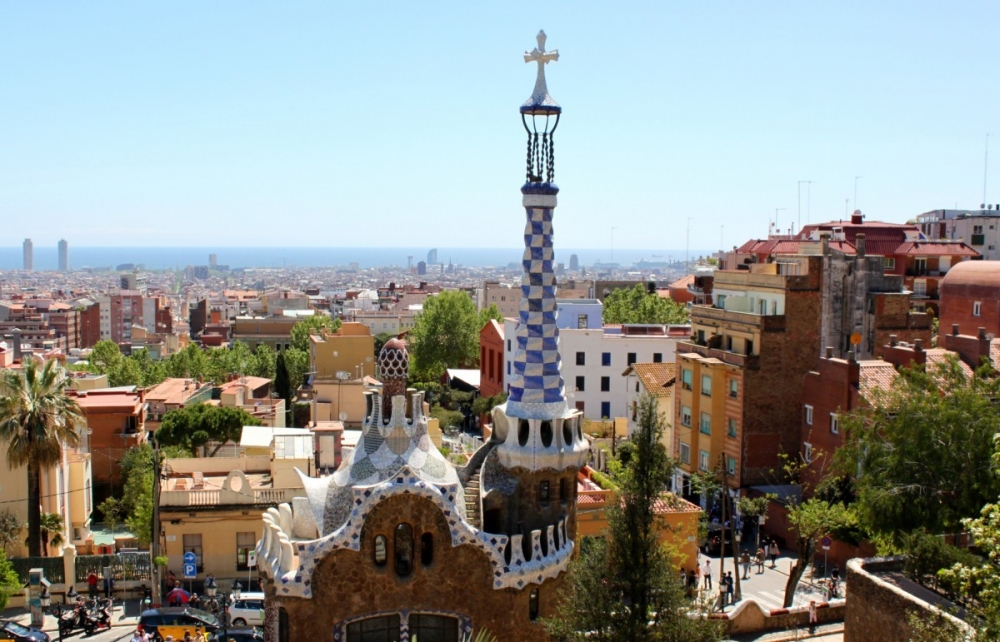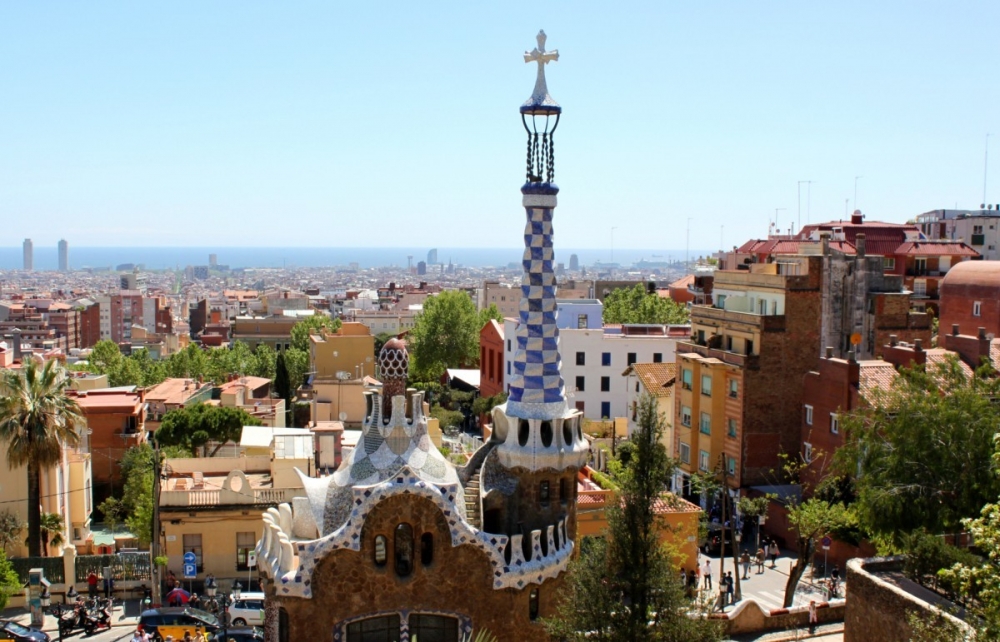 Take advantage of the "menú del día"
One of the most wonderful parts of Spanish cuisine is the menú del día – the lunch menus offered during the week. Prices in Barcelona are a little higher than in the rest of Spain, but you can still find a decent menú for €10. You'll get a three-course meal, including a starter, a main course, dessert, a drink, and usually bread too. You may be so full you won't want dinner!
Rent a bike and go to the beach
There are TONS of places to rent bikes in Barcelona, and most of them have pretty cheap prices. For about €10, you can get a bike for 24 hours and enjoy touring the city with wheels. Bike down to and along the beach – it's much nicer than taking the metro. Actually, you can bike pretty much anywhere you want in Barcelona in under 30 minutes, so you could tour the whole city on bike.

Chill out at an outdoor movie theater
During the summer, Barcelona residents love getting out and enjoying the good weather. So some brilliant people came up with the idea of having outdoor film nights. The Sala Montjuïc is a popular option, as they project movies onto the walls of the castle. Yeah, the castle. It cost €6 last year to attend.
Get your friends together for a picnic in the Ciutadella Park
The Ciutadella Park is completely free to enter, so it's always a good pick if you're on a tight budget. When the weather is nice, I love going with a big group of friends and having a picnic. It's right next to the Born district, so this is an easy activity to fit into a day of sightseeing…and you get to save some money on lunch!

Look out for tapas routes
Now, the tapas situation in Barcelona is nowhere near as good as it is in lots of other Spanish cities. That doesn't mean you can't get good, cheap tapas here, especially if there is a tapas route going on. Try Googling a specific neighborhood and "tapas route" (Sant Antoni and Poble Sec have them), or look up "De Tapes Per Barcelona" – that's a great tapas route that goes on twice a year. For about €2.50, you can get a small beer and a tapa, so for €10 you can eat pretty well.
Tour the coolest hospital in the world 
Technically, the place commonly referred to as the Hospital de Sant Pau is an Art Nouveau site today, but either way it's still amazing. It's the largest modernist complex in the world, and getting in to see it all only costs €8. It's even less if you're under 29 or over 65. If you're only going to go into one modernist building in Barcelona, this is the one I'd pick.

Of course, if you do ALL of these things, you could end up spending some serious cash. But if you're just in Barcelona for a weekend, you could only do a handful anyway. If you're here for longer, these are the kinds of things I do with my friends when somebody's low on cash (which with Spain's economy happens a lot).
Even though it's an expensive city for Spain, there are lots of cheap things to do in Barcelona if you know where to look for them. There are also lots of properly free things to do…but I'll save that one for a future post, as well as one with specific recommendations for cheap eats.
When you're unemployed or not making much money, it can be tough to find ways to entertain yourself. Luckily, you should be able to get a drink or two with a friend pretty much anywhere in Barcelona without breaking the bank. Except Las Ramblas. Definitely avoid Las Ramblas!

Now that we're at the end of this….I have one more thing to reveal. I've been hinting about it for MONTHS at this point, but I haven't been allowed to say anything.
I'm going to be on House Hunters International TONIGHT! Tune in at 10:30 p.m. to see which apartment I'll choose in Barcelona. 🙂
What are your favorite cheap things to do in Barcelona? Which one of these things would you most like to do?
Besos!
-Jess